Getting down and dirty with pet fur, long hair and dust is a mess we'd rather sweep under the rug. Fortunately, vacuum cleaners with bags offer an allergy-friendly alternative. This type of vacuum simply involves neatly taking the filled dust bag out of the vac and chucking it in the trash after cleaning. No mess, no stress. Bagless vacuum cleaners, on the other hand, require users to empty the canister directly into a bin, which can cause dust and other particles to go rogue.
Bagged vacuums often come in the form of a barrel or backpack vacuum cleaner, so expect a chunky body and long cable. No cordless stick vacs or independent robot vacs here. In our guide below, we take a look at what exactly a bagged vacuum is and check out a few of the cheapest bagged vacuum cleaners available.
What are vacuum cleaners with bags?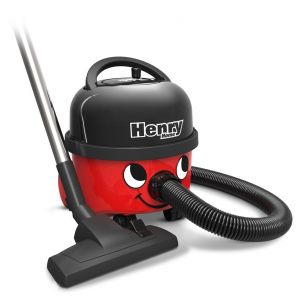 There are plenty of vacuum cleaners out there, but what's the best type to choose? Bagged vacuum cleaners trap dust and debris in a disposable bag. Once the vacuum bag is full, it's thrown out and replaced with a new one. In a bagless vacuum cleaner, the debris get sucked up into the filter before being channeled through to a canister, tank or dustbin.
Vacuum cleaners with bags tend to be more affordable than bagless options, at least upfront. Bagged vacuums typically cost between $99 and $500, although there are certain models that can set you back more. Some include the Miele Complete C3 Family All-Rounder Vacuum Cleaner (10797760), which retails for $599, and the Nilfisk Battery Cordless Vacuum Cleaner (VP600) which has a hefty price tag of $1,639. In comparison, prices for bagless vacuum cleaners can start from $199 and reach upwards of $800.
Are vacuums with bags better?
Should you get a vacuum cleaner with a bag instead of a bagless vacuum cleaner? This will depend on your floor types and cleaning needs, as well as whether people in your household have allergic sensitivities. Here are some pros and cons of bagged vacuum cleaners to consider.
| Pros | Cons |
| --- | --- |
| Require less maintenance than a bagless vacuum cleaner | The ongoing cost of buying vacuum bags can stack up over time |
| Produce less dust when replacing the bag, minimising the risk of allergic reactions | Many vacuum bags contain materials that cannot be recycled |
| The bags don't need to be emptied as often as canisters in bagless vacs | Bagged vacuums won't work without a bag |
| Replacing the bag is quick & easy because you only need to pull the used bag out and throw it out, before inserting a new bag | Can become increasingly slower and less efficient as the vacuum bag gets fuller |
Vacuum cleaners with bags vs bagless vacuums
Let's go into more detail about some of the benefits and disadvantages of bagged vacuum cleaners.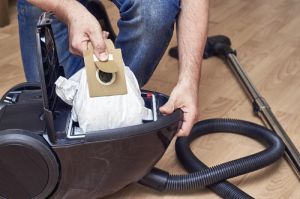 Bagged vacuums can be allergy-friendly and cleaner to use
One of the hairiest problems with vacuum cleaners is the process of cleaning out the appliance itself. Bagless vacs can open up potential problems for people with asthma and allergies because emptying the canister usually results in some contact with dust and other sorts of debris from your home.
Even hygienic bin emptying systems created by brands such as Dyson aren't always fool-proof. The bagless design means the dustbin always needs to be opened, resulting in some level of exposure to dust and dirt particles.
Bagged vacuums require less maintenance
The addition of a vacuum bag means bagged vacuum cleaners don't need to be cleaned as frequently as bagless models. Many bagged vacs also come with a filter as well as an electronic indicator to let you know when to replace the bag.
Although, both bagged and bagless varieties still usually contain filters that need to be either cleaned or replaced every few months.
Bagged vacuum cleaners are more expensive to own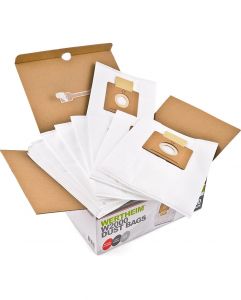 In addition to the upfront price of a bagged vacuum, you'll also need to consider the ongoing costs. Most bagged vacuum cleaners have a fairly generous capacity, but you'll still need to clear out the dust bag every few weeks, and slot a new one in each time, meaning you'll need to continuously buy disposable dust bags for your appliance.
The price of vacuum bags varies between brands and models, so here are some examples:
Pullman Backpack Vacuum Bags ─ $9.99 RRP*
Bosch PowerProtect Dust Bag (BBZ41FGALL) ─ $19 RRP*
Unifit 68 Numatic Henry Vacuum Bags ─ $24.99 RRP*
Hoover Allergy Vacuum Bags ─ $24.99 RRP*
Miele HyClean 3D Efficiency GN Dust Bag (09917730) ─ $28 RRP*
Vorwerk Vacuum Bags (VK150) ─ $49.99 RRP*
Bagged vacuums become less effective as the bag fills up
In some models, the suction power decreases as the more dirt and debris the bag picks up. In some instances, the vacuum bag doesn't even need to be filled to the brim before your appliance starts to slow down, although the issue appears to be more prevalent in older models.
Cheapest vacuum cleaners with bags
Hoover Performer Bagged Vacuum Cleaner ─ $99 RRP*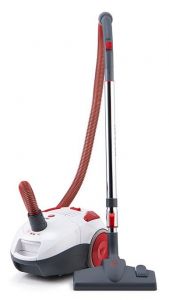 The Hoover Performer Bagged Vacuum Cleaner (VC-H3615) is a compact model designed for smaller homes, and features a 1400W motor and a four-stage filtration system. The suction 'strength' can be adjusted to suit your needs, allowing you to achieve a deep carpet clean or get rid of dust from skirting boards more efficiently.
Compared to other brands like Dyson, Hoover offers several budget-friendly vacuum cleaners to choose from. The Hoover Performer Bagged Vacuum Cleaner is available from Godfreys.
Other features to expect include:
2L bag capacity
'Dust full' indicator to let you know when to change the bag
Adjustable telescopic tube
4m cord
One-year warranty.
Vax Wet & Dry Vacuum Cleaner ─ $99 RRP*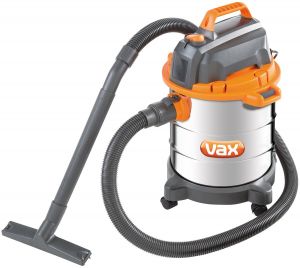 If you need a serious workhorse that can clean everything from pet hair to spilled drinks, Vax's multi-functional Wet & Dry Vacuum Cleaner (VX40) might be worth considering. This barrel vacuum cleaner packs a generous 20L tank capacity and comes with castor wheels to easily move around the house, garage, car or workshop.
You can get Vax Wet & Dry Vacuum Cleaner Dust Bags from retailers including The Good Guys, Bing Lee and Harvey Norman. There are five bags in each pack, which can be used on both the VX30 and VX49 Wet & Dry Vacuum Cleaner models.
Other features of the Vax bagged vacuum cleaner include:
20L tank capacity
Accessories include a three-piece wand, crevice tool, floor brush and dust bag
8m cord
Two-year warranty.
Bosch Free'e ProPower Vacuum Cleaner ─ $299 RRP*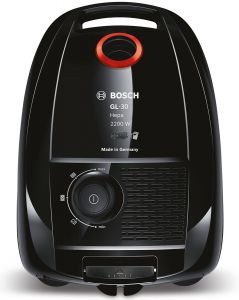 Major appliance brand Bosch offers an allergy-friendly option with the Bagged Vacuum Cleaner ProPower (GL-30). It packs a powerful 2200W motor, with options to adjust the level of power also available to suit different cleaning needs. This Bosch vacuum additionally comes with a hard floor nozzle for parquet and wooden floors. The soft bristles supposedly help avoid scratching or chipping the flooring.
Other features include:
4L dust bag capacity
HEPA filter
Five variable suction control options
Electronic dust bag change indicator
10m cord
Two-year warranty.
Miele Classic C1 Power Line Vacuum Cleaner ─ $349 RRP*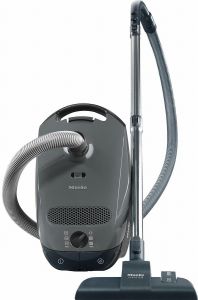 High-end appliance brand Miele offers the Miele Classic C1 Power Line Vacuum Cleaner (10797640) as one of its more affordable options. This barrel vacuum provides up to 900W worth of power and can be used on tiles and carpets, plus upholstery. It's also equipped with a thermal protection function which prevents the vacuum from overheating and automatically switches off if the air passage gets blocked.
Other specs include:
360-degree swivel hose
'EasyLock' suction tube for storage
5m cord
Two-year warranty.
Wertheim Dog & Cat Bagged Vacuum ─ $399 RRP*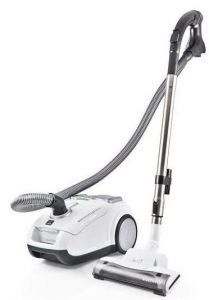 If you're trying to tackle the problem of finding pet hair everywhere, the Wertheim Dog & Cat Bagged Vacuum (W2000) is a Sensitive Choice approved appliance that's safe to use by allergy sufferers and people with asthma. It features a HEPA filter and Germastadt dust bag claimed to filter up to 99.7% of airborne allergens. The Wertheim bagged vacuum cleaner also comes with a Turbo Floor Brush and Mini Hand Turbo tool to clean pet hair on a variety of surfaces.
Other specs include:
1350W power output
Can use with Wertheim Vacuum Bags (W2000)
Suitable for tiles, carpet, stairs and hard floors
Two-year warranty.
*Prices are taken from respective retailers, correct as of February 2021.
Picture credits: Impact Photography/ Shutterstock.com, Georgy Dzyura/ Shutterstock.com.