We all know the trusty 30-year-old fridge or washing machine that your grandma gave you when you moved out of home is built to last. As such, it can be hard to get rid of, but chances are it's an energy sucker. Energy-efficiency has come a long way in recent years, and it's often one of the biggest things people look out for when buying a new appliance. So, sorry grandma, but the old trusty appliance from the 1980's is going to have to be put aside.
If you're looking at replacing some of your old household appliances and want the best of the best when it comes to energy efficiency, we've got your covered. Canstar Blue has been through the huge selection of whitegoods available from Appliances Online and other leading brand websites to find you the most energy-efficient products from each major category – from refrigerators to washing machines – so you'll know what to look for when you go appliance shopping. In cases where there were several models tied for being the most efficient, we picked two models as examples.
Energy Efficient Appliances
Here's a list of some of the most energy-efficient appliances we found on Appliances Online:
Liebherr 350L Bottom Mount Fridge: 5.5 stars out of 6 for energy efficiency
CHiQ 550L Top Mount Fridge: 4 stars out of 6 for energy efficiency
V-Zug 'Adora' Fully Integrated Dishwasher: 6 stars out of 6 for energy efficiency
Bosch Serie 6 Freestanding Dishwasher: 4 stars out of 6 for energy efficiency
Asko Pro Wash 8kg Front Load Washing Machine: 5 stars out of 5 for energy efficiency
Electrolux 10kg Front Load Washing Machine: 5 stars out of 5 for energy efficiency
LG 8kg Heat Pump Dryer: 9 stars out of 9 for energy efficiency
Asko 10kg Heat Pump Dryer : 9 stars out of 9 for energy efficiency
Kelvinator 5.0kW Split System Reverse Cycle Inverter Air Conditioner : 7 stars out of 7 for energy efficiency
Fujitsu 7.1kW Reverse Cycle Split System Inverter Air Conditioner : 6.5 stars out of 7 for energy efficiency
Hisense 75 Inch Series 7 4K UHD HDR Smart ULED TV: 7 stars out of 7 for energy efficiency
TCL 50 Inch 4K UHD HDR Android Smart QUHD LED TV: 6 stars out of 7 for energy efficiency
Read on for the specs and features of each model.
Fridges
Fridges are pretty easy to figure out. Often, the smaller the fridge, the more energy-efficient it is, but it still pays to refer to the energy rating of each fridge that you're looking at. Made in Germany, Liebherr claims to regularly invest in research and development in order to discover new trends and "keep one step ahead" and so it has with this model, which goes above the five-star energy efficiency rating. So without further ado…
Liebherr CNEF4315 350L Bottom Mount Fridge

This bad boy isn't very 'white goods-y' at all – in fact, it's finished in stainless steel. It stands at 185cm in height and has a width and depth of 600mm and 665mm respectively. Its fridge volume is 230L, which places it in the smaller range of fridge sizes, and its freezer volume is rather large at 120L. Most importantly, its energy consumption is 202kWh, which gives it a 5.5 star energy rating. To aid in this 5.5 star rating, Liebherr has employed DuoCooling – two independent cooling circuit systems. This feature is boasted to remove food odour transfer between the fridge and freezer, minimise food drying out, prevent freezing of fruit and veg, as well as allow you to switch the fridge and freezer on or off independently from each other.
In addition, you'll find its SuperCool function stated to reduce the temperature of the fridge to 2°C for 6 hours and then automatically switch back to normal operation. This is recommended to be switched on prior to grocery shopping as it's claimed to assist with cooling new food rapidly and prolonging food preservation, plus reducing excessive temperature rise from existing items while the door is open. Overall, expect this fridge to cost around $2,599, which places it in the premium-end of the fridge world, but may save you on your next energy bill.
5.5 stars out of 6 for energy efficiency
CHiQ CTM550W 550L Top Mount Fridge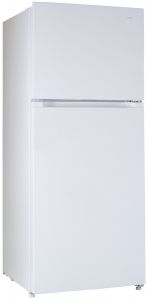 For a larger model, you might like to consider this 550L unit from CHiQ. Equipped with CHiQ's Multi Air Flow System, this model will not only reduce your energy consumption but help keep your food fresher for longer.  The Multi Air Flow System is designed to reduce frost and keep your food fresher for longer through the use of up turned air ducts which help circulate the cool air. This CHiQ unit also includes a super-efficient inverter system which reduces the sound of the compressor, an integrated electric setting which allows for easy temperature control and integrated humidity control which can be adjusted to suit whatever fruit and vegetables you may have in the crisper.
It offers 550L of total capacity with 402L available for the fridge and 148L for the freezer zone, which might be fit for a household of four or more people. It has a glossy white design with LED lighting inside the unit. In terms of price, expect to pay $1,249 (RRP) for this CHiQ fridge.
4 stars out of 6 for energy efficiency
Dishwashers
Buying a dishwasher can be a confusing process with all of the different types of dishwashers out there, including integrated, freestanding, dish-drawers and so on. You may find it helpful to consult our buying guide if you're 'washed' with confusion.
There is only one 6 star dishwasher on Appliances Online, and it has come from left of field. It's by V-Zug – a seriously quality Swiss appliance brand. So let's see how this V-Zug dishwasher earned its stripes.
V-Zug 'Adora' GS60SLZWPVI Fully Integrated Dishwasher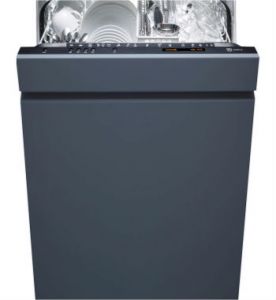 Finished in a rather ominous-looking matte grey metal, the Adora doesn't look very adorable, but it's what's on the inside that really counts. It features a massive nine washing programs, and comes with a half-load option, as well as a quick wash cycle function. It features a limescale sensor, adjustable upper basket and has a digital display for easy cycle selection.
It's a larger unit, suited for house-holds of four or more people. That doesn't mean it's an obnoxious size though – it's less than 90cm tall and operates at 46 decibels. It earned a 6 star energy rating, and uses a low 111kWh of energy. It also boasts a 5 star water rating, using 11.2L per cycle. Expect to pay a fairly hefty sum of around $4,500 for this dishwasher, but for top quality and energy efficiency, you may find the price is worth it.
6 stars out of 6 for energy efficiency
Bosch SMS66MI02A Serie 6 Freestanding Dishwasher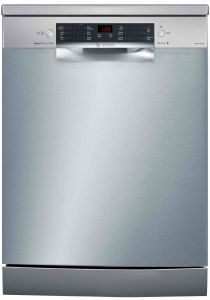 Designed with the family in mind, this Bosch freestanding dishwasher is perfect for all daily loads, no matter the size, or mess! While it might not have the same energy efficiency rating as the V-Zug model above, it can be had for over half the price at $1,499 RRP. With a variety of cycles including SpeedPerfect, EcoSilence and DosageAssist which helps maximise the effectiveness of your detergent, this dishwasher focuses on solving the little problems that come with daily dish use. Other features include built-in LED lighting inside this dishwasher to help make it easy to load and unload the dishwasher, plus an in-built cutlery tray at the top of the unit, so you won't have to worry about a cutlery basket.
This unit has earned a 4 star energy efficiency rating and consumes 235kWh of energy. In terms of water efficiency, it has a 5 star rating, using just 12L per cycle. Its heat exchanger inside the unit is stated to recycle heat generated from the main wash cycle for the rinse and dry cycle to help save energy. Additionally, it operates at a low noise level of 44 decibels, making it one of the quietest washers on the market.
4 stars out of 6 for energy efficiency
Washing Machines
There's a great divide in the washing machine world: Are you a front loader or a top loader household? Each have their benefits and drawbacks, but as far as all-out energy-efficiency is concerned, you can't really go past a front loader. Two such front loader brands to dominate the rankings are possibly two of the biggest Swedish powerhouses since ABBA – Asko and Electrolux. Let's see how both brands fared.
Asko W4086P.W Pro Wash 8kg Front Load Washing Machine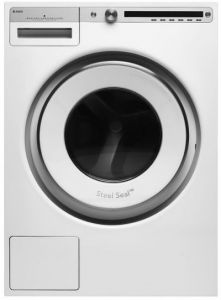 With 8kg capacity, this Asko front loader washing machine gets the perfect 5 stars for energy efficiency! And while this is an article about energy efficiency, we definitely think it's worth mentioning that this particular washing machine also ranks high for water efficiency – 5 stars. It contains a massive 21 pre-programmed functions, and perhaps most noteworthy, a pause function. This allows you to toss in that stray sock you left out without all the chaos.
It boasts 216kWh energy consumption, and for water uses a relatively measly 56L of water a cycle. With a retail price tag of $1,999, it's a high-end washing machine, but the trade-off is more efficient operation.
5 stars out of 5 for energy efficiency
Electrolux EWF1042BDWA 10kg Front Load Washing Machine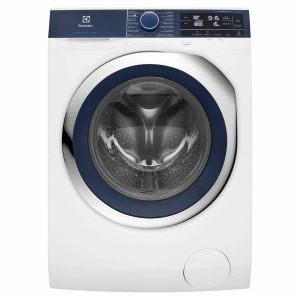 This front loader from Electrolux is another model to boast a 5 star energy-efficiency rating. It features 15 wash programs including wool and delicates. On top of that, it's designed with a vapour cycle, stated to not only reduce wrinkles but also eradicate 99 per cent of allergens and germs for added garment protection, according to Electrolux.
Similar to the Asko model above, you have the option of a pause button to add in any missed items. You'll also find a delayed start feature, giving you the ability to select the time you want to start your wash, allowing for use of the off-peak energy prices  for example. It has an annual energy consumption of 214kWh and for water it uses 86L per wash, giving it a 4.5 star water efficiency rating. With 10kg of washing capacity, this model is ideal for a family, retailing for $1,699.
5 stars out of 5 for energy efficiency
Clothes Dryers
Let's face it, clothes dryers are never going to be the most energy-efficient appliances. Not all are made equal, however. As far as efficiency goes, you can't really beat a heat pump dryer. Heat pump dryers basically work in reverse of an air conditioner – they bring warm air from outside to dry the clothes.
Did you think the energy-efficiency scale only went to 5? We hate to break it to you, but you'd be wrong – the scale actually extends up to 10 for some appliances, with those scoring 5.5 stars or more deemed to be 'super-efficient'. Two brands that are drying up the competition are LG and Asko.
LG TD-H802SJW 8kg Heat Pump Dryer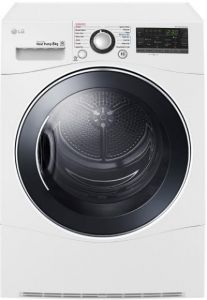 Enter this heat pump clothes dryer from LG with a whopping 9 stars for energy efficiency! It comes with 14 different drying programs, including specific cycles for both delicates and jeans, plus it has 8kg of drying capacity. It's packed full of sensors to determine things like temperature and moisture among other variables. With 9 stars for its energy efficiency, it has an energy usage of just 115kWh/52 uses. This makes it costly compared to some other dryers at around $1,950, but we suspect the trade-off might be worth it in the long-run.
9 stars out of 9 for energy efficiency
Asko T410HD.W 10kg Heat Pump Dryer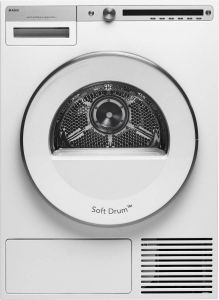 Scandinavian manufacturer Asko is another brand to offer a clothes dryer with a 9 star energy-efficiency rating. It's boasted for 14 different drying programs with anti-crease, low-temperature and wool specific options. Other settings include everything from preventing clothes bundling to time saving programs. All this does come with a price though, as this model retailing for $2,699. But your energy savings from this appliance might help pay it off over time. That's the thing about buying energy-efficient appliances – you need to consider the upfront cost versus what you can expect to pay, and save, in power bills over time.
9 stars out of 9 for energy efficiency
Air Conditioners
Perhaps the most notorious black sheep for energy-inefficiency, you have to be generally careful with air conditioners as running them constantly can blow out your power bill. Some are worse than others, but luckily brands such as Kelvinator and Fujitsu are working to change air conditioners' bad raps.
Kelvinator KSD50HWJ 5.0kW Split System Reverse Cycle Inverter Air Conditioner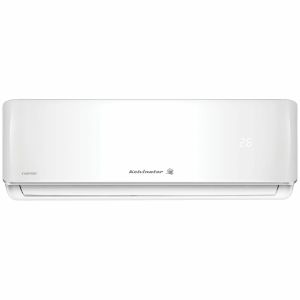 For one of the best air conditioners on the market you can't go past Kelvinator's 5.0kW Split System Reverse Cycle and its 7 star efficiency rating. It's packed with features such as three filters to help ventilate and purify the air, sleep mode and an innovative Follow Me function which detects when you enter the room and adjusts the temperature accordingly.
The Kelvinator's advanced invertor technology also makes for a quiet unit, emitting no more than 52db inside the home! It also has an optional app function that lets you control all settings from your smartphone or tablet. At 5.0kw, it's a medium sized unit suited to medium to large living spaces, with a reasonable price of $1,659 for the privilege of being energy efficient.
7 stars out of 7 for energy efficiency
Fujitsu ASTG24KMTC 7.1kW Reverse Cycle Split System Inverter Air Conditioner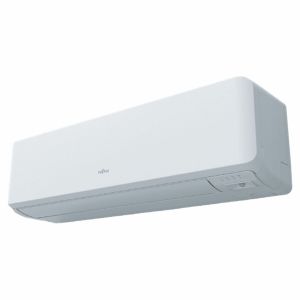 This Fujitsu 7.1kW air conditioner features a bunch of energy saving technologies including a sleep timer and human sensor controls. Whether it is for heating or cooling this unit will automatically adjust to the climate and project the right temperature thanks to its many sensor controls. Plus with a sleep and weekly timer, this unit won't spend any time cooling or heating spaces that don't require it.
Though not the highest rating unit at 6.5 star energy efficiency rating, it is one of the more costly units at $3,279 (RRP) thanks to its size. But if it's heating and cooling for a large space you are after, then this 7.1kW unit might be the one for you.
6.5 stars out of 7 for energy efficiency
Televisions
TVs have become an essential appliance for Aussie homes, but even on standby, TV's can chew up a large amount of energy. Hisense is a multinational whitegoods and electronics manufacturer based in China with televisions being one of its leading product lines. Let's see what its most energy-efficient TV has to offer.
Hisense 75 Inch 75R7 Series 7 4K UHD HDR Smart ULED TV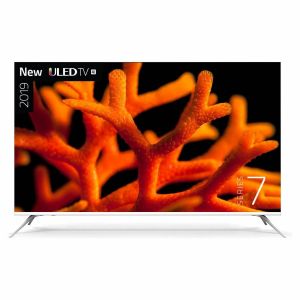 This 75 inch TV from Hisense has an energy-efficiency rating of 7 stars. With its Wide Colour Gamut stated to display over 1 billion colours with accuracy, this TV is celebrated for its colour enhancing technology. In addition, it features Ultra Local Dimming and Dolby Vision HDR which contrast the ratio of the images produced to enhance clarity, creating a cinematic and immersive feel.
Hisense's VIDAA U 3.0 operating system is said to make this TV simple to use, allowing you to access streaming apps and your favourite shows with ease. Plus, whether you're watching sports or gaming you can expect a 200Hz refresh rate for smooth motion, according to Hisense. As with all other high energy efficient appliances, this ULED TV comes with a pretty hefty retail price tag – $3,499.
7 stars out of 7 for energy efficiency
TCL 50 Inch  50P715 4K UHD HDR Android Smart QUHD LED TV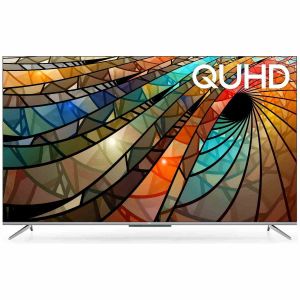 Although 7 star energy efficiency ratings are hard to come by in TV's, another brand which comes close, at the time of writing, is this TCL unit with a 6 star energy rating for $799 (RRP). It features AI Integrated technology, allowing you to control the functionality of your TV by speaking into the microphone on the remote. You can also connect Amazon Alexa-enabled devices to switch channels and adjust the volume all through voice commands.
Equipped with Freeview Plus, you can access free-to-air digital television, as well as a 7+ day program guide and Catch Up TV. Additionally, you can view video streaming apps, including Netflix, Stan, and YouTube, through the Entertainment Hub. Its Clear Motion Rate is designed to reduce motion blur during fast-paced shows or movies, maintaining a clear viewing experience, according to TCL.
6 stars out of 7 for energy efficiency
Are these energy efficient appliances right for me?
Although these appliances are undoubtedly very energy-efficient, they are also very costly. Before buying the latest and greatest appliances, it's worth considering how long it'll take to recoup the cost of the unit price versus the actual energy savings over time. One things for sure, the next time you go shopping for new home appliances, you'll hopefully be better informed about what energy-efficiency really looks like!
When it doubt, you can always look for the star ratings sticker. It's also important to do some research on the appliances you're in need of in relation to your household size – if it's just you and Biggles the cat at home, chances are you don't need a $4,000 dishwasher… though you might – who are we to judge? Happy shopping!
Original Author: Veronika Hleborodova
FAQs about Energy Efficient Appliances