Gaming monitors have quickly become of one the more important factors for competitive gaming, streamers and the casual gamer. But with curved monitors a recent introduction into the market, a debate has quickly started about which is better for gamers – curved or flat monitors. With more brands now taking the curved approach, what's the difference between the two types, and which is better for gamers? Find out the pros and cons of each with Canstar Blue.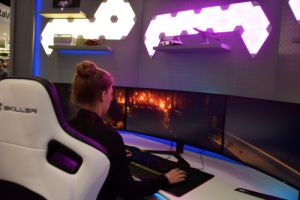 Curved vs Flat Monitors
With plenty to consider when it comes to buying and using a gaming monitor, we've broken down some pros and cons for both curved and flat screen monitors. While which type you use for your own gaming setup will ultimately come down to your personal preferences, the below comparison may help you find the best fit for your needs.
Curved Monitors
Flat Monitors
Pros
Cons
Pros
Cons
·         Immersive display, making gameplay feel more realistic.

·         Covers a much wider field of view.

·         Fills your peripheral vision by curving the screen.

·         Reduced glare, fewer reflections bounce off the screen.

·         Creates a level of depth in gameplay not seen in flat monitors.

·         Sometimes can experience the 'bow-tie' effect, which causes unrealistic screen stretching.

·         Prone to losing vision when screen is exposed to light/reflections.

·         Wall mounting can be awkward.

·         Higher price range than standard flat monitors.

·         Provides quality, reliable gameplay.

·         Bigger market and more products available, including wall mounts and accessories.

·         Traditionally more affordable than curved monitors.

·         Catches more reflections and glare than curved monitors.

·         Can increase eye-strain with long term use.

·         Smaller field of view then curved monitors.

·         Loss of performance and certain capabilities due to standard display.
General guide only
Best curved monitors to buy

Which brands are offering curved monitors? Here are some of the more popular models and brands currently available for purchase:
Acer ED322QA 31.5"
AOC C32V1Q 31.5"
Kogan WQHD 34"
LG Curved UWFHD 34"
Philips Curved FHD 27"
Samsung FHD 24"
Samsung UWQHD 34"
ViewSonic VX2548 24"
Online at The Good Guys
Best flat monitors to buy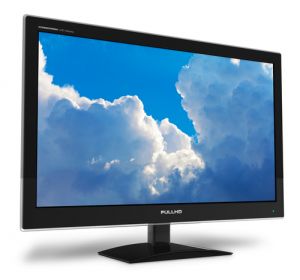 Flat monitors are still worthwhile for the majority of casual gamers, with cheaper prices attached to keep competitive in the monitor market. Here are some flat monitors available for purchase:
Acer KG251QF 25"
Asus FHD 27"
Dell UltraSharp 24"
Kogan Full HD 27"
LG UWFHD 34"
Philips FHD 32"
Samsung WQHD 27"
ViewSonic UltraSlim 32"
Online at The Good Guys
Where can I buy curved monitors?
As with the traditional flat monitors, curved monitors can be purchased at most electronics retailers such as The Good Guys, as well as through computer wholesalers and directly through the brands.
How much are curved monitors?
With curved monitors generally more expensive than flat monitors, a curved monitor will cost you between $200 and $800, depending on the brand and model. While more expensive, it may be a small price to pay to get the edge over your competition, or just to help you enjoy the game a little bit more.
Online at The Good Guys
Which monitor should I use?
In a market that offers plenty to look at, deciding on which monitor brand and type you should use for your setup can be a big ask, particularly if you're looking for the edge on your competition. Similar to what types of games you play, as well as your actual playing style, which monitor you decide to use should ultimately come down to your personal preference, as well as you budget. While a curved monitor may look sleeker, it may not be worth the cost if you only play games every few days. However, it may be worth the investment if you're looking for a more immersive experience while playing. Regardless, looking into all your options, as well as what specs your computer can handle, will help you find the best fit for your needs.
Internet Plans for Gamers
The following table shows a selection of published NBN 50 plans on Canstar Blue's database, listed in order of monthly cost, from lowest to highest, and then by alphabetical order. Use our comparison tool to see plans from a range of other providers. This is a selection of products with links to referral partners.

Photo credits: Gorodenkoff/shutterstock.com, Jovana Kuzmanovic/shutterstock.com, Oleksiy Mark/shutterstock.com