With many of us now working from home, conference calls and online meetings are the order of the day when it comes to keeping in touch. But while most laptops and desktops come equipped with a camera, these sometimes aren't the best quality, leaving you to save face by turning off your camera, or simply deal with the fact that you'll look a pixelated mess to everyone else on the call. But what can you do to improve your look? Canstar Blue investigates major brands and types of webcams to help you find the best home office co-worker.
What is a webcam?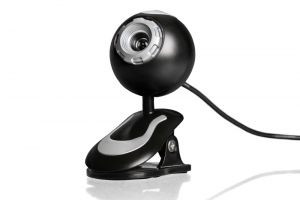 A webcam is a camera that streams the image or video it captures straight to the computer or the internet – meaning it's pretty much exactly what it sounds like. However, webcams are also specially designed to be smaller and lighter than a traditional camera so that it can sit on top of your monitor, with some cameras coming pre-installed.
Types of webcams
There are a number of webcam types available for purchase, with the varieties explained below:
Integrated: Built into your laptop or monitor, these webcams are typically small camera lens, with quality dependent on each brand and model of laptop or monitor.
Standalone: The most common type of webcam, standalone webcams are separate pieces of equipment that can be connected to your computer via USB cable, making them portable and compatible with multiple devices.
Network cameras: While traditionally used in closed-circuit security systems, network cameras work well in your home office, providing a high-quality image, transmitting the data wirelessly.
What to consider when purchasing a webcam
With plenty of webcams out there, what should you be keeping an eye out for to help you look your best?
Lens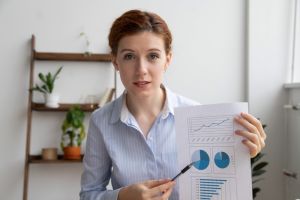 The lens is one of the most important components of a camera, meaning your choice in the type of lens your webcam comes equipped with will determine the image and video quality. Webcams come with either glass or plastic lenses, with the glass variety offering a clearer picture, while the plastic lens is more affordable. In addition to the material, you should consider the field of view of the lens, with a wider field of view meaning you can stay on screen even if you move around, which may prove ideal if you're running a presentation.
Recording quality
Webcams will state the quality they record or stream footage in, such as 1080p or 480p, indicating the quality of the end product. While most webcams these days will feature at least 720p, if you're looking for clear footage, going for webcams with 1080p or 4K may be worthwhile.
Microphone
While most webcams will come with a microphone pre-installed, not all models do, meaning it's important to check before you purchase. As you're often presenting or talking, a microphone will be a key factor in your decision process, so looking into the clarity of the microphone will also ensure your video meetings run smoothly.
System and program requirements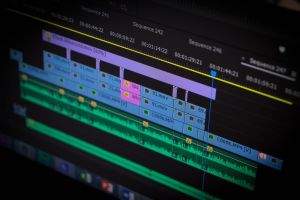 While most brands and types of webcams are built to be compatible with any and all computer and laptop brands, it's best to read the fine print to ensure you're purchasing something that is compatible with your current computer setup. Additionally, if you're looking to pre-record videos via your webcam, ensure you have compatible programs to edit the footage.
Webcams
In a market that is predominantly filled with smaller brands, below are two of the biggest names in the industry and what each has available.
Logitech
Well-known in the technology sector, Logitech offers a range of products, including speakers, computer and phone accessories in addition to a variety of webcams to pick from. Splitting its range into webcam and conference video equipment, Logitech also has a number of models suitable for serious gamers and streamers, along with accessories such as cables, microphones, mounts and smartdocks.
One of Logitech's more affordable models – the C925E Business Webcam – includes a 1080p high definition video, as well as a 78-dgree field of view, along with auto-adjust lighting for when it gets dark. If you're after something a bit more high-tech, the Rally model features 4K high definition video, a 90-degree field of view, as well as mechanical tilt and zoom to make sure you don't miss a thing.
Microsoft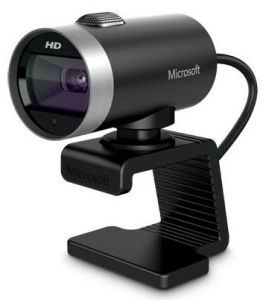 Another big player in the tech industry, Microsoft may not have the range that Logitech does, but is priced more affordably. All labeled under its 'LifeCam' range, Microsoft offers the Studio, Cinema and HD-3000 models, each with 720p video chat and coming with Skype Business to help with conference calls. The HD-3000 model contains a noise-reducing microphone to cancel acoustic echo and feedback, as well as a universal attachment base to equip to any laptop or computer. The Cinema and Studio models wide-angled lens for a wider field of view, with glass lens to produce high quality footage. All Microsoft webcams also come with a three-year warranty.
Where can I buy webcams?
Webcams are available at a number of physical and online retailers, including electronics retailers such as Harvey Norman, The Good Guys and JB Hi-Fi, as well as directly from the brand itself.
Is it worth buying a webcam?
While not a necessary purchase – as most modern laptops, computers and phones come equipped with camera features – investing in a webcam may be worthwhile for those who work with older equipment, or looking for something with higher video or image quality. With most webcams built to be compatible with multiple devices and brands, a webcam is something that you can use either in your home office, or take with you if you have to work on the road, making it a handy investment wherever you need to set up shop for a video call.

Picture credits: EmreUnlu/shutterstock.com, Billion Photos/shutterstock.com, fizkes/shutterstock.com, recklessstudios/shutterstock.com