The Australian Competition and Consumer Commission (ACCC) has released its sixth quarterly NBN speed report – and once again, TPG has claimed the number-one spot for download speeds.
The ACCC's Measuring Broadband Australia report – compiled from the results of more than 230,000 speed tests conducted during May 2019 – measures the average download and upload speeds of eight of Australia's biggest NBN providers: Telstra, Optus, TPG, iiNet, Aussie Broadband, Dodo/iPrimus, Exetel, and MyRepublic. Results are determined by measuring the average speed achieved during busy hours (7pm – 11pm), presented as a percentage of each plan's maximum speed.
The closer your plan and provider is to achieving its maximum possible speed during peak hours, the higher its percentage score will be. With tests performed on 1,095 fixed-line connections across Australia, and with Fibre-to-the-Premises, Fibre-to-the-Node, Fibre-to-the-Curb, and HFC technologies included, the ACCC report continues to offer significant insight into the real-world speeds experienced by NBN customers.
Download speed results
Once again, TPG tops download speeds for this quarter, achieving an average peak hour percentage of 86.7%. This is a slight dip from its previous result, which saw an average speed of 88.3%, but still sees TPG retain its number-one ranking. In second place is Optus, averaging 85.5%, with Aussie Broadband just behind at 85.3%.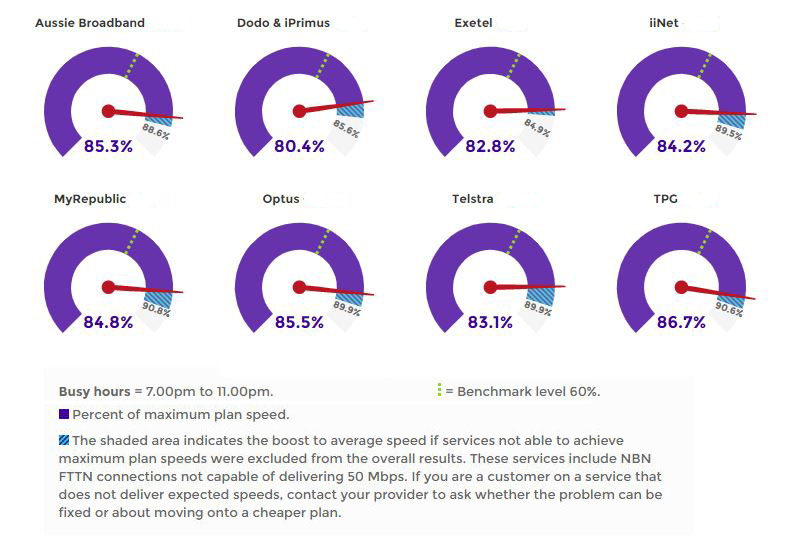 Most internet providers averaged slightly slower speeds when compared to last quarter, with the exception of MyRepublic and Optus. The biggest improvement was shown by MyRepublic, which jumped from seventh to fourth place this quarter, and from 81.9% to 84.8% during busy hours.
The full results are:
TPG: 86.7%
Optus: 85.5%
Aussie Broadband: 85.3%
MyRepublic: 84.8%
iiNet: 84.2%
Telstra: 83.1%
Exetel: 82.8%
Dodo & iPrimus: 80.4%
Upload speed results
Grabbing the gold for fastest uploads is Exetel, achieving an average of 87.1%. This is Exetel's third quarter in the number-one upload speed spot, although its average percentage has slipped slightly: the telco's previous result was an impressive 89.4%. In second and third place once again are iiNet and TPG, scoring respective averages of 86.4% and 85.8% for this quarter.
The full results are:
Exetel: 87.1%
iiNet: 86.4%
TPG: 85.8%
Aussie Broadband: 85.7%
Optus: 83.3%
Dodo & iPrimus: 82.3%
MyRepublic: 82.0%
Telstra: 81.2%
NBN speeds: holding steady, but there's room for improvement
Overall, the ACCC reports that average speeds have slowed slightly this quarter. For most customers, this shouldn't be cause for concern; unfortunately, there's still a significant number of Australian households stuck with under-performing NBN services.
The ACCC found that 12.4% of connections tested regularly failed to achieve more than 75% of their plan's advertised download speed. This was more likely to occur on NBN 50 or NBN 100 plans, and most frequently on Fibre-to-the-Node connections. The highest number of under-performing connections were on Telstra plans (17.0%), followed by Dodo & Primus (14.8%) and MyRepublic (14.3%).
While this is a disappointing result for affected customers, keep in mind that most NBN users will experience speeds much closer to those advertised by their provider – and frequently faster. Excluding under-performing connections, Telstra, Optus, and MyRepublic plans all achieved speeds equal to, or faster than, advertised plan speeds at least once during every peak hour in May of 2019.
In terms of technical issues, the ACCC found that, on average, participating homes experienced outages of 30 seconds or more every one to two days. While Optus delivered more outages than any other included NBN provider, the ACCC did report that the telco has used these findings to uncover and resolve the issue behind this fault.
Improving your NBN speed
ACCC Chair, Rod Sims, hopes that the report puts pressure on both providers and NBN Co to work on improving services for disappointed customers.
"Measuring Broadband Australia continues to make a vital contribution to fostering competition and improving consumer outcomes by bringing much-needed transparency to the broadband market," he said.
"We now want to see more action from both NBN Co and retail service providers to help the more than one in ten connections that simply do not perform to their plan speed."
Of course, there are a number of factors that may influence your NBN speeds, regardless of your choice of provider. While telcos should continue to work on delivering fast-as-possible speeds across all NBN speed tiers, there's several DIY options customers can try out in order to maximise their broadband performance, including upgrading equipment, or switching from wireless to a fixed connection.
You'll also want to consider if you're on the right NBN speed tier for your home's daily needs. If you're looking for fast, reliable speeds during peak hours, or you need a plan that can support multiple simultaneous users, you may want to upgrade to NBN 50 (Standard Plus Evening Speed) or higher, rather than sticking it out on a slower NBN speed.