Fact Checked
Lenovo hard-wired in top spot for desktop computers
It's hard to beat laptops and tablets on convenience, but in terms of performance there's a long way to go before they can outdo desktop computers. If you're a professional, having a fast and reliable PC can be the difference between being in the good books with your boss for meeting your Friday deadline or being in the doghouse on Monday. If you're a gamer, it's a matter of life or death in the virtual world.
You get it, having a good quality PC is important and sussing out your options even more so. In fact, 40% of the Aussies we surveyed researched their computers before buying anything, and that's also where we come in handy.
We've canvassed the opinions of nearly 300 Australians on the desktop computer(s) they've recently bought and used. Respondents were asked to rate their respective brands on important factors of satisfaction such as performance & reliability, design, user-friendliness, customer service and value for money. The brands which received the minimum survey sample size of 30 responses are included in the table above.
Lenovo won our customer satisfaction award for desktop computers in 2020, earning five-star reviews for performance & reliability, value for money and overall satisfaction.
Best Desktop Computers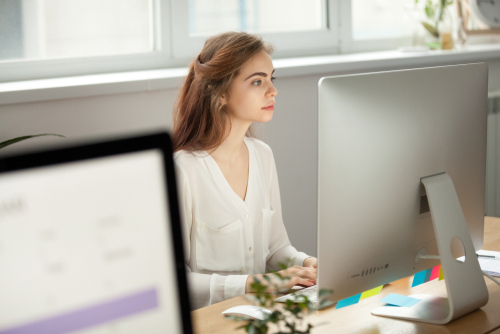 Here are the best brands of desktop computers, as rated by consumers in Canstar Blue's inaugural review:
Lenovo
HP
Apple
Dell
While Lenovo rated best in the key categories mentioned above, Apple managed to edge out this year's winner on user-friendliness, customer service and appearance & design, with five stars in those categories. HP beat Lenovo on user-friendliness with five stars and scored similarly on performance & reliability.
Read on for a quick overview of the brands in our report, including the products, prices and specs they offer.

Desktop Computers
Lenovo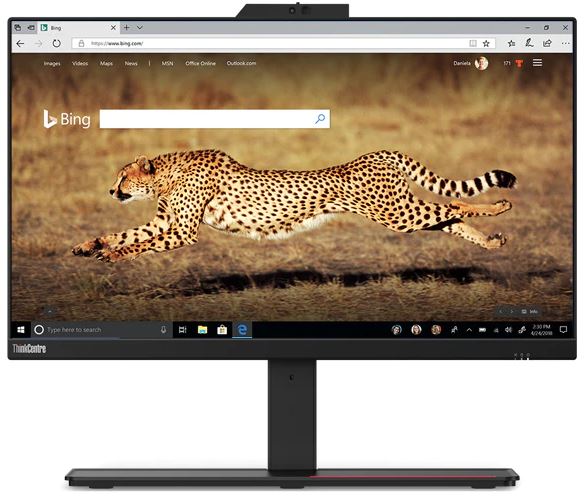 Lenovo is one of the world's largest PC vendors and smartphone company. If you're looking for performance at a low price, it's hard to beat Lenovo and our consumer ratings certainly attest to that. The brand offers a wide selection of desktop towers and monitors, as well as all-in-one computers, which can you browse on the Lenovo website by use (i.e. gaming, student etc.), by type, specs and so on.
For work, Lenovo has PCs starting from just over $1,000 for the ThinkCentre M630e Tiny 8th Gen Intel and going up to $1,999 for the ThinkCentre M90a AIO PC 10th Gen Intel (pictured). This is an all-in-one PC with boasts smart security safeguards with biometrics (hybrid IR camera optional) and a Trusted Platform Module which encrypts your data and passwords. This model is also said to help boost productivity, thanks to its time-saving features like modern standby, which enables your system to stay up to date even in sleep mode, with Outlook even staying synced (as long as a suitable network is available).
Here are some other models from Lenovo's desktop computer range:
Lenovo V30a 24-inch 10th Gen Intel: $1,299 RRP*
Lenovo ThinkCentre M720 Tower 9th Gen Intel: $1,399 RRP*
IdeaCentre AIO 5i 24-inch 10th Gen Intel: $1,519 RRP*
Legion Tower 5i 10th Gen Intel: $1,729 RRP*
Lenovo was rated five stars for performance & reliability, value for money and overall
satisfaction.

HP
HP short for the Hewlett-Packard company, is a leading brand in the space of home electronics, with a range spanning across laptops, printers, toners, desktops and more. HP offers a wide selection of new and refurbished home and work PCs, including monitors, towers and all-in-one computers. Prices in the range start from $699 and can reach up to $5,000 for newer and more advanced models. There seems to be a noticeable difference in price between models sold on HP's website and through electronics retailers like Harvey Norman, so it's definitely a good idea to shop around for the best deal.
If you need a desktop for 'every day' use, a sensible option is the HP 23.8-inch (i3-9100T/8GB/512GB SSD) All-in-One Desktop for $1,296 (pictured). It comes with everything you need to get the job done, including a quadcore i3-9100T processor and 8GB RAM for extra performance, a 512GB SSD for plenty of storage and a user-friendly interface to boost productivity.
Here are some other models from HP's desktop computer range:
HP 23.8-inch i3-10100T/4GB/128GB SSD All-in-One Desktop: $799 RRP*
HP 27-inch R3-4300U/8GB/512GB SSD All-in-One Desktop: $1,399 RRP*
HP ENVY All-in-One 32-a1035 PC: $1,799 RRP*
HP Pavilion Gaming TG01 i7-9700F/16GB/1TB SSD/RTX2060 8GB Desktop: $2,999 RRP*
HP was rated five stars for user-friendliness and performance & reliability and four stars in the remaining categories and for overall satisfaction.

Apple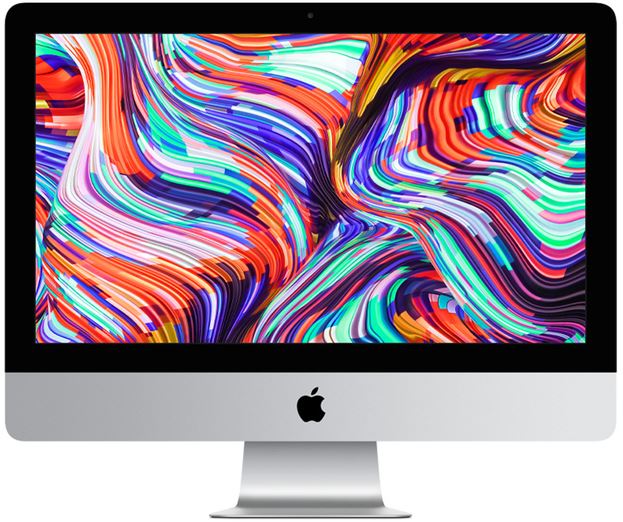 Tech giant Apple is often the pick of the bunch for the latest tech from earphones, to tablets and laptops and more. The brand also has its very own range of desktop PCs under the iMac banner, with prices starting from $1,599 and going up to almost $10,000. All new Apple desktops are eligible for AppleCare+ protection which provides up to three years of expert technical support and additional hardware coverage from Apple, including up to two incidents of accidental damage protection every 12 months.
If you're looking for an iMac to take home, the Apple iMac 21.5-inch Retina 4K is a good mid-range ($1,999 RRP*), feature-packed option (pictured). It comes with a 21.5-inch Retina 4K display with 1 billion colours and 500 nits of brightness for great image quality and sharp text, plus an 8th Gen Intel Core processor and ultrafast SSD storage and Thunderbolt 3 (USB-C) connectivity.
Here are some other models from Apple's desktop computer range:
Apple iMac 21.5-inch Retina 4K 3.6GHz i3 256GB: $1,999 RRP*
Apple iMac 27-inch Retina 5K 3.1GHz i5 256GB: $2,799 RRP*
Apple iMac 27-inch Retina 5K 3.3GHz i5 512GB: $3,099 RRP*
Apple iMac Pro 27-inch Retina 5K Display 3.0GHz: $7,299 RRP*
Apple earned five stars for user-friendliness, customer service and appearance & design. It got four stars for performance & reliability and overall satisfaction and three stars for value for money.

Dell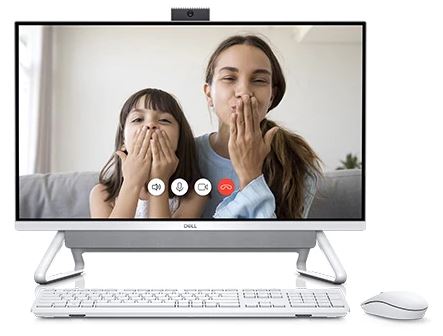 Dell is another well-known multinational computer technology company which spins a decent selection of desktop towers and monitors, all-in-one PCs and gaming computers. The brand often has sales or limited-time deals on certain Dell computers, so it's always a good idea to keep an eye out for those to score yourself a bargain. More broadly, prices in the range can start from under $1,000 and reach up to $6,000 or more.
If you're looking for a home or office computer, the Inspiron 27-inch 7000 All-in-One PC (pictured) is a sensible option that won't break the bank. Retailing for $1,499, it features a 10th Gen Intel Core i5-10210U processor, plenty of memory and storage and a Windows 10 Pro operating system with remote desktop capability, so you can have access to your PC no matter where you are.
Here are some other models from Dell's desktop computer range:
Inspiron 24-inch 5000 All-in-One PC: $1,298 RRP*
Dell Inspiron 27-inch 7000 All-in-One PC: $1,499 RRP*
Dell OptiPlex 7470 All-in-One PC: $1,948 RRP*
Dell OptiPlex 7770 All-in-One PC: $2,482 RRP*
Dell rounded up the scores with a four-star rating for design & appearance and three stars in the remaining categories and for overall satisfaction.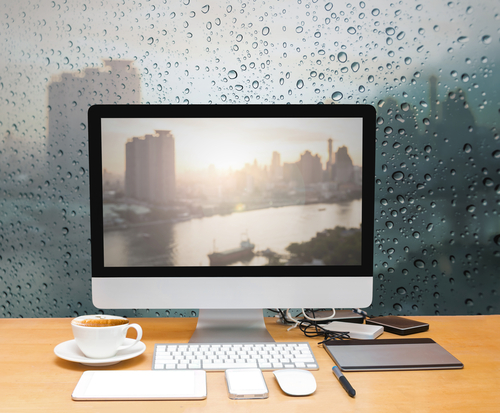 What to look for when buying a computer
With all the new tech jargon and specs being spat around these days, buying a PC can seem like you're playing a game of code decrypting. Don't worry, we'll cover the basics of what you need to know in this section, so that you can make an informed decision on your next purchase.
Your budget: That's going to dictate the brand, PC model and features you can afford. Have a price range in mind and a clear cut-off figure. Our survey found Aussies spend on average $1,536 on a new computer. It may seem like a lot, but luckily most electronics stores like The Good Guys and Harvey Norman have Price Beat Guarantee policies, where the retailer will beat an identically-stocked item from a competitor by a certain percentage. Get ready to bargain!
Processor: Also called a central processing unit (CPU), this is the brain of the computer which handles all basic system instructions and enables your computer, mouse and keyboard to interact with all applications and programs installed. Most desktop computers have a CPU developed by either Intel or AMD. Both use the x86-64 processor architecture.
RAM (computer memory): RAM short for Random Access Memory (not to be confused with storage), is where the active data from your applications and system processes are stored. What it means is that the more RAM you have, the more browsers and applications you can have open at the same time. If you're buying a PC for work, you will need a computer that has enough RAM to support your emails, web pages etc.
Storage: There's typically only two computer storage types: HDD (hard disk drive) and SSD (solid state drive), similar to what you'd find in smartphones and tablets. Computers with SSDs are more expensive to buy because they read and write much faster than PCs with conventional HDDs. If we're talking gigabytes (GB), you may only need 250 to 320GB of storage for a home computer.
Operating system/software: That's the perennial question: PC or Mac? Both operating systems have their benefits and disadvantages. PCs running on Windows are often much cheaper, and that's typically the common option in many workplaces and homes. On the other hand, creative professionals like graphic designers and videographers tend to prefer Mac computers which support programs they regularly use like Final Cut Pro etc.
Special features: There are also other specs to consider such as screen size, graphics quality, display type, the desktop monitor, frame and colour, keyboard, mouse and the rest of it.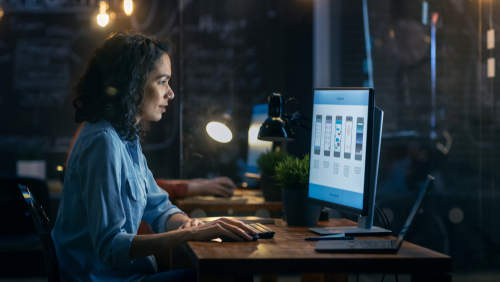 Which desktop computer should I buy?
Once you've figured out what to look for, settling on a particular PC to take home is the next step. Our survey respondents found the biggest factors influencing their purchase decision were:
Price: 34%
Brand name: 13%
Specifications (i.e. hard drive size, RAM etc.)
Special features: 11%
Ease of use: 10%
We also found that one in four respondents (27%) purchased their computer on sale, with only 11% of people surveyed wishing they'd purchased a more expensive model. This suggests that sticking to a budget-friendly model with all the specifications you need is probably a good choice. And, if ever in doubt, keep our review in mind.
About the author of this page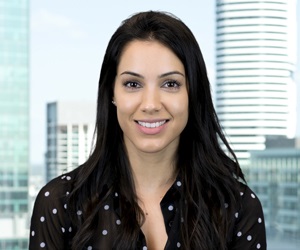 This report was written by Canstar Blue's Home & Lifestyle Content Lead, Megan Birot. She's an expert on household appliances, health & beauty products, as well as all things grocery and shopping. When she's not writing up our research-based ratings reports, Megan spends her time helping consumers make better purchase decisions, whether it's at the supermarket, other retailers, or online, highlighting the best deals and flagging anything you need to be aware of.
*Prices taken from respective retailers and correct as of October 2020.
Picture credits: Fizkes, Shutterstock.com/ TZIDO SUN, Shutterstock.com/Sdecoret, Shutterstock.com/Anton Marchenkov, Shutterstock.com/Gorodenkoff, Shutterstock.com.