When you're on the road, your trusty phone becomes more than just a tool to keep in touch with others but also your navigator and DJ. Phone mounts help secure your phone within eye sight and keep your hands on the wheel while you drive. We've put together a list of some of the options available for car mounts, so read on for all the specs and details.
Car Phone Holders in Australia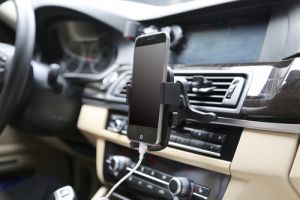 There are a number of brands that specialise in this area of phone accessories. Some of the brands available in Australia include:
Aerpro
Belkin
Buddee
Cleanskin
Cygnett
Gecko
IQ Bracket
Kmart
Kogan
Logitech
Moki
Popsockets
Samsung
Scosche
Studio Proper
Vogel's
We'll go through a few brands in the list to see what they offer.
Cygnett In-Car Universal Smartphone Holder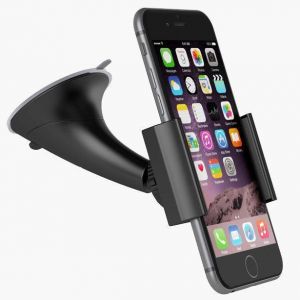 Started out in Melbourne, Cygnett is now a global brand of digital accessories. Its in-car phone holder mounts to a windscreen but there are also options that secure to a car vent. It has an adjustable cradle with silicone pads for a secure phone grip. It also features a locking ball socket with 360° rotation and tilt, plus it's stated to be compatible with most smartphones.
Belkin Car Vent Mount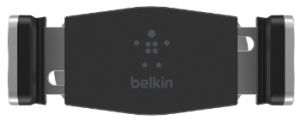 Belkin is an American manufacturer of consumer electronics, specialising in connectivity devices. Its car vent mount is stated to fit most large smartphones with screen sizes up to 5.5" with a protective case on. It's also stated to accommodate most cases up to 3mm thick. Its cradle is claimed to securely attach your smartphone to an air vent on your car's dash without any suction cup or adhesive required.
This model rotates 180° so you can use your smartphone in portrait or landscape mode. A cable holder on the back of the mount keeps your phone's connector positioned in a way that's stated to be easy to access, allowing you to connect and easily charge your smartphone while mounted (car charger not included).
Aerpro APH363 Gelpad Suction Phone Holder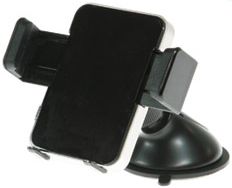 Aerpro is an Australian brand that features a number of products from car specific cameras to dock holders and chargers. Its Gelpad suction phone holder (APH363) rotates 360° and has an adjustable angle for convenience. It's designed with a washable and reusable sticky mount, plus it's stated to fit devices and cases that are 50 to 90mm wide.
Magnetic car phone holders
Magnetic car phone holders are becoming increasingly popular in the digital accessories space. With phones coming in all shapes and sizes – plus controls and ports being located in different areas – the wireless design helps to provide full access no matter what phone you have.
Kmart Car Air Vent Phone Holder Magnetic
This magnetic car phone holder from Kmart is a nice budget-friendly option that mounts onto a car air vent. It's boasted to provide comfortable viewing with its 360° rotational capability, plus it features two metal plates and one magnetic air vent mount. According to Kmart, it's stated to suits most smartphones.
You may also be interested in:
Gecko Magnetic Vent Holder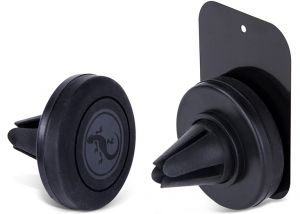 Aussie brand Gecko is stated to be one of the world's premier developers of smartphone and tablet accessories. Its magnetic vent holder is claimed to hold any smartphone. You simply place the metal plate inside the back of your case or attach it directly to your smartphone. It then snaps onto the magnetic vent holder. However, it's not compatible with thick or heavy-duty cases.
Scosche Vent Magic Mount Pro Charge for Mobile Devices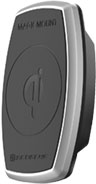 Scoshe is a US brand that features a number of products in the car audio and consumer technology space. Its Magic Mount Pro is stated to wirelessly charge Qi compatible smartphones without the need to plug your device into a car charger or USB cable. It fits onto your car air vent for handsfree driving but it can also be used at home or office and other environments, according to Scosche. The open design helps to ensure there's full access to all your device's controls and ports.
It's claimed to deliver up to 10W of charging power and is compatible with Apple and Samsung Wireless Fast Charging. The following devices can be used with this car mount: Apple iPhone 8 and X, Samsung Galaxy S6/S6 Edge, S7/S7 Edge, S8/S8 Plus, as well as Qi-enabled devices from Google, Microsoft, LG, HTC and Motorola, Sony and Blackberry.
Price: $119 (as advertised on JB Hi Fi)
 Compare Car Insurance
In the market for Car Insurance? Below is a snapshot of featured 4 or 5 Star Rated policies on Canstar's database, with a link to the providers' website. The results are sorted by Star Rating (highest to lowest), and was formulated based on a male aged 25-29 in QLD without coverage for an extra driver under 25 years old. To see policies more relevant click below to view all Canstar rated Car Insurance products.
Company
Star Rating
Agreed or market value
Lifetime guarantee on repairs
Roadside Assistance available

Comprehensive

Comprehensive
Product features

See how much you could save with a tailor-made premium. *24/7 Roadside Assistance included with Comprehensive policies.

Either

Get Quote

on YOUI's website

Comprehensive

Comprehensive
Product features

2017 Canstar Outstanding Value in Car Insurance, making your choice for car insurance even easier!

Market

Get Quote

on Bingle's website

View all Canstar rated car insurance products

Important Information

Source: Canstar. By proceeding you agree to Canstar Blue referring you to Canstar's website and accept that site's terms and conditions.  See the FSCG. This information is general and does not take into account your individual circumstances.  The results above do not include all providers, and may not compare all features relevant to you. Consider seeking professional financial advice, and read the PDS before making a product purchase.  See the Canstar Car Insurance Star Ratings Methodology. Canstar Blue may earn revenue from referrals to product providers from this table.
iPad car mounts
If you're looking to mount a tablet that's larger than a smartphone, you might need a car 'phone holder' specifically designed for an iPad or tablet. While some brands do offer tablet mounts that attach to a car vent or CD slot in order to be used by the driver, it's more common that these attach to the back of a seat to be used by passengers.
Kogan Universal 2 In 1 Car Windshield Mount Holder Stand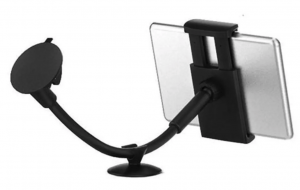 Renowned as one of the largest online department stores in Australia, Kogan offers a number of electronic accessories. This Universal 2 in 1 Car Windshield mount suits 3.5" to 5" (55 – 82mm) mobile phones as well as 7" (88 – 136mm) tablet PC's. It features a suction cap to fit onto the car window and has a gooseneck bending arm. It also has 360° rotating capability, allowing you to adjust your device to the required angle. Total dimensions are stated to be 64mm x 32mm x 64mm (W x H x D) and it weighs 80g.
Studio Proper X Lock-In Car Headrest iPad Mount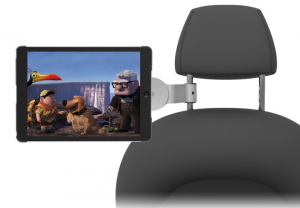 As mentioned previously, it's typical for iPad mounts to be designed for the headrest instead of the dash. Studio Proper is Melbourne based brand that offers this type of car mount. Its Studio Proper X Lock-In Car Headrest Mount can be secured into two different positions so that multiple people sitting in the back seat can see the iPad.
It features an extendable arm that swings out when needed and can be stowed away when not in use. You can also switch between portrait or landscape. The sleek, X Lock Headrest Mount is stated to have been crafted in Aircraft grade Aluminium to integrate seamlessly with the car interior. The dimensions of the mount are 81 x 188 x 86mm (W x H x D) and it requires an X Lock case (sold separately) to secure the iPad into the mount.
The bottom line on phone holders
There are plenty of choices out there to keep your phone secure and free from your hands while you drive. Some also boast a 2-in-1 design that also has built-in charging, so you don't even have to plug your phone in. It's important to stay safe on the roads without being distracted and with many brands available, we hope you find something to suit your needs and budget.