Review of Miele Washing Machines
Buying a new washing machine can be a difficult and confusing process, which is why it's tempting just to go with one of the most reputable brands. Sure, it might cost you more up front, but when it comes to major household appliances, you generally get what you pay for.
Not many brands are held in higher regard than Miele – the name is synonymous with quality, whether you're buying a washing machine, dishwasher or oven. Miele frequently tops Canstar Blue's customer satisfaction ratings, so find out what all the fuss is about with this review of Miele washing machines.
What does Miele offer?
Miele's reputation as a high-end brand is down to the quality and longevity of its appliances. Many are made in the company's home country of Germany, while others are made in the Czech Republic. Either way, you are likely to get a high-quality product – but you'll need to pay for it! Miele washing machines are amongst the most expensive you'll find. But like we said, you generally get what you pay for. You'll also be interested to know that Miele deals exclusively in front loader washing machines, so if you're in the market for a top loader, Miele won't be able to help.
Miele washing machines under $2,000
There are three 'budget' Miele washing machines that cost less than $2,000. Generally, they are smaller in size and suitable for a smaller household of about 1-3 people. The sizes consist of one 8kg model, and two 7kg models (WKB130, WDA210 and WDA110 respectively).
These models fare quite well for water and energy usage, scoring above a 4 star WELS (water) and 4 star energy rating for power efficiency. Expect features including:
10+ wash programs
Delayed start
Self-cleaning detergent dispensers
Cap dosing
Miele washing machines under $3,000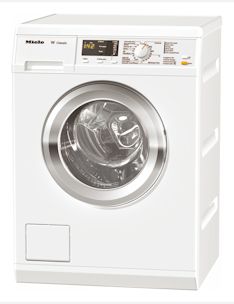 There are several models that fall within the $3,000 price bracket. Overall expect load capacities to increase, program modes to get more complex and general features to expand. Also expect better water and energy ratings – not that any of Miele's washing machines could be considered 'bad' in this regard. There are three models, including:
WKF130 8kg – about $2,600
WKG130 8kg – about $2,600
WKH130 8kg – about $2,900
Expect additional features like 12+ wash programs, as well as 4.5+ star WELS water and energy ratings.
Miele washing machines under $5,000
As we step up into the high-end range that Miele has to offer, expect advanced features and even bigger capacities. There are three models in this price bracket:
WKR770 8kg – about $3,900
WMV960 9kg – about $4,500
PW6065 6.5kg 'Vario Professional' – about $4,500
If you're wondering why you'd pay a premium for the third model in this list, consider that it is a 'professional' grade machine. It features shorter running times and its components are made with heavy-duty stainless steel. It's designed for up to six loads per day, making it a real workhorse of a washer. It also has a whopping 50 professional wash programs, among other impressive features.
Miele washing machines over $5,000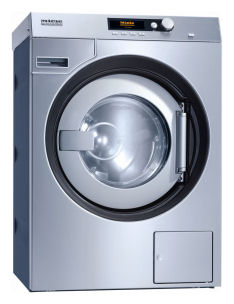 Miele has one model in this price bracket, and at this stage you're probably expecting it to give you a massage while you wait for your clothes, too. Not quite.
PW6088 10kg – about $7,500
So for the price of a European holiday, you can get a slice of Germany at home with this professional grade washer. It has 4/4 WELS/energy ratings, a 10kg/80 litre honeycomb drum, short running times across 50 programs, as well as auto-water optimisation for the ideal water amount for your load. It's also designed for up to six loads a day.
Are Miele washing machines worth the money?
Miele has a range of technologies which set it apart from most other brands, including one we haven't mentioned yet – 'TwinDos' technology.
What is TwinDos by Miele?
TwinDos is a two-step washing system that comes with many Miele models.
It uses two cartridges, where the first is filled with detergent and the second is filled with a detergent enhancer including bleach for stain removals.
These two liquids are dispensed at differing times and the technology takes care of timing depending on the kind of wash. This innovation introduces a unique approach to washing clothes, and after all, timing is everything, right? The timing of the dispensing of these two liquids ensures that nothing is wasted and that the liquids are used in optimal conditions to produce the best cleaning results. It removes the guess worth out of adding laundry detergent to your washer, automatically using the correct amount for great results. The technology earned a Canstar Blue Innovation Award in 2015.
Miele commonly represents quality, ingenuity and… high prices. However, Miele is frequently seen as one of the premier washing machine manufacturers. With Miele's engineering and tech features, many customers and other manufacturers look to it as the benchmark for household appliances. Be prepared to pay a premium though – even at the lower end of the pricing pyramid you'll pay nearly $2,000, where other brands offer models for less than $1,000 for front loaders of an equivalent capacity size. But if you want no compromise when it comes to clothes washing, Miele is a solid option.