Whether you're moving or building a new home, it's important you understand the electricity and gas connection costs that may be included. In this article, Canstar Blue explains electricity and natural gas connection and disconnections, as well as the associated fees.
Moving House: Connections & Disconnections
If you're moving into a property with a pre-existing energy connection, then you may need to organise the disconnection of your old property and the reconnection of the new property.
Connections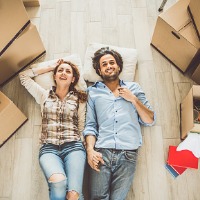 Around three business days before you move into a new property, call or visit the website of your preferred electricity or gas provider to enquire about whether the new property has a pre-existing connection. It will usually be the case that while the property has a physical connection to the power grid, it has been 'disconnected' in the sense that the power has been switched off. Your retailer can then organise a reconnection through the local distributor. Unless you live in Queensland, you will not need to be home during the connection.
If you're renting a home, it will likely be the case that the property still has an active connection under the name of either the landlord or real estate agency. Before you move in, you'll need to contact your energy company to transfer the electricity and/or gas account to your name.
Urgent connections
Most energy retailers will need up to three business days to organise a connection. However, if you need to connect sooner, you can call the retailer and organise an urgent connection. This may attract additional fees.
Disconnections
For each day you are connected to the energy grid, you incur a fixed network service charge – usually around $1 a day. This applies regardless of whether or not you use any electricity. Therefore, once you have moved out and no longer need an energy connection, it is important to disconnect your property immediately to avoid incurring these additional costs. (This is also something to keep in mind if you have a gas connection but don't use any gas – you'll still get charged for supply).
The process and fees for disconnections are very similar to connections. Simply contact your current energy provider at least three business days ahead of time and they will organise the disconnection of the property. If the property is being demolished, then the customer must instead request a 'supply abolishment'. This will generally cost upward of $300.
Connection & Disconnection Fees
You may be charged connection or disconnection fees by your energy distributor when you move house. Fortunately this fee is usually fairly reasonable – around $10 to $50 – however some distributors charge up to nearly $100. The distributor is the company responsible for managing the energy infrastructure in your area, while the retailer is only responsible for billing and customer-end services. Your retailer may collect the connection/disconnection fee on behalf of the distributor. This means you can't really shop around for a cheaper connection charge.
Below we outline the connection fees correct at the time of writing. There are no published connection fees for Tasmania, Northern Territory or the Ergon Energy network in regional Queensland. It seems these fees are incorporated into the standard billing of customers due to the structure of the energy markets in these jurisdictions.
Here is a guide to connection/disconnection fees across the country. These charges apply regardless of which electricity or gas retailer you are with. Remember, these fees come from your energy distributor rather than the retailer, meaning they are based on location rather than your choice of provider.
Electricity Connection & Disconnection Fees
State
Distribution Network
Connection/Disconnection Fee
NSW
Ausgrid
$19.58
Endeavour
$72.49
Essential Energy
$39.13
QLD
Energex
$49.91
Ergon Energy
N/A
ACT
EvoEnergy
$90.11
SA
SA Power Networks
$51.13
VIC
Citipower
$36.61
Powercor
$56.79
Ausnet Services
$6.83
Jemena
$65.26
United Energy
$50.06
WA
Western Power
$5.35
Correct as of July 2021
Natural Gas Connection & Disconnection Fees
State
Distribution Network
Connection/Disconnection Fee
NSW
Jemena
$102
Australian Gas Networks Albury
$73
Australian Gas Networks Murray Valley
$73
Australian Gas Networks
$51.98
Central Ranges Tamworth
$100.27
QLD
Australian Gas Networks
$75
APT Allgas
$112.65
SA
Australian Gas Networks
$76
ACT
EvoEnergy
$180
VIC
Multinet
$58.01
Australian Gas Networks (Metro)
$85
Australian Gas Networks (Non-Metro)
$85
Australian Gas Networks Mildura
N/A
Ausnet Services
$66.40
WA
Atco Gas Australia
$141.79
Correct as of July 2021
Origin Connection Fees
Customers can contact Origin Energy to organise an electricity or natural gas connection. Expect to pay anywhere from $12 to $90 for an electricity connection, and $11 to $58 for a gas connection, depending on where you live. Origin Energy is not the energy distributor and therefore has no say in setting fees for connections.
AGL Connection Fees
AGL will connect your home's electricity for a fee of up to $52. It will also connect gas for a maximum fee of $13. AGL, like Origin, is not a distributor and does not set the price for connection charges. Consequently, connection charges are the same across all retailers on the same network.
EnergyAustralia Connection Fees
EnergyAustralia can connect your home to the electricity grid for as little as $13, or as much as $89. Gas connections on the other hand will set you a back little more – between $49 and $94. These prices are similar to AGL, Origin, and all other electricity retailers as, once again, it is the distributor who sets the price for connection charges.
Connecting a new property
Building a new home is both exciting and challenging, but before construction begins, you'll need to organise an electricity connection so the builders have power. A 'connection' in the context of new properties refers to the cable physically connecting the property to the powerlines on the street. Most modern connections will usually be done via an underground cable.
A basic connection will be performed by the local distributor in most states and there will usually be no upfront fee, as the distributor recuperates its costs through the network charge component on power bills. New South Wales customers, however, will need to organise an accredited service provider (not the distributor) to set up their connection and pay the costs upfront. This could cost several hundred dollars depending on the complexity of the work.
Special Connections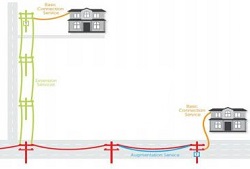 Depending on the state and the type of customer, there may be additional fees for connections that have additional requirements. For example, if additional power poles need to be installed so a connection can reach your property, the customer may be expected to front this cost. This is called an extension service.
Some connections will also require additional powerlines to reinforce the existing infrastructure. This is called an augmentation. However, because a number of houses can benefit from augmentations, the costs of augmentation are usually recuperated through shared network charges. Extension services will usually be provided on a quoted basis. If you pay for an extension for your home and other properties later join this extension as well, the original house may be eligible for a pioneer rebate on their energy bills.
Prices and connection policies vary considerably across different distributors, so be sure to check with your local distributor before planning a new connection.
Do I have to connect to the energy grid?
After reading all of this, you might wonder if it's worth avoiding all the connection hassle and simply go 'off-grid'. While this is possible thanks to solar panels and storage batteries, it is not yet a cost-effective solution.
If you're just fed up with energy companies in general, it might be that you just haven't found the right one – but that's where we can help. See how fellow Aussies rate their electricity and gas providers in Canstar Blue's customer satisfaction ratings. You can also compare prices using our comparison tool by following the link below.
Original Author: Brendon O'Neill