I think we can all agree that we need comedy now more than ever. The world is falling apart and if I don't laugh, I'll cry. But if you're anything like us, you've probably already made your way through every movie under the 'comedy' banner on Netflix. Therefore, it's officially time to move up in the world of comedy – to stand-up. You may not know it, but Netflix Australia currently has a massive range of stand-up comedy specials from comics from all over the world. Whether you're a fan of James Acaster's bizarre English comedy, Hannah Gadsby's iconic Tasmanian drawl, or Jack Whitehall's British take, there's something for everyone.
Netflix Australia – Top Stand-Up Comedy Specials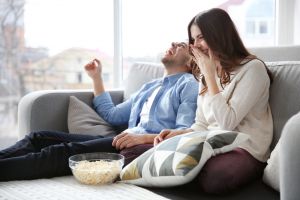 Below are, in this author's opinion, some of the best stand-up comedy Netflix Australia has to offer. Seriously – we dare you not to laugh. (PSA: If you make your way through all of these, make sure you check out our list of the best Netflix movies and television shows).
Taylor Tomlinson – Quarter Life Crisis
Greg Davies – You Magnificent Beast
Ali Wong – Hard Knock Wife
Hannah Gadsby – Nanette
James Acaster – Repertoire
Jack Whitehall – At Large
Comedians of the World
Jim Jeffries – Bare
Jenny Slate – Stage Fright
Taylor Tomlinson – Quarter Life Crisis
Taylor Tomlinson is "too old to party, too young to settle down". She's only 25 – but she's one of many people who want their 20s to be over. In her first Netflix special, Tomlinson pokes fun at herself for basically an hour – and highlights include her on-again, off-again boyfriend (her "lesson that I can't seem to learn") and her strict Christian upbringing (she started performing stand-up in church basements). Quarter Life Crisis has turned the young American into a breakout star, and for good reason. This isn't the last we will be seeing of her.
Greg Davies – You Magnificent Beast
You may recognise Davies as Principal Gilbert from The Inbetweeners, or his starring role in Man Down. Davies was a teacher before he started stand up, and as a result has some of the best stories you could possibly ask for (personal favourite is when he spent an entire bus journey to Paris trying to make someone say the word 'vegetable'). You Magnificent Beast dives into manscaping as a middle-aged man, blind dates, the way he treated his homemade teddy bear, and Welsh music. Davies is a master in comedy, and will have you in stitches.
Ali Wong – Hard Knock Wife
Ali Wong only does stand-up specials while she's pregnant, and we love her for it. Wong's Hard Knock Wife is her second special (her first, Baby Cobra, shot her to international fame) and she uses her pregnancy to make people laugh, but more importantly make them stop and think about the double standards of parenting and being the breadwinner. Joan Rivers would be proud.
Hannah Gadsby – Nanette
This is, arguably, one of the most talked about stand-up specials of recent years. Aussie comic Hannah Gadsby was already known in Australia for her comedy as well as her role as Hannah on Please Like Me. However, it was Nanette that shot her to international fame – the special that challenged the way we think about comedy and took us on an emotional journey of her life growing up queer in rural Tasmania. The special received 100% on Rotten Tomatoes from 46 critics. A must-watch.
James Acaster – Repertoire
This is quite possibly, the most British thing you will ever watch. James Acaster is an absolute freak, and we are loving every second of it. Repertoire is a four-part series ("Recognise," "Represent," "Reset," and "Recap") that can easily be watched in the one sitting. He's the only person that could talk for 16 minutes about bananas and act as an undercover cop for the entire set and get away with it.
Jack Whitehall – At Large
He's known worldwide as one of the most chaotic comedians (his semi-scripted Netflix show Travels with My Father made sure of that) and At Large also doesn't disappoint. Whitehall and his OTT personality oozes confidence – he runs around so much he needs a microphone attached to his mouth – and it makes for an entertaining hour. He talks all things drugs, alcohol, meeting the royals and competing with his greatest rival, Robert Pattinson.
Comedians of the World
If you're new to comedy, this is the perfect way to dip your toes in. Comedians of the World features 30-minute sets from comedians, you guessed it, of the world. There's a diverse range across 13 different regions and each region features four different "mini-episodes", with Australian and NZ comedians such as Joel Creasey, Cal Wilson and Nazeem Hussain featuring. And don't worry, subtitles are included.
Jim Jeffries – Bare
Jim Jeffries' Bare is back from 2014, but it is too iconic to not include. Upon watching, you may recognise certain sections – that's because Jeffries' monologue on gun control blew up and went viral, and for good reason. Jeffries is Australian, but resides in Nashville, Tennessee, and made some pretty damn good (and funny) points about Americans. Bare is political, funny, and a classic.
Jenny Slate – Stage Fright
Jenny Slate must be protected at all costs. You may know her from her incredibly successful movie and television career, or her stint on SNL (which she said left her with literal stage fright), but from now on I only want to know her from Stage Fright. Instead of performing loud and boisterous, she is quiet, but refreshingly unique and funny. The special is bizarrely centred around the joys of getting dressed, but it works – Stage Fright is continually referred to as a comedic ode to fashion.
With plenty to give you tears of laughter instead of tears of sadness, treat yourself to some comedy specials to lift the mood.
Sign up to Disney+
Don't have a Disney+ account yet? There are two plan options to choose from – a monthly subscription at $8.99 per month, or prepay for a year at $89.99 and save on the monthly cost. Both plans include the same features, with unlimited downloads and the ability to stream on up to four screens at the same time. This table includes links to a referral partner.
Brand
Subscription Type
No. of Screens

/same time viewing

Advertised Cost^^

/month or year

Stream the Disney+ library, including Disney+ Originals, Star Wars, Pixar, Marvel & National Geographic
Watch on 4 screens at the same time
Add up to 7 profiles
Unlimited downloads of shows and movies on up to 10 devices

min. cost $8.99 over one month

4

$8.99

Get Deal

Canstar Blue receives a commission for sign-ups through Disney+ *

Stream the Disney+ library, including Disney+ Originals, Star Wars, Pixar, Marvel & National Geographic
Watch on 4 screens at the same time
Add up to 7 profiles
Unlimited downloads of shows and movies on up to 10 devices
Prepay for a yearly subscription and save on the monthly cost

min. cost $89.99 over one year

4

$89.99

Get Deal

Canstar Blue receives a commission for sign-ups through Disney+ *

^^View important information
Photo credits: fizkes/shutterstock.com, Africa Studio/shutterstock.com