2018 was the year of Netflix's To All The Boys I've Loved Before, and consequently the year of fictional jock/sweetie and internet boyfriend, Peter Kavinsky. If you know what I'm talking about, then you were probably in the 97 percentile of people who made the surprise hit rom-com one of the most re-watched movies on Netflix that year.
If you don't, you need to get to a screen very quickly because Netflix has announced – to the delight of basically everyone – that To All The Boys is getting a sequel, and it's coming soon. Appropriately named To All The Boys 2: P.S. I Still Love You, the second installment in the Lara Jean and Peter Kavinsky's love story hits Netflix on February 12 (just in time for Valentine's day!?)
What is the To All The Boys franchise?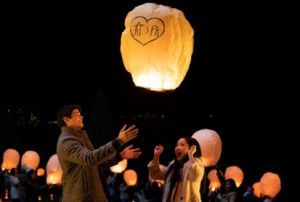 Yes, we are calling it a franchise – because it is. The movie(s) are based on Jenny Han's YA book trilogy by the same names: To All The Boys I've Loved Before, P.S. I Still Love You and Always and Forever Lara Jean. It has even been confirmed that the third and final movie is already in production (and so it should).
The series was well known (To All The Boys spent 40 weeks on The New York Times Best Seller list), however no one could predict the scale that would surround the movie. It was Netflix's biggest victory of the year, and it catapulted its two leads – Lana Condor as narrator Lara Jean Covey and Noah Centineo as Peter Kavinsky – to stardom. For Centineo in particular, the phenomenon surrounding his Peter Kavinsky transformed him into the new rom-com 'it' boy (the Hugh Grant of our time, if you will).
The trilogy follows regular teenager Lara Jean, who writes love letters to all of her crushes throughout different stages of her life – but they are strictly for Her Eyes Only. In the first movie, Lara Jean's little sister Kitty (Anna Cathcart) gets ahold of the letters and mails them out to each recipient in the hopes it will spice up her sister's love life.
She succeeds alright – with each of the boys beginning to approach her. Amongst these are Josh, her older sister's (Pretty Little Liar's Janel Parrish) boyfriend and Peter, her arch-enemy Gen's ex-boyfriend. Things get out of control when Peter and Lara Jean decide to 'fake date' in order to make both Josh and Gen jealous – especially when they both start developing feelings for each other. Aiden from Sex and the City (John Corbett) also stars as LJ's Dad, just as an added bonus.
What can we expect from P.S. I Still Love You?
Spoiler alert – Peter and LJ are no longer pretending. They're officially official. They're a couple. Their declaration of love happens during the last few minutes of the original film, and despite its alarming predictability, we are over the moon. PK + LJC forever. That was, however, until a post-credit scene (very Marvel) revealed another letter recipient – John Ambrose McClaren, her middle-grade crush she met at Model UN – standing at her doorstop with her letter and flowers.
As we can see in the full trailer Netflix dropped for P.S. I Still Love You, a re-casted John (played by Jordan Fisher) is here to stay and undoubtedly cause trouble for LJ and Peter. Uh oh. Lara Jean finally has her happy ending with Peter – but sparks are flying with John, and neither boy looks to be going down without a fight. Can one girl be in love with two boys at once? If it's John and Peter, I don't see why not.
Yet to dive head first into the ever-so-stressful world of teenage girls? No stress, you've got some time to catch up on all things LJ + Peter by watching the first film, To All The Boys I've Loved Before, on Netflix before the sequel lands on February 12.
Sign up to Disney+ Australia
There are two plan options to choose from – a monthly subscription at $11.99 per month, or prepay for a year at $119.99 and save on the monthly cost. Both plans include the same features, with unlimited downloads and the ability to stream on up to four screens at the same time. This table includes links to a referral partner.
Brand
Subscription Type
No. of Screens

/same time viewing

Advertised Cost^^

/month or year

Stream the Disney+ library, including Disney+ Originals, Star Wars, Pixar, Marvel, National Geographic & Star
Watch on 4 screens at the same time
Add up to 7 profiles
Unlimited downloads of shows and movies on up to 10 devices

min. cost $11.99 over one month

4

$11.99

Get Deal

Canstar Blue receives a commission for sign-ups through Disney+ *

Stream the Disney+ library, including Disney+ Originals, Star Wars, Pixar, Marvel, National Geographic & Star
Watch on 4 screens at the same time
Add up to 7 profiles
Unlimited downloads of shows and movies on up to 10 devices
Prepay for a yearly subscription and save on the monthly cost

min. cost $119.99 over one year

4

$119.99

Get Deal

Canstar Blue receives a commission for sign-ups through Disney+ *

^^View important information