Let's face it – TVs are getting bigger and bigger, and it seems like sky's the limit when it comes to choosing what to put in front of the couch. But when it comes to actually finding what TV to buy, there will always be a few areas to consider, such as the brand, the screen resolution, and – arguably the most important factor – the size. But what size TV should you buy? Find out in this Canstar Blue article.
What size TV should I get?
While you may want to simply go for the biggest option available so you don't miss a single thing, your ideal TV size depends on how far away from the screen you want to sit. While there are no 'official' government recommendations, the general stance of the TV industry is that:
With HD TVs, sit 1.5-2.5 times the screen diagonal away from the TV. So for a 50" TV that's at least 75-125 inches away – about 1.9-3.2m.
With 4K TVs this is lowered to 1-1.5 times the screen diagonal. That's 50-75" away from a 50" TV, which is about 1.3-1.9m away.
Here is a rough guideline from Crutchfield on TV sizes and sitting distances for High Definition (HD) TVs.
| | |
| --- | --- |
| Screen size | Viewing distance range for 1080p HDTVs |
| 40″ | 5.0-8.3 feet (1.5-2.5m) |
| 43″ | 5.4-9 feet (1.6-2.7m) |
| 50″ | 6.3-10.4 feet (1.9-3.1m) |
| 55″ | 6.9-11.5 feet (2.1-3.5m) |
| 60″ | 7.5-12.5 feet (2.2-3.8m) |
| 65″ | 8.1-13.5 feet (2.4-4.1m) |
| 70″ | 8.75-14.6 feet (2.6-4.4m) |
| 75″ | 9.4-15.6 feet (2.8-4.7m) |
| 80″ | 10.0-16.7 feet (3-5m) |
| 85″ | 10.6-17.7 feet (3.2-5.4m) |
This is for HD TVs, and you might be surprised at how close this distance is. A 1.9m viewing distance seems rather paltry for a 50" TV screen, but this tends to be in-line with what visual-entertainment company THX recommends:
That 40° of your field of vision should be taken up by TV for the most immersive experience.
But before you bust out your protractor, multiply your seating distance by 0.84 and this equals your recommended screen diagonal.
A 108" (9 feet) viewing distance is apparently the average distance. This would mean you'd need a 90" TV, which is frankly a lot larger than many of us would have been budgeting for.
However, there is merit to THX's argument. As home cinema experts, THX says this with the proviso that you're trying to seek the most immersive experience possible – rather than just set up a humble old telly for watching the news on.
If that wasn't enough of a learning curve for you, 4K TVs come with a recommendation you sit even closer than with HD TV. This is perhaps to best appreciate the difference in quality that 4K can provide. Here are the recommendations from Crutchfield for 4K TVs:
| | |
| --- | --- |
| Screen size | Viewing distance range for 4K Ultra HD TVs |
| 40″ | 3.3-5.0 feet (1-1.5m) |
| 43″ | 3.6-5.4 feet (1.1-1.6m) |
| 50″ | 4.2-6.3 feet (1.2-1.9m) |
| 55″ | 4.6-6.9 feet (1.4-2.1m) |
| 60″ | 5.0-7.5 feet (1.5-2.2m) |
| 65″ | 5.4-8.1 feet (1.6-2.4m) |
| 70″ | 5.8-8.75 feet (1.7-2.6m) |
While the size of the TV is a suitable rule of thumb to follow, you will also have to consider the size of the room that you plan on putting the TV in, as how much space you have to play with can also influence the optimal size of your TV. If you have a smaller room, having a larger TV can dominate the room, while opting for a smaller model in a large living room can mean you don't get the full visual experience you were after. You'll also have to consider if you plan on having guests over for movie night, as you'll want everyone to be able to see what's going on regardless of where they're sitting (meaning a curved model may also be worth exploring).
A Game of inches: What TVs are in my size?
You've nailed down your ideal TV size, and now you're stuck for what to buy. With plenty of brands available to purchase, here are some of the sizes that the major brands offer.
Samsung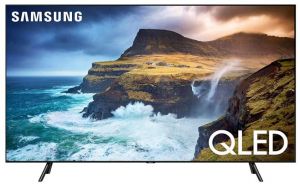 Korean brand Samsung offers a wide variety of TV models and display types, including QLED, Crystal UHD, and Smart TVs in 4K and 8K, with TVs ranging in size from the smaller 32-inch all the way to 85-inch models. If you're after the top of the line – both in size as well as features – the Q950T QLED 8K TV may be the one for you, and is available in a 65, 75 or 85-inch display, with Samsung's other 8K model – the Q800T – available in a 65, 75 or 82-inch display.
If you're after something a bit smaller in size (or with a smaller price tag), Samsung still offers plenty of models with 55 and 65-inch displays, while you'll only have The Frame QLED Smart TV to choose from if you're after a 32-inch TV. However, for other display sizes, Samsung's range of 4K models, including the likes of the TU8000 UHD TV and the Q Range come in sizes ranging from 43-inch to 75-inch, although this is dependent on each model.

---
Panasonic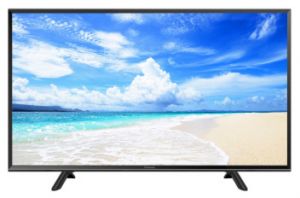 Well known in the electronics industry, Panasonic offers a number of TV models, including OLED and 4K Ultra HD models, with a range of display sizes available, although Panasonic taps out at 75-inch TVs, meaning if you're looking for the biggest of the big, you may have to look at other brands. However, if you're looking for something between 32-inch and 75-inch, you have a number of models to choose from.
Those looking for a smaller unit may be interested in the 32-inch TH-32F400A and TH-32FS500A models, while those after a 55-inch display may be swayed by multiple LED 4K Ultra HD models, such as the TH-55GZ1000U, which also includes Dolby Vision, Voice Control, and Smart TV functionality. However, if you're after a larger model, Panasonic offers the 75-inch LED 4K Ultra HD HDR TV, which also features Bluetooth Audio Linking, Twin HD Tuner, an HCX PRO Intelligent Processor and Local Dimming for pristine video quality.

---
Sony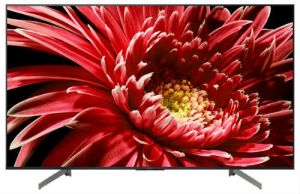 One of the most recognised entertainment brands, Sony has a number of TVs available, including OLED, 4K and HD models, each coming in a variety of sizes to help you find the best fit for your lounge room, ranging from a 32-inch all the way through to 85-inch, with some models available in multiple sizes. Those after a smaller model may be interested in the W66E LED Smart TV, which is available with a 32-inch display, while Sony offer a number of 55-inch models for those looking for something a bit more 'middle of the road', including the X70G, X80G, X80H, X85G, X95G, X95H, A8G and A9G, giving you plenty to choose from.
If you're after the biggest that Sony can offer, the Z9G, X95G, X85G and X80H models are all available in an 85-inch display, with Sony models coming with a variety of Smart TV features and functionalities, including built-in streaming apps and Wi-Fi and Bluetooth compatibility to help integrate into your modern home.

---
LG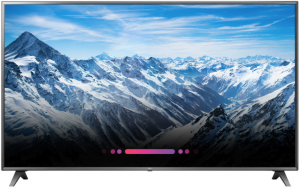 Another big electronics brand, LG offers a number of TV display sizes, ranging from 32-inch up to 85-inch, giving you plenty to choose from depending on your needs and budget. LG's range includes OLED, NanoCell, UHD, and HD models, with Smart TV features and functionality, allowing you to enjoy movie nights with your favourite streaming services, search the internet or connect to Bluetooth and Wi-Fi.
LG only offers the one 32-inch model, with most of its smaller display range between 43 and 49-inch, including the LG UHD 4K 43-inch model, which additionally comes with built-in streaming app computability and Filmmaker Mode for a cinema experience. If you're looking for a display size that's closer to the cinema experience, LG has a number of models with a display size of over 75-inch, with select models reaching a size of 86-inch, such as the 86UN8100PTB, which also comes equipped with a Gen3 Processor, ThinQ AI and Integrated Voice Control.

---
What size TV is right for me?
Choosing what new TV to buy can be a tough decision. Not only do you need to decide on what size you want, but you also have to wade through all of the jargon and acronyms that make up a TV model's name these days. However, by looking into screen resolutions and TV displays, determining the size of the room you want to christen with a TV, and setting out a budget for how much money you can part with, you'll often find there are plenty of models to choose from once you narrow down the parameters. However, if you're after something in particular, such as a gaming TV, an OLED model, or if you're simply looking for the cheapest TV available, a bit more research can always ensure you can settle in on the couch with your favourite show for a relaxing night in.