Navigating the car market is tricky business, particularly if you aren't sure what you're after, or you just don't like negotiating. But when it comes to securing a new set of wheels, or getting rid of your old ones, there's no shortage of options to help you drive away in style – from heading down to your local dealership, talking to your grandmother about the old whip collecting dust in the garage, or even checking out what's available online.
If online is more your speed, you may find yourself spinning your wheels, with so many websites out there dealing with buying and selling cars. But, through the gridlock, which sites should you be using, and what costs are involved? Find out in this Canstar Blue guide.
Where to buy a car online
Whether you're looking for something fresh off the manufacturing line or a second-hand run-around, here are some of the major outlets for buying a car online in Australia:
carsales.com.au
OnlineAuto
Drive
CarsGuide
Autotrader
CarConnect
Second-hand marketplaces (such as Facebook Marketplace and Gumtree)
Through brands directly
Carsales.com.au

Arguably the Holy Grail of buying and selling vehicles, Carsales allows users to search for a new car through a variety of parameters, including the price, year, how many kilometres are on the speedometer, and any other combination of features. Results are shown from around Australia, or somewhere a little bit closer to home if you're not keen on travelling too far to pick it up.
Second-hand and new cars are listed, with both private sellers and dealerships using the service to advertise. Once you've found a good car that catches your eye, you can then contact the seller to enter negotiations or organise a test drive, from which you can then decide to buy or keep looking around.
Carsales is suitable for those looking to see what's out there, as well as potentially stumble across a bargain or model that fits your needs, with the site also offering a variety of articles and tools to help you get the most out of the process.
OnlineAuto

A relative newcomer to the market, OnlineAuto aims to give users a wide database of cars to choose from, as well as help with other areas such as financials, test-drives and delivery. Simply enter the parameters of the car you'd like to purchase (e.g. model, year, colour etc.) and OnlineAuto will contact you about the available options around Australia.
OnlineAuto's 'buying specialists' can help you find a suitable model for your needs, as well as potentially save you money on the deal through their bulk-buying business model, and can even organise the car to be delivered to your door (or organise a test drive if you want to try before you buy), taking the legwork out of buying a car.

Shopping for tyres? Check out JAX Tyres & Auto
Drive

One of the most well-known car publications in Australia, Drive offers car-lovers and Sunday drivers alike a place to not only catch up with the latest news and reviews of new releases, but buy a new or used car for themselves. Drive has a 'Showroom' for you to browse, allowing you to filter the make and model, as well as by price, number of seats, transmission type and the number of doors to help narrow the search. From here you can browse or contact the seller if you find a car that suits your needs.
CarsGuide

Working similarly to both Carsales and Drive, CarsGuide offers motorists a chance to browse through available models from around Australia, as well as filtering results via related search criteria such as whether you prefer a new car, a second-hand one or an ex-demo model. You can also search via specific make and model, and you simply contact the seller via the ad if you're interested in testing the car out or making an offer. CarsGuide is also well-known as a car news publication, providing reviews of new release models as well as a variety of general articles to help you better understand the car market.
Autotrader

Another well-known car buying website, Autotrader keeps pace with other sites by offering a chance for motorists to buy a new or used car, with models available from all over Australia. You can also filter by make and model, along with price, kilometers driven and location, giving you a better option of what's available, and help you find the best fit for your driving habits and budget. Autotrader additionally offers a number of articles and resources to help you read up on the car market before buying, with an app also available if you enjoy browsing while on the go.
CarConnect

Self-defined as a 'full-service car buying and management experience', CarConnect works by providing you with a search function to look at available cars from around Australia, as well as giving you the chance to have your new ride delivered to your front door. Those in the market for a new ride can choose from a new car or a second-hand model, with CarConnect working with dealerships to help you find the best fit for your needs, aiming to take out the negotiation phase to help all parties get the best deal possible, and also offers financing to help with your new car purchase.
Other car buying websites
While there's no shortage of car-themed websites and publications available in Australia that allow you to buy a new car, there are a few other websites that you can opt to hop in the passenger seat with to find a new ride. Here are a few additional sites where you can purchase a car online in Australia:
National Car Brokers
Hello Cars
Country Cars
Buy Your Car
Second-hand marketplaces
Second-hand marketplaces such as Facebook Marketplace and Gumtree offer a way for users to buy and sell vehicles, and often at a cheaper rate than other websites, meaning you don't have to fork out extra for administrative fees. However, as these are more user-controlled, you'll have to be more vigilant, as your big purchase may not be covered by the website, meaning you could end up with a lemon if you don't properly do your research.
Through brands directly
As with most businesses in the 21st century, car brands and manufacturers will now generally offer an option to purchase a model directly from their website, or at the very least give you the option to select a particular model to be checked out at a dealership. This will vary between brands and dealerships, but if you're in the market for a new car, or you're looking to add extras and specifics, it may be worth investigating directly from the source.
Where can I trade in my car online?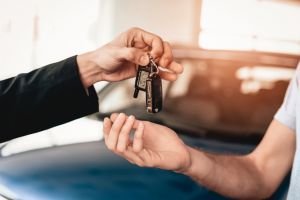 If you're looking to upgrade your ride, chances are you'll want to trade-in your current car for a newer one. But can you do it online, or do you have to buy and sell separately? Here are the trade-in websites you can use in Australia:
OnlineAuto
CarConnect
Pickles
Trade-in businesses
OnlineAuto
OnlineAuto lets you to trade in your current car, allowing you to streamline the buying and selling process. Simply send OnlineAuto your car details, and a buying specialist will contact you to organise an inspection. From there, OnlineAuto will organise a trade-in price, and then if you're happy with that, will organise the collection of the vehicle and ownership transfer as well. OnlineAuto also offers a trade-in valuation on their website, giving you a general idea of how much money you may get for your ride, allowing you to begin budgeting for your new car.
CarConnect
CarConnect can help you trade-in your current car for a newer model, helping to streamline the process for you. CarConnect organises three independent valuations for your car to give you the most accurate price, and additionally organises the trade-in with a car dealership on your behalf, even picking up your car to be taken to the dealership directly. However, CarConnect does have a few terms and conditions about what cars they help you trade-in, although you can send an enquiry beforehand to find out if your car is eligible.
Pickles
Working a little bit differently to other trade-in websites and businesses, Pickles is centered around car auctions, but does allow you to trade-in your current car if you've found a new vehicle but don't have the cash. Simply take your car into a Pickles location for a valuation, and you'll receive a net trade-in value certificate, which can be used as a form of currency during an auction. Once you've successful bid on your new car (and paid the difference if there is one), take your old car to the Pickles location within 24 hours of the auction to be traded in, and pick up your new car. However, Pickles also states that you don't have to buy your new car from them, with the trade-in certificate valid for 21 days with eligible services, although it may be worth researching which dealerships and locations take the certificate before bidding on any auctions.
Trade-in businesses
As with buying and selling platforms, there are businesses and websites out there that specialise in trading in cars, allowing you to organise your cars online before dropping the keys off at a physical location. The benefit with these platforms is you can arrive in one car and leave in a new one, helping to cut down on the process, but it's best to read all the fine print to ensure you're getting a good deal on the trade, and there aren't any unexpected fees as soon as you hop in the driver's seat. Other trade-in businesses and websites in Australia include:
Trade In Online
Auto Trade Only
OzCar
Where to sell a car online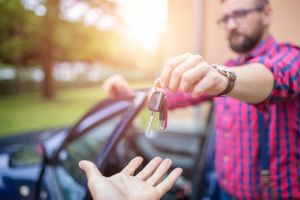 If you're just looking to offload your car without upgrading at the same time, there are a number of options to help you pass the keys onto someone else, including:
carsales.com.au
Trade Your Car
Drive
CarsGuide
Autotrader
Car buying businesses
Car wreckers
Carsales.com.au
In addition to buying cars, Carsales also allows you to sell your car, with multiple ad packages available to help increase exposure if you're looking for a quick sale. Packages include Free, Standard, Premium and Ultimate, with the cost of each dependent on how much you're looking to sell your car for, meaning the more expensive your car is, the more the ad will cost. From there, interested buyers will contact you via your ad, and allow you to give your old set of wheels a new home.
Trade Your Car

While the name suggests a trading element, Trade Your Car actually focusses more on buying your car from you rather than trading your old car for a newer one. But Trade Your Car aims to stand out from the crowd by offering to buy your car from you on the spot with cash, which may be helpful if you're looking to offload a car as quickly as possible. Simply organise a valuation and inspection online, and a representative will come to you, or meet you at a Trade Your Car location for the car to be inspected and negotiations to start. If you're happy with the price, they'll then pay you on the spot and handle all the ownership paperwork, allowing you to hand over the keys and walk away, although you can organise a valuation and sell further down the line if you need to hold onto your ride for a few more weeks.
Drive
As with most established car websites, Drive allows motorists to sell their old car to make space in the garage. To sell your car via Drive, fill in the form on the website about what car you'd like to sell. From there, Drive will match you with an accredited partner who will offer you a price, which you can accept, or reject and enter into negotiations. Once you've agreed on a price, the accredited partner will organise the whole sale process, including how to offload your car and how the money will be transferred. Drive also offers a free car valuation to give you an idea with how much money you're working with, but doesn't outline any selling fees involved in the process, meaning it's best to iron this out during the negotiation phase so there's no surprise costs involved.
CarsGuide
CarsGuide allows you to advertise your current car for sale, either for free or through a Premium Ad package. A free ad allows you to include three photos and brief description about your car, although you can opt for a Premium Photo Ad for $15, which bumps up the photo limit to 20. You can also purchase the Featured Ad Listing for another $15, which keeps your ad listing near the top of the page for seven days. However, you might also want to check the fine print when signing up, as there is no mention on the CarsGuide website as to whether they take a cut of a successful car sale, meaning it may cost you more than just advertising fees.
Autotrader
Autotrader works with CarsGuide to help motorists sell their car through increased exposure, and offers a free ad listing for you to use. Autotrader generates part of your ad for you after you've entered your car's details into the site, and gives you a recommended selling price based on the information you've given, as well as what other cars are currently for sale on the website. If you're looking to make your car stand out a bit more, you can opt for a paid ad package, although the final price will be dependent on how much you're selling your car for, so it's important to read the fine print before purchasing ad space, as the costs may quickly add up.
Car buying businesses
With the process of selling your car potentially a long and drawn out one, there are a number of businesses out there that will offer to buy your car from you on the same day, usually with the intention of selling it later on down the road. There are pros and cons to this, as you may not be getting top dollar for your car, but if you're looking to get rid of a car quickly, it may be worth considering. However, it's best to read the fine print, as these services often won't take any old car, so it's best to get in contact to see if there are any requirements involved with the process.
Here are some of the online options for selling a car in Australia:
Sell My Car
Sell Your Car Fast
Cars 4 Us
We Buy Cars
Sell My Car Today
Car wreckers
Car wreckers will take your car off your hands if you're not looking to hang onto it for a long period of time, or you don't have the confidence in being able to trade it in or fix it up. Most wreckers won't buy your car outright, but you'll often be able to get a quote for your model which can be used when you physically take your car in.
You may also be interested in:
How much does it cost to buy, trade in and sell a car online?
Aside from the cost of actually buying a car, there will often be a few additional fees you'll encounter when making a deal online, although this will come down to each site and individual factors, such as the value of your car and the type of ad package you choose. For trade-ins, there will likely be an administrative or transaction fee involved, but it's best to read the fine print before agreeing to any deals or advertisements.
When it comes to buying, you often won't have to fork over any additional costs (apart from the final cost of the car), with the majority of site fees coming out of the seller's pocket once a sale is completed. In addition to having a slice of the profit taken out of the transaction, as a seller you'll generally have to pay to advertise your car, with most sites giving you multiple options to choose from when it comes to advertising. However, for the majority of websites, the final cost of the advertising is tied to how much you list your car for, with CarsGuide only one of a few sites outlining a small advertising fee. Alternatively, you can advertise your car for free, allowing more to end up in your back pocket.
Is it a good idea to buy or sell a car online?
Considering just how many businesses and industries operate on an online landscape, it's really no surprise that you can buy or sell a car online. But as a car can be a big purchase, it's always best to do your research and take precautions before locking yourself into a deal, including booking an inspection and ensuring the paperwork is up to date. Also, if you're selling a car online, be very cautious about the many different types of scams that exist – such as a potential buyer (apparently) who is overseas asking you to pay some of the costs associated with shipping the car, before eventually doing a runner for your cash!
Most websites and businesses have processes in place to ensure that you don't end up with a lemon, or get ripped off if you're looking to trade in or sell, but the emphasis will be on you to ensure that you're getting what you paid for. While it may seem like a daunting process, there is a thrill in having the ability to have a new car at your door within a few hours, as long as you know exactly what you're getting.
If you're still not sure about what type of car you want to buy next, why not check out our New Car ratings or the top-selling cars in Australia.

Picture credits: Andrey_Popov/Shutterstock.com, VGstockstudio/Shutterstock.com, InnerVisionPRO/Shutterstock.com.