Online Accommodation Bookings
Whether it's cheap accommodation for a business trip or last minute deals for a holiday; compare accommodation booking websites with our customer satisfaction ratings to help you take off on your next adventure.
Compare accommodation booking websites using our customer satisfaction ratings.
One in three live vicariously through Facebook friend's holiday snaps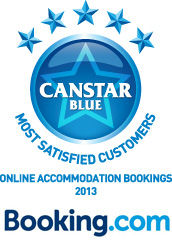 Suffering from holiday envy? You're not alone. We found that one in three respondents to our recent survey regularly snoop through people's holiday photos online. Results show a greater proportion of women than men take the opportunity to look through their friends' holiday snaps on Facebook (37%).
Men may be less likely to look through the vacation photos because they're more likely than women to get irritated by those who brag about their holidays on Facebook (42% versus 32%).
Interestingly, one quarter of travelers may be cultivating a false perception of holiday bliss by regularly posting flattering pictures of themselves on holiday to their Facebook profile.
Social media is also used by our respondents to help plan their future getaways, with one in four seeking the advice of their friends on Facebook and Twitter.
Booking.com sticks the landing with our 2013 customer satisfaction award
Our research found that more than two in five have a booking through an online accommodation booking website in the last 12 months. We've rated the customer satisfaction with a range of these sites to help you decide which one is best for you.
For the second year running, Booking.com received our Most Satisfied Customers Award – Online Accommodation Bookings for 2013, and achieved five star ratings in all rated criteria.
Also rated were Agoda.com.au, Expedia.com.au, Lastminute.com.au Hotel.com.au, Wotif.com.au, Hotels.com and Webjet.com.au.