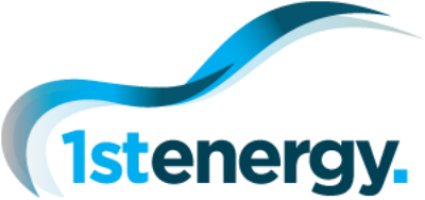 1st Energy Review and Rates
1st Energy is a small electricity retailer that operates in New South Wales, Victoria and South East Queensland. 1st Energy pitches itself as a customer-focused retailer, promising its customers excellent levels of service, quick solutions and peace of mind that their energy company cares about them. 1st Energy also claims to offer a price that "actually reflects the real cost of doing business". The retailer is also one of few that doesn't charge its customers a credit card fee for paying their bills.
So is all this just a sales pitch, or does 1st Energy truly offer a valuable service and good value? In this article, Canstar Blue details what's on offer from 1st Energy and whether this retailer could be right for you. You can also jump straight into our comparison tool to check the latest pricing for 1st Energy compared to other providers.
Compare 1st Energy Plans
1
st

 Energy Plans

1st Energy's electricity deals are rather straight forward, offering a single Market Offer – the 1st Saver – in addition to its required Standing Offer. The 1st Saver includes some of the largest pay-on-time discounts you will find. These discounts only apply to the usage charge component of your bill for a two-year benefit period, after which, you should look for a new energy provider or recontract with 1st Energy to continue receiving a discount. Of course, we must stress that a bigger discount doesn't always equate to a better price. To give you some idea of what 1st Energy might cost you, we have estimated the annual cost of the 1st Saver across each state. These figures assume a typical five person household on a single-rate plan.
1st Energy Electricity Prices NSW
The 1st Saver in New South Wales comes with a 22% pay on time discount off electricity usage charges. This deal is offered with both a single-rate and a time-of-use tariff with the option of controlled load.
| Plan | Discount | Annual cost |
| --- | --- | --- |
| 1st Saver | 22% | $2,681.51 |
Costs based on annual usage calculations using statistics from the AER for a five person household. Costs based on Ausgrid network in Sydney.
1st Energy currently errs on the expensive side according to our cost comparison. You can see how 1st Energy compares to other New South Wales electricity retailers here.
1st Energy Electricity Prices VIC
Victoria is home to some of Australia's largest discounts and 1st Energy certainly steps up to the plate. It offers a whopping 43% pay on time discount – one of the largest in the state. Currently pricing below.
| Plan | Discount | Annual cost |
| --- | --- | --- |
| 1st Saver | 43% | $2,624.71 |
Costs based on annual usage calculations using statistics from the AER for a five person household. Costs based on Citipower network in Melbourne.
See how 1st Energy compares to other electricity providers in Victoria with our price comparison page.
1st Energy Electricity Prices QLD
1st Energy offers a 28% discount to South East Queensland customers connected to the Energex network. Once again, this discount is for a two year benefit period and applies to usage charges when customers pay their bill on time.
| Plan | Discount | Annual cost |
| --- | --- | --- |
| 1st Saver | 28% | $2,055.40 |
Costs based on annual usage calculations using statistics from the AER for a five person household. Costs based on Energex network in Brisbane.
According to our calculations, 1st Energy is a reasonably priced electricity retailer, sitting around the middle in our price comparison table for Queensland.
1st Energy Service Guarantee
1st Energy says its goal is to be the best energy retailer and claims to put its customers first and foremost in every decision. It claims to offer competitive rates, no broken promises, and a guarantee that all emails will receive a reply within a day. 1st Energy also says it has "passionate" account managers ready to take your call.
1st Energy Price Match Guarantee
As part of its "honest pricing" ideology, 1st Energy says that if a customer finds a better price on electricity, it will match it or let them go. Presumably this means that 1st Energy will waive exit fees, however according the retailer's energy price fact sheets, there don't appear to be any exit fees regardless.
Account Management
1st Energy's online My Account service provides customers with a number of tools via which they can monitor and manage their account. Via My Account, customers can:
Pay their bill
Check their usage
Access their account details
Access their latest invoices
When it comes to invoicing, 1st Energy issues invoices on a monthly basis, with customers able to make payment via:
Credit card and MasterPass online via 1st's payment portal
Credit card via phone
Direct debit
BPay
Cheque via mail
Is 1st Energy right for me?
1st Energy does have some great discounts, but we must stress that this is not indicative of a better price overall. Customers must compare a range of factors, including usage rates, supply charges and any additional fees. 1st Energy often isn't the cheapest retailer in town, but it does claim to offer outstanding service. If you're someone who values being treated like a person and not just a customer number, then perhaps 1st Energy has something to offer you. It's all about understanding what you want from your electricity company and shopping around until you find it. To start your search, check out our customer satisfaction ratings and price comparison tool via the link below.