Imagine selling your solar power to your neighbours, or giving electricity as a gift to a friend. Peer to peer electricity trading could soon make that a reality for all Australians. In this article, Canstar Blue explains and explores peer to peer solar power trading and how you can benefit.
Australia has seen a surge in peer to peer (P2P) trading in recent years with the likes of Uber and AirBnB changing the way consumers pay for certain services. And as households become increasingly electricity independent, trading power looks set to become common as well.
Compare Electricity Plans
What is P2P energy trading?
Excess electricity produced by your solar panels is traditionally fed back into the national electricity grid in exchange for a 'feed-in tariff'. Peer to peer trading is similar, but rather than that power being fed in to a general pool of electricity, it is sold directly to another property. Not only does this give households and businesses full control of the electricity they generate, buyers are able to access clean, sustainable rooftop solar power, even if they don't have solar panels themselves.
The advantage of P2P trading is that buyers and sellers can set their own prices. However, there's currently a cap of 20c/kWh. That' s more than what a seller would ordinarily receive with a feed-in tariff, but less than what a buyer would pay had they purchased the electricity from the grid. Our neighbours across the Tasman have already had success with P2P energy trading, with some New Zealand electricity retailers dealing exclusively in P2P electricity.
The video below by LocalVolts, a company seeking crowd-funding to build a P2P platform in Australia, explains what peer to peer energy trading is and how you could benefit from it.
How can I get involved with P2P electricity trading?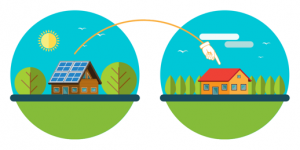 Literally anyone can get involved with P2P energy trading. Don't have solar? No problem, you can still buy cheap solar power generated by another house… but not quite yet. Australia's energy networks are heavily regulated and a disruptive technology like P2P sharing has to get through a mountain of red tape before it can have nationwide accessibility.
With that said, P2P trading might not too far off. A number of tech start-ups in partnership with some of Australia's largest integrated energy companies are running multiple experiments across the country to iron out the kinks and work out their business models. It will probably be a couple more years before everyone can sign up to P2P sharing, but when it's ready, getting involved will be as simple as adding an attachment to your smart meter.
P2P Energy trading companies
With P2P trading poised to revolutionise the energy sector, it's not surprising that so many companies have already shown interest in the future of the technology. Here are some of the most notable players in the development of P2P energy trading.
Power Ledger
Out of all the projects in the P2P energy space right now, Power Ledger is probably generating the most hype. Power Ledger is a Perth-based start-up that uses 'Blockchain', the same technology as that behind Bitcoin, to facilitate electricity trade among players. Blockchain is a digital currency that can be traded without a bank to facilitate transactions. Power Ledger has developed software that reads the output of household generators, like solar, and converts this into a cryptocurrency called 'Sparkz'. Each Sparkz represents a unit of power that a purchaser can buy with real money and use to receive the electricity generated by the seller. So while the buyer receives Sparkz and electricity, the seller simultaneously earns real money.
The Sparkz system gives users full control over who they sell and buy electricity from. You can use the solar power generated by one of your properties to power another property you own, or even send some Sparkz to a friend as a gift! Origin Energy has partnered up with Power Ledger and is currently trialling the technology in WA suburbs. This is Power Ledger's first experiment and the Blockchain technology behind it is marred with some controversy, so it's probably a while off yet.
Lo3 Energy
Lo3 Energy is a Brooklyn-based start-up also utilising Blockchain technology to create its peer to peer platform that allows households and businesses to trade electricity on an auction market – like an eBay for electricity. After its huge success in the US, Lo3 Energy has come to our shores, partnering with Yates Electrical Service to commission a six to nine month project to test its P2P technology in South Australia. In this closed market experiment, potentially hundreds of households and businesses are able to buy and sell solar power. This is only the start for Lo3 Energy. In this US, it has a mobile app that lets uses adjust where there power comes from with the swipe of a finger.
DeX
In September 2017, Greensync – a Melbourne-based start-up – officially launched DeX, short for Decentralised Energy Exchange. DeX is an open exchange platform where businesses and households can exchange energy capacity. Unlike Power Ledger and Lo3 Energy, users don't control who sells and receives their electricity, rather, DeX creates a 'smart grid' where DeX users trade amongst themselves in peak electricity demand periods. This means cheaper power for users and less pressure on the main energy grid.
SonnenFlat
SonnenFlat is an energy tariff and a sort of pseudo-P2P trade platform. SonnenFlat customers must have a solar system of at least 5kW and a SonnenBatterie eco 8.8 or above. Customers can then sign up to a fixed fee energy deal of $30, $40 or $50 per month, which gives subscribers a set amount of electricity – if customers exceed this, they are charged accordingly. All SonnenFlat customers must share some of their SonnenBatterie electricity, creating an exclusive network between Sonnen customers.  So it is technically a P2P platform like DeX, however Sonnen has full control of how the energy is used. If you're interested or want more information, visit Sonnen to submit a query.
AGL
AGL has been at the forefront of Australian energy innovation since before federation, and that's not about to change. In partnership with IBM, AGL ran a successful desktop simulation on the feasibility of Blockchain technology, similar to that of Power Ledger and Lo3 Energy. Following this, AGL has developed a prototype mobile app that allows AGL customers to trade or gift electricity. This will work by AGL reading your solar output and converting these into credits which can be sold to anyone. AGL says its next step is to conduct an extended pilot in Adelaide.
When will P2P energy trading be available?
It's difficult to predict when P2P trading will be widely accessible in Australia, though some (perhaps optimistically) predict we could see it as soon as 2020. While licensing and regulation are no doubt huge hurdles for P2P sharing, the vast nature of Australia's energy distribution networks makes P2P slightly more challenging than many other countries. For now, keep an eye out and be sure to keep checking in at Canstar Blue for updates in this space.