Fact Checked
The Aussie summer is a real scorcher no matter which state you happen to live in. And to withstand the heat, air conditioners have become a MUST in most households. But buying and installing a permanent AC unit is not always an option, whether time, space, or budget constraints are at play. Portable air conditioners are the next best thing to help beat the heat and finding a cheap portable air con won't leave you feeling heated. Read on to find out more about portable air conditioners in this Canstar Blue guide. 
How does a portable air conditioner work?
Portable air conditioners work in a number of ways depending on the type they are. The two main types are refrigeration cycle aircons and evaporative cooling aircons. Refrigeration cycle models will transfer the heat in a room to a refrigerant gas which cools down a space. Evaporative cooling models pull external air through a screen that is usually saturated with water and pass cool air out the other side. 
How much does a cheap portable air conditioner cost?
Portable air conditioning units can cost from as little as $40 to around the $160 mark. You can spend an extra $100 or $200 and get a much larger model with added features, but for those on a budget you can find a substantial model for a much lower price.  
Who sells cheap portable air conditioners?
A number of brands sell portable air conditioners including Devanti, Arctic Air and Kmart's brand Anko. You can buy models directly from the brand or from retailers like The Good Guys or Appliances Online. 
Artic Air Portable Air Conditioner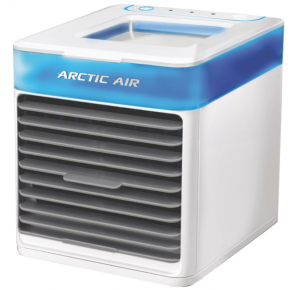 Retailing around $70, the Arctic Air personal cooler uses hydro-chill technology, UV light, and a silver-infused filter to cool and purify air simultaneously. It comes with four speed options including a new Turbo mode, and offers up to 10 hours of cooling per fill. Keep in mind that with cooling appliances, you really get what you pay for so the budget price tag may be indicative of subpar performance. 
Devanti Portable Air Conditioner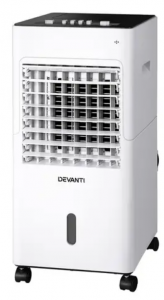 Devanti offers a number of evaporative air coolers, but one of its cheaper models is an air conditioner and humidifier rolled into one that retails around $110. It features a 4-in-1 function that combines an air cooler mode, fan, humidifier, and purifier, three speed settings, a swing mode, and adjustable louvres/oscillation to direct cool air anywhere you want. To use it as an air cooler, you'll need to pop ice crystals in the 6L water tank according to instructions. This model also comes with a detachable dust filter for easy cleaning.
Kmart Portable Air Conditioner
As the home of trendy homewares and apparel, Kmart also keeps it cool with this 10L evaporative cooler for around $100. This unit comes with three speed settings (low, medium, and high), remote and touch control, a 7.5-hour timer, and a water level indicator to help you stay on top of maintenance. It features a slim design and easy-rolling castor wheels to easily slot in any corner of the house. This model is also kitted with honeycomb cooling, including a fixed and oscillating function and a 60° up and down adjustable window to direct cool air where you want.
---
Read more: Kmart air conditioners & fans review
---
Factors to consider when purchasing a cheap portable air conditioner
When you're looking to purchase any item at a lower price the first thing to consider is longevity or durability. An item that costs less may not always last as long as you would hope, however if you are simply looking for a short term solution it can be an ideal choice. The features and functionality of a cheaper portable air conditioner may also be a factor to consider if you're wanting something that has additional settings and some more power, opting for something slightly more expensive may be the appropriate choice. If you're still not certain about a cheaper portable aircon, compare some other brands below.