Prime Minister Malcolm Turnbull has announced a massive shake-up of the energy market that looks set to include 'regulated' pricing that could make comparing deals easier, potentially leading to lower bills.
The announcement comes a month after the Australian Competition and Consumer Commission (ACCC) released the final report of its inquiry into retail energy pricing. It made 56 recommendations, including that the government introduces a "default market offer" for electricity prices.
The intention is that retailer discounts are set against the default offer – replacing existing standing offers – making it easier for consumers to compare electricity products and find the cheapest deal.
But while the industry expected the default tariff on retail electricity, the government seems to have gone even further by suggesting that the default offer will serve as a price cap. Mr Turnbull took to Facebook earlier in the week to make the announcement.
"(The ACCC) recommend there should be one standard, fair, default price for energy, so that as energy prices compete and offer discounts, you can easily compare it to what you're paying," he posted. "We'll set a price expectation which should be the most anyone pays."
But the move has been met with scepticism by some of Australia's largest energy companies. Origin Energy CEO, Frank Calabria, told Sky: "Rod Sims (ACCC chairman) went to great length to having a reference price so that comparability could be made, so comparison and transparency are good objectives. I just don't think reregulation is the right way to go and I don't think it's in the best interest customers or industry."
However, default pricing is supported by several retailers. Adrian Merrick, CEO of Energy Locals – a retailer that doesn't offer conditional discounts – told Canstar Blue: "A frankly ridiculous spread has opened up in the market between the highest and lowest offers from each retailer.
"The game isn't even subtle: crank up the top rate in order to create the illusion of a discount. For customers who aren't engaged or who simply have better things to do, they pay hundreds of dollars extra to subsidise fake offers.
"This will have the effect of narrowing the spread in the market between most and least expensive plans. A small number of highly active customers may find the too-good-to-be-true offers no longer exist at their current unbelievable levels, but the vast majority of customers will now have to make less effort to pay less than they do today."
Momentum Energy Director Amy Childs also supports the proposal for default pricing. Momentum is another retailer that does not offer conditional discounts and has spoken out critically of such products.
"The ACCC recommendations on default offers and discounting are potentially great news for energy consumers," said Ms Childs. "For too long now, retailers have been engaged in a discount war to lure in customers. But as the ACCC report revealed, this has created a market that is 'exceptionally complex and impenetrable' for many consumers.
"The ACCC report made it clear that discounts can be confusing and misleading and big discounts don't always lead to big savings. The report reinforces why Momentum Energy decided last year to stop offering discounts. We genuinely believe customers are better off with simple, straightforward rates instead of discounts."
The default pricing announcement comes amidst weeks of policy turmoil that has seen the government backflip on its energy emissions target, while also shoring up the powers of the regulators and consumer watchdogs. It also comes just a week after some of Australia's energy companies announced soaring profits off the back of rising power prices.
"Now, for too long, the energy companies have made out like bandits. In fact, some of the companies have tripled their profits as struggling Australian families have tried hard to meet their power bills," said Energy Minister Josh Frydenberg.
Opposition Leader Bill Shorten has also said that an elected Labor government will accept the ACCC's recommendation for default market prices. With both sides of politics supporting changes to the way we shop for electricity, a shake-up to the industry appears all but confirmed, regardless of the upcoming election result.
Why is this happening?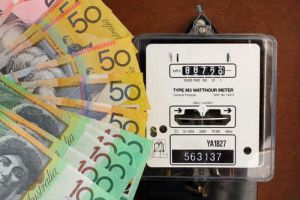 It's no secret that we pay a lot for electricity. Prices have been climbing for years due to a host of generation, wholesaler and retailer issues. In order to get to the bottom of this, the government launched an inquiry into electricity prices, undertaken by the ACCC. Among many other things, the report found that the electricity market is difficult to navigate, particularly because many retailers offer potentially misleading discounts that don't actually lead to real savings.
The ACCC recommended the default offer to serve as a benchmark for retailers, so that customers can compare like for like and see how much they are really saving.
What about gas prices?
While the default offer does not apply to natural gas prices, anything that effects electricity will also inadvertently affect the gas market and prices. Some have expressed concerns that a price cap could see less gas supply into the domestic market, pushing already high prices further up and potentially trigger the government's gas intervention policy.
The ACCC is also preparing its final report on the Australian gas market. It is expected to be released in the coming months, but at this stage there is no indication as to whether its recommendations could be as drastic as those seen in electricity.
When will the default offer apply?
The Australian Energy Regulator recently announced that it will receive over $30 million in funding to implement the default offer. Such a massive change to the industry will require extensive consultation with stakeholders, government, industry and the community, which will take some time yet. This means that it could still be some time before we see default offers implemented.
Compare Electricity Plans