Energy retailers come in all shapes and sizes – some gigantic, while others are still making their mark on the industry. With this in mind, we thought we'd compare a few energy bills from a handful of electricity and gas providers to give you a better idea of just how different each invoice can be. As you're about to see, some energy bills look totally different to others, and the way information is listed on each statement can vary significantly. They will, generally, all show the same details, but in their own special ways…
So, rather than comparing your power bill with a neighbour or friend, why not glance over these invoices right here? Who knows, you might just hover over your next statement and notice something a little out of place.
Skip ahead to compare electricity bills from each provider below:
AGL Energy Bill
AGL is one of the 'big three' retailers and sends out quite a detailed electricity bill for customers. On the first page, there's usually an overview section outlining your balance, due date and personal information. On the second page it tends to list your tariffs, usage charges, as well as any applicable discounts or credits.
Payment information is located at the bottom of the second page, where customers are shown that they can pay via various methods. Alternatively, bill payments can be made with PayPal or credit card on the AGL app, as well as by logging into your account online.
Direct debit
BPAY
Credit card over the phone
Online at Post Billpay or in person at a Post Office
Cheque mailed to AGL
PayPal
AGL Bill Smoothing (designated payment plans)
Centrepay (eligible customers only)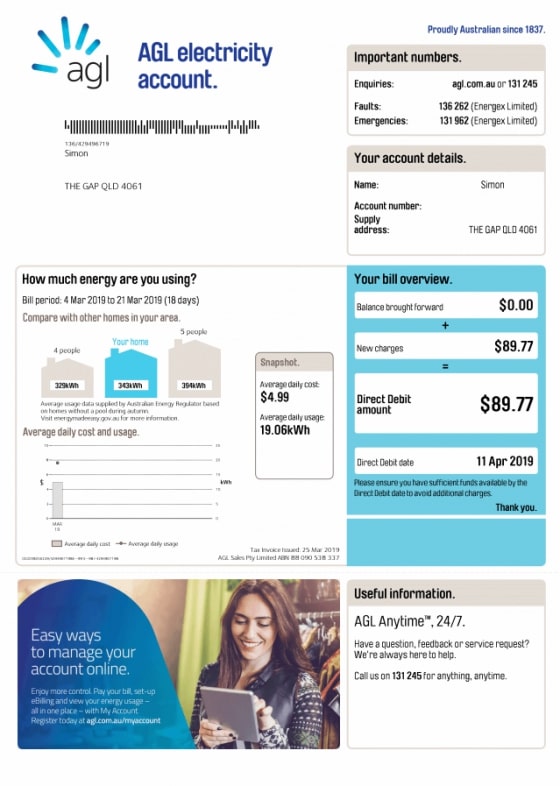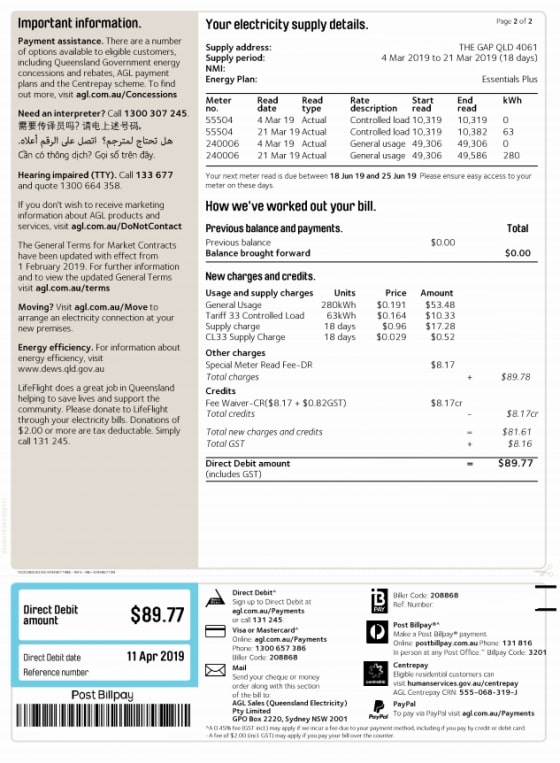 Alinta Energy Bill
Alinta Energy has emerged as a serious contender in the retail energy space and is known for its competitive rates and straightforward plans. Alinta Energy's electricity bill is fairly easy to understand, listing account details, amount payable, due date, tariffs, usage and supply charges.
Alinta customers can opt to receive a bill every three months, unless you choose a monthly billing cycle. You can pay via:
Direct debit
Online with a credit card
Over the phone with a credit card
BPAY
In person at any Australia Post Office
With a cheque by mail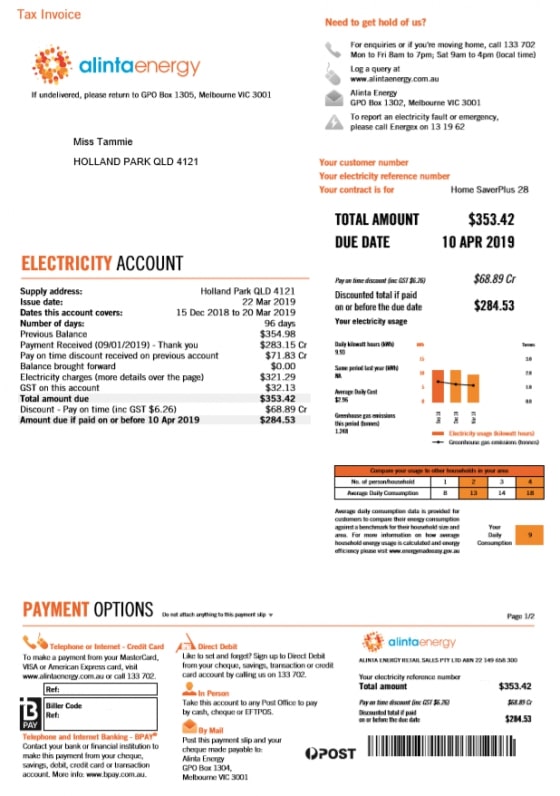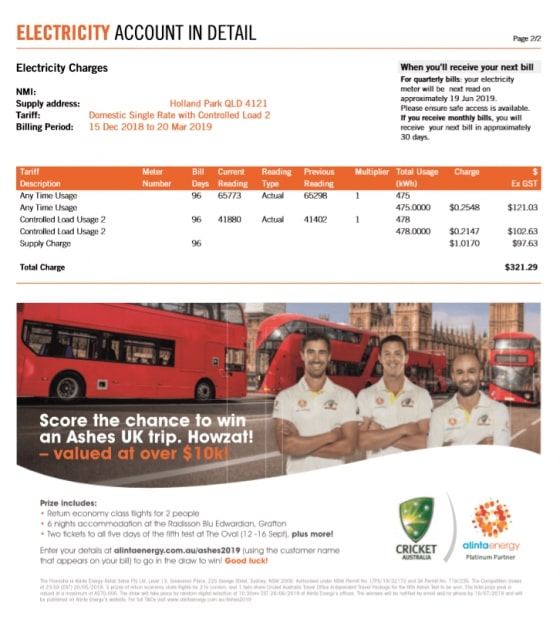 Origin Energy Bill
Origin Energy is one of the largest electricity and gas retailers across Australia, and its comprehensive bill seems to represent this. On a typical Origin electricity bill, you'll find account details, amount payable, due date, account and usage summary, as well as a breakdown of usage averages and how you compare to other households in your area.
Customers can pay their Origin bills by:
Direct debit
Credit card over the phone or online
By mail with a cheque
In person at any Australia Post Office
BPAY
EasiPay (nominated weekly, fortnightly or monthly installments)
You can also make full or partial bill payments on the Origin Energy app.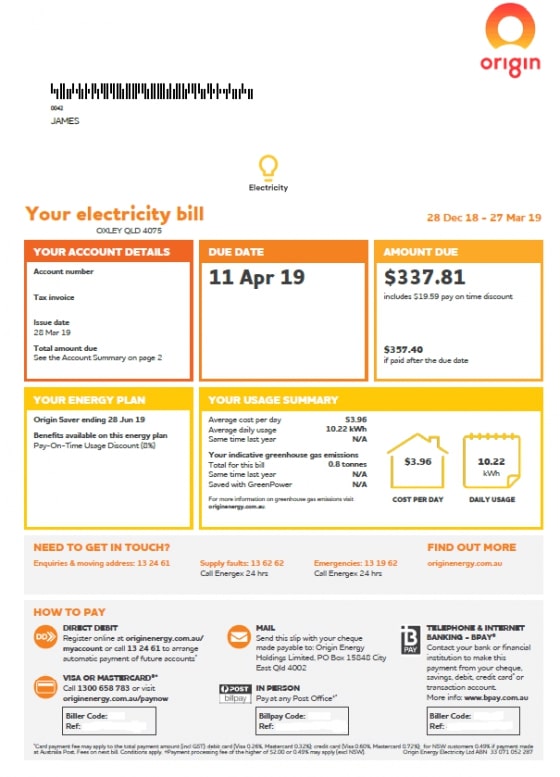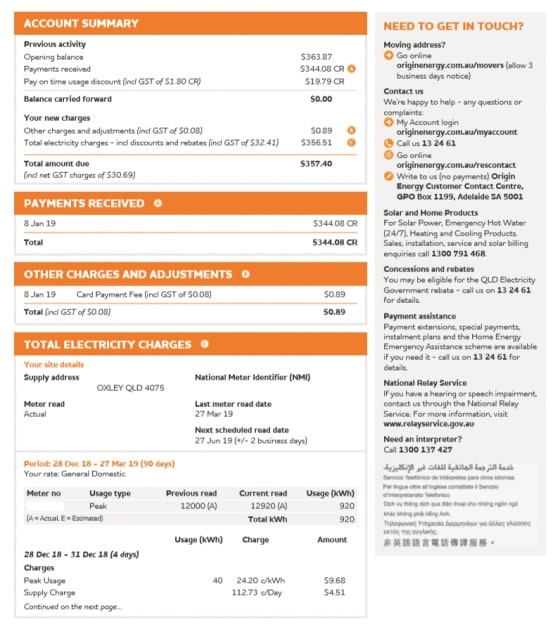 EnergyAustralia Bill
EnergyAustralia is another big player in the country's retail energy market, powering homes across NSW, Victoria, South Australia, SE Queensland and the ACT. EnergyAustralia's bills are easy to navigate, providing an account summary of your balance, personal details, usage and supply charges.
EnergyAustralia customers have the following options when paying their bills:
Direct debit
Online via the 'My Account' portal
Credit card online
BPAY
Posting a cheque
In person at any Australia Post Office
Centrepay (eligible customers only)
Bill payments can also be made via the EnergyAustralia app.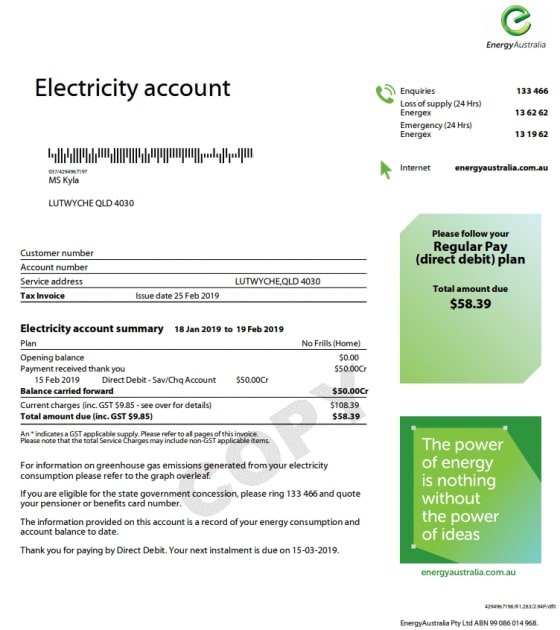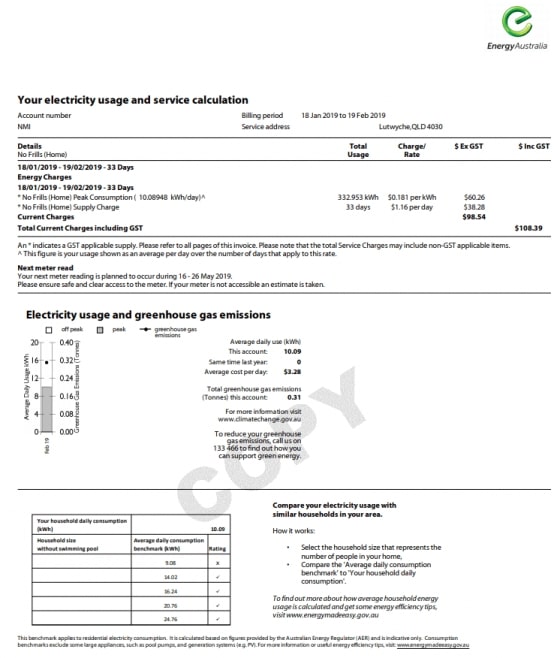 Powershop Bill
Powershop is a relatively new energy retailer on the block, offering customers a different approach to paying bills. Rather than just receiving a monthly or quarterly invoice, Powershop gives you the option to pre-purchase electricity, known as 'Powerpacks'. Powerpacks are available to buy online or via the Powershop app, which list any applicable discounts and rates so you know exactly what you're paying for. If you don't really fancy this approach, Powershop also has a traditional energy plan called Powershop Lite.
If you decide to purchase Powerpacks, Powershop sends you a tax invoice once you've purchased electricity or gas.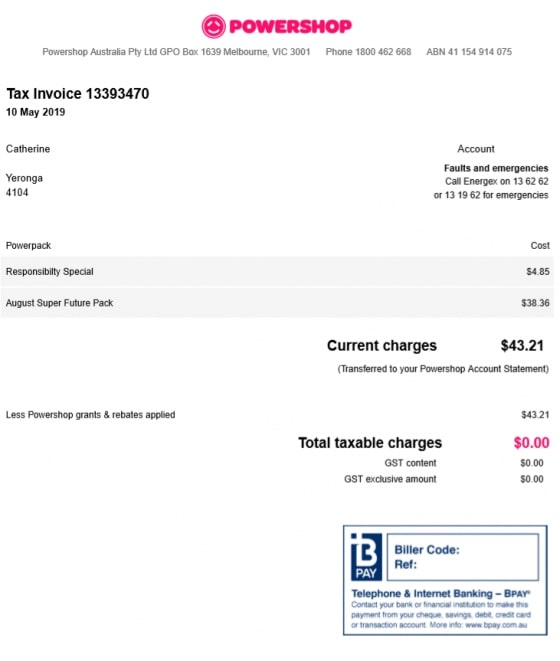 Red Energy Bill
Red Energy is another large electricity and gas retailer, known for offering competitive rates and customer satisfaction. Red Energy's bills comprise of average daily usage information, account details, balance owing, due date, as well as usage and supply charges.
You can pay your Red Energy bill the following ways:
Direct debit
Online with a credit card
Over the phone with a credit card
In person at any Australia Post Office
Centrepay (eligible customers only)
Cheque via mail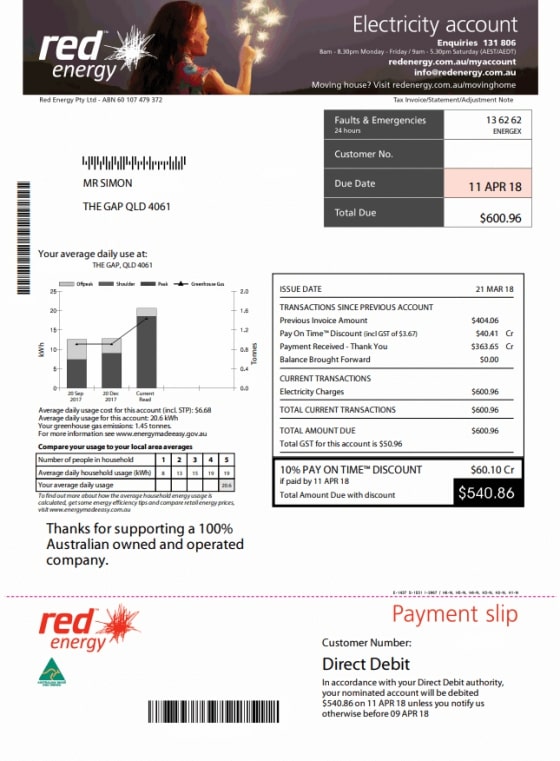 Still confused about your energy bill?
Understanding your power bills can be an overwhelming process at times. And with so much information crammed into a couple of pages, it can be hard to know which details can actually help you lower household energy costs. For an in-depth look at how to read your energy bill, visit our page here.
Does switching energy providers guarantee a better deal?
If you're looking to switch energy providers, there are a few things you'll need to consider. Firstly, you should always check to see if your current energy plan doesn't have any exit or disconnection fees. Secondly, find out how long it will take to switch to a new provider. Lastly, weigh up all the features of gas and electricity plans, and don't just look at pricing, as you could be missing out on value elsewhere, like customer rewards or sign-up incentives.
While it's fair to say that energy bills come in all shapes and sizes (literally), there are ways you can lower your household electricity costs. Whether it's examining the fine print in your contract or calling your energy provider, being resourceful can make a world of difference when it comes to finding a better deal.
Switching providers won't necessarily guarantee you a better deal if you don't do a bit of research. Want to know the best part? At Canstar Blue, we've made the journey to finding a better energy plan much easier. All you need to do is punch in your postcode and you're away. Compare loads of deals in your area now.

Image credits: Tap10/Shutterstock.com