Let's talk about power bills… It might not be your favourite topic, but knowing how to read and extract information from your bill is crucial to understanding how you can save on electricity.
After receiving an electricity bill, most of us simply look at what we owe and begrudgingly pay up. But there's plenty of useful information on your bill that can help you save, so it's worth taking the time to read your bills carefully. In this article, Canstar Blue walks you through your electricity bill. We highlight some important sections to look out for and explain how this information can help reduce what you pay for electricity.
Compare Electricity Plans
How to read a power bill
Electricity bills are issued by your energy retailer, so what your bill looks like will depend on who your retailer is. That said, most power companies include similar information in their bills, so the advice in this article should remain true regardless of your retailer. To explain the different parts of your bill, we'll be using an example bill from Alinta Energy – an electricity and gas retailer operating across most states.
Electricity Account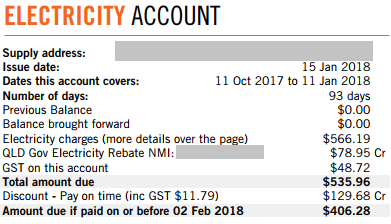 The first part of your bill summarises all the relevant information about your account. You can see that it includes information such as the range of dates covered by this bill, any rebates you may be entitled to, any previous balance and the total amount due before and after applying the discount.
Notice next to "previous balance" it says $0.00. This would be a positive number if this bill payer had been previously overcharged, and it would be deducted from this current bill. At the bottom you can see the total amount due, but this is more clearly displayed in the following section.
Electricity Usage and Cost Summary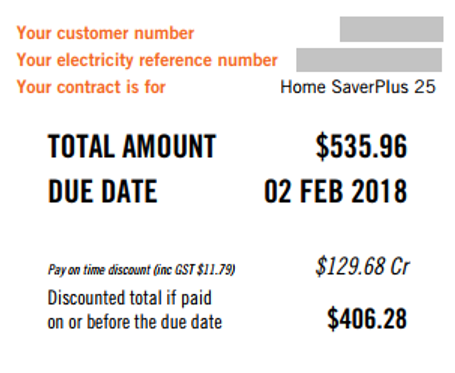 This is the part of the power bill that most of us would be familiar with. At the top you can see what contract you're on – in this case, it's the Home SaverPlus 25, which comes with a 25% discount off usage charges when customers pay on time. Under that, you can plainly see in bold the total amount owed and due date, as well as the discount value and the reduced bill total if it's paid on time. The bill in this example is for $535.96, but only $406.28 needs to be paid, so long as the entire amount is paid before 2 Feb 2018.
If you live in NSW, SA, VIC, ACT or South East QLD and notice that your bill doesn't include any discount, it's likely you're on a standing offer and paying much more for electricity than you need to be. If that's the case, be sure to shop around to find a better deal on electricity using our price comparison tool above.
Energy Usage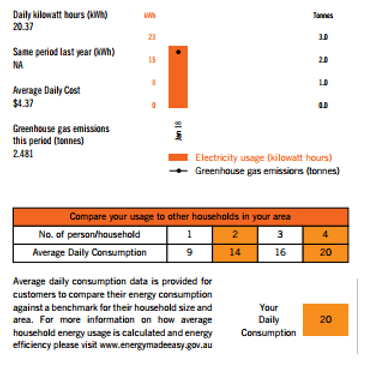 This part of the bill breaks down your electricity usage, illustrating your energy habits and how you compare to households in your area. In the top left corner you can see a list of information, including the daily average electricity usage, a comparison of the same time last year, the average daily cost, and the total greenhouse gas emissions. The diagram neatly illustrates all of this information and compares it to previous periods, helping you visualise whether your electricity usage habits are getting better or worse. As this was the customer's first bill with Alinta Energy, there was no previous data for the graph to compare.
The table at the bottom of the diagram provides a useful indication of how your electricity usage compares to other households in your area. You can see the average usage of a one, two, three and four-person household and compare this to your usage in the box on the bottom right. This bill is for a four-person household, and as you can see, this customer's usage of 20kWh/day is exactly on average for the area. You can see the state-wide average power bills here.
Payment Options
This part is usually at the footer of the first page of your bill and is fairly self-explanatory. On the right you have a recap of what's owed on this bill. On the left, you have all the information you need about paying your bill. It includes direct debit, paying in person at the post office, mailing your payment, and paying using a credit card or BPAY by phone or internet. Simply follow these steps and you shouldn't have any difficulty paying your bill.

Account Detail
Here is the nitty-gritty detail that not many of us care enough to look at. On the top left we have a technical breakdown of your electricity account. It includes your National Meter Identifier (NMI) – a unique number used to identify and bill your property, your supply address, the billing period and the applicable tariff – which essentially sets out how you're charged for electricity.
As you can see, the tariff for this bill is "Residential Single Rate with Controlled Load 2". The "Residential Single Rate" part means we're charged the same price for electricity regardless of the time or how much electricity is consumed. A 'Controlled Load' is a type of tariff that meters large appliances separately to the rest of the house, usually electric storage hot water systems. The rates on a controlled load should be lower than standard usage charges, though the trade-off is that electricity will only be supplied for a couple hours late at night to the controlled load appliance – hence why it's only suitable for certain appliances. As you can see under the "charge" column in the table below, standard electricity usage (aka Any Time Usage) costs $0.26 per kWh, while Controlled load usage only costs $0.22.
Moving on, you can see a meter reading notice in the top right hand corner of the diagram. This house has a traditional accumulation meter, which requires someone to physically visit the property to record the electricity usage. This won't appear on your bill if you have a smart meter, as these automatically transmit usage data to your power distributor without the need for someone to physically access your property. The next meter reading date on this bill is 16 April 2018. It's worth marking the meter reading date on your calendar and making sure obstructions are cleared and pets are secured so that the meter reader has easy access to your meter. Your electricity bill will be estimated if your electricity meter can't be accessed. Estimated bills can occasionally overshoot what you owe, so it's in your interests to avoid receiving an estimated bill.
The large table at the bottom of the diagram may look pretty daunting, but the information is quite manageable when you take it step-by-step. The first column shows the tariff, as we mentioned, the Any Time Usage and Controlled Usage tariffs are for electricity you actually use. The supply charge is a daily fixed fee that applies regardless of how much electricity you use, if any. Moving across, you can see the current meter reading, the type of reading, and the previous reading. The "Reading type" column refers to whether someone actually read your meter, or whether it was estimated – in this case, it was actually read. The total usage (third column from the right), is the difference between your current reading and the previous reading. Here, you can see this house used 1,372 kWh of standard electricity, 522kWh of controlled load electricity. When you multiply these usage figures by the applicable rate, you can see how the prices are determined. On this bill, $356 was attributable to standard electricity usage around the house, $114 was attributable to water heating, and $94 is paid to the networks in supply charges.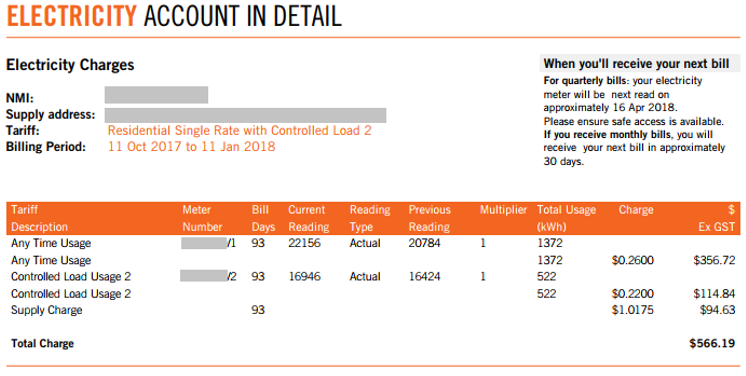 How can I reduce my power bill?
Understanding how to read your power bills is only half the battle – the other half is acting on the information you are given. For example, if you read your bill and realise you have low electricity usage and a large portion of your bill is from fixed supply charges, then you need to get out there and find a deal better suited to low-use households. Customers on a time of use tariff can also use their electricity bill to get an idea for when they're using the most electricity, helping identify opportunities to reduce electricity usage. You can also use your usage information to see whether or not electricity bills are increasing. If they are, take a moment and think what could be causing it and whether there are any other ways to reign in your usage.
Paying close attention to the electricity rates you pay will also allow you to watch out for any sneaky price increases from your provider. Your energy retailer will need to inform you of any price increases, but you'll need to keep your eye peeled.
If after all this you're still struggling with your bill, then perhaps it's time to see what else is out there. Compare electricity providers with Canstar Blue's customer satisfaction ratings.