Expert Guide: Arcline by RACV Review and Ratings

Fact Checked
Arcline by RACV is an electricity provider in Victoria, operating under the arm of one of the state's leading motor insurance clubs, the Royal Automobile Club of Victoria (RACV).
Running as a white-label under Aussie-owned electricity provider, Energy Locals, Arcline by RACV claims to offer carbon neutral electricity plans to households across all five of Victoria's distribution networks.
The retailer claims it can give customers reliable, cleaner energy on a plan that provides 'peace of mind' but is this really the case? In this review, Canstar Blue takes a closer look at Arcline by RACV's electricity products, including estimated prices and billing options, to help you determine if this provider may be the right fit for your household.
Arcline by RACV Prices
---
We take a look at Arcline by RACV's electricity plans in detail below to provide an insight into what you'll actually pay in Victoria.
Here is the Arcline by RACV plan on our database for Victoria. These costs are based on the Citipower network in Melbourne but prices may vary depending on your circumstances. This comparison assumes general energy usage of 4000kWh/year for a residential customer on a single rate tariff. Please use our comparison tool for a specific comparison in your area. Our database may not cover all deals in your area. As always, check all details of any plan directly with the retailer before making a purchase decision.
An Expert's Guide to Arcline by RACV
---
If you're wondering what services Arcline by RACV is offering in your state, look no further than the table below. We summarise what you can expect to find from Arcline by RACV in NSW, VIC, QLD, SA, ACT, NT, TAS and WA.
| | | |
| --- | --- | --- |
| NSW | | |
| VIC | | |
| QLD | | |
| SA | | |
| ACT | | |
| WA | | |
| TAS | | |
Arcline by RACV Plans
Arcline by RACV has one plan on offer for customers in Victoria, called 'Home Energy Plan'. There are no lock-in contracts or exit fees on this offer and customers will have the carbon emissions associated with their energy usage offset for no extra cost. Monthly billing is also available.
See how Arcline by RACV stacks up on price against other providers in Victoria:
Other Expert Guides on Australian energy providers worth checking out:
Arcline by RACV Solar
---
Customers with solar in Victoria have access to an 6c/kWh feed-in tariff with the Home Energy Plan from Arcline by RACV.
As for those interested in installing solar panels or a battery system, the retailer claims its RACV Solar team can assist with any enquiries. According to the RACV Solar website, the team offers services in the following areas:
Solar panels
Battery storage
Hot water systems
Electric vehicle charging
For a full list of services or to enquire about a solar solution for your home, it is best to visit the RACV Solar website.
Contact Information & Billing Details
---
If you ever need to contact Arcline by RACV about a product or service, you'll find all the details below.
Arcline by RACV Contact Information
Depending on what service you are after, Arcline by RACV has a point of contact for you. Details are listed below:
General enquiries: 1300 884 849
Postal address: 11 Newton Street, Richmond VIC 3121, Australia
Arcline by RACV Billing
When it comes time to pay your energy bill, the retailer allows payment a few different ways for your convenience:
Credit Card: Visa or MasterCard only (1% transaction fee will apply)
Direct Debit: Set up automatic debits from your nominated bank account
BPAY: Make payment using the biller code and BPAY reference number on the invoice
Smoothpay: A type of 'bill smoothing', Arcline by RACV's Smoothpay allows customers to nominate a small fortnightly or monthly amount to be taken out of their account to go towards paying their energy bill. Please note, this is only applicable to customers who use direct debit as their payment method.
Arcline by RACV Online Tools
For those looking to stay on top of their bills and view their usage history, Arcline by RACV has an online 'MyAccount' which customers can create an account for upon sign-up. With MyAccount, customers can change their personal details, set up direct debit payments, see their monthly billing cycle and keep track of their usage information in real time. For live usage data viewing however, you will need to have a smart meter installed at your property.
---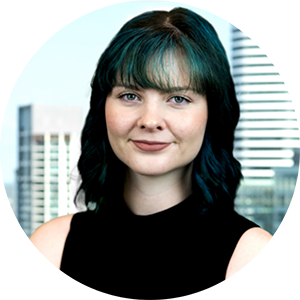 About the author
As Canstar Blue's Energy Specialist, Kelseigh Wrigley covers the retail energy market, with a focus on electricity, gas and solar. She joined the team after completing a Bachelor of Journalism at the Queensland University of Technology, and has previously written for a variety of online publications, including Hunter and Bligh. You can follow Kelseigh on LinkedIn.
---
Arcline by RACV FAQs
---
Is Arcline by RACV any good?
Arcline by RACV is a perfectly viable choice of electricity retailer for households in Victoria, offering, in most cases, affordable power prices, according to Canstar Blue's database. Its carbon offset guarantee may also be a positive pull for customers who are looking to be more eco-conscious with their energy usage.
Households interested in paper billing however, may find some additional costs tacked onto their bills when choosing Arcline by RACV, as the retailer charges a standard $2 fee for each paper bill issued.
At the end of the day, the decision is yours. Think about how you use your energy and whether this retailer will really suit your household, without falling into any of the big marketing pitches.
Who owns Arcline by RACV?
According to its website, Arcline by RACV is the "future-focused innovation arm of RACV". RACV is the Royal Automobile Club of Victoria, which is a Victorian motor insurance club.
What services does Arcline by RACV offer?
| | |
| --- | --- |
| Online chat functionality | |
| 24 hour call centre | |
| Energy saving tips on website | |
| Green energy options | |
| Notifications when bill is available | |
| Multiple billing options | |