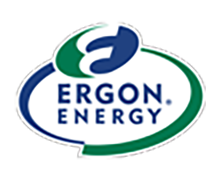 An Expert's Guide to Ergon Energy

Fact Checked
Ergon Energy is a government-owned electricity distributor and retailer, servicing homes, businesses and farms across
regional Queensland
. Unlike the rest of eastern Australia, customers connected to the Ergon Energy network generally do not have the option to pick their
electricity retailer
. That being said, the region has started to open up to competition recently with some other retailers now selling power to homes, however this will depend on location.
In this review, Canstar Blue takes a close look at Ergon Energy. We see where Ergon Energy operates and what it provides regional Queenslanders.
On this page, we'll cover:
Ergon Energy Expert Guide
Ergon Energy supplies electricity to around 745,000 customers across an area that's over one million square kilometres. Its network runs through coastal towns to remote outback communities, including the Torres Strait. Ergon claims to be 'one of Australia's largest purchasers of renewable energy.
Below is some general information on what services Ergon Energy provides:
Takes care of energy bill enquiries and payments.
Maintains the electricity grid, including powerlines, poles and substations.
Connects residential and business customers to the grid.
Connects solar, battery and electric vehicle customers.
Repairs and restores power when outages or supply interruptions take place.
Electricity Tariffs on the Ergon Energy network
Having little choice might make you concerned that you're getting ripped off, but fortunately that doesn't quite seem to be the case with Ergon Energy. Ergon's electricity prices are fairly comparable to those on the competitive Energex network, plus there are tighter regulations on Ergon Energy as to when and how it can adjust your electricity rates.
Ergon Energy does not offer 'electricity products' like traditional retailers, though residential customers can still choose between several types of tariff. These are:
Tariff 11 (General Supply Tariff): Customers pay a flat rate for all electricity usage regardless of the time or quantity of electricity consumed. There is also an added daily 'supply charge'.
| | |
| --- | --- |
| Usage Rate per kWh  | 21.76c/kWh |
| Supply Charge per Day  | 97.231c/day |
Tariff 12A (Time of Use Tariff): During the summer months (December to February), a different electricity usage rate is charged at peak periods (3pm to 9:30pm weekdays) and off peak (all other times). The peak period usage rate is about three times higher than off-peak, so customers on this rate should minimise their peak electricity usage. There is also a daily supply charge.
Tariff 14 (Demand Tariff): Customers pay for what they use at a flat rate throughout the year, plus receive demand charge that's based on the average demand for electricity on your four highest demand days each month. The demand charge varies in summer and non-summer months. Read more about it in our guide on demand tariffs.
Tariff 14A (Demand Tariff): Another demand tariff that's for customers who can limit their peak usage between the hours of 4pm and 9pm everyday of the year. Ergon claims this tariff may be best suited to households with high demand loads and lower usage needs.
Tariff 14B (Demand Tariff): This is a similar demand tariff to 14A in that it's for customers who minimise their power use between 4pm and 9pm everyday. Tariff 14B, however, comes with a much higher demand rate than 14A, but it compensates with a lower usage rate.
Tariffs 31 and 33 (Economy Tariff): These are secondary tariffs that are often referred to as 'controlled load tariffs'. They are designed to apply to large individual appliances such as hot water systems and heat slabs, rather than the whole house. Economy tariffs charge very low rates for electricity, however supply is limited to only a few hours per day. Tariff 33 supplies electricity for 18 hours per day, while tariff 31 supplies electricity for only 8 hours per day, but has a much lower rate.
Feed-in Tariff: You don't pay Ergon on this tariff – Ergon pays you. Customers with solar panels receive 6.583 cents for each kilowatt of electricity that their solar panels export to the energy grid. Read more about solar exports in our comparison of feed-in tariffs.
Rural and Business Tariffs:  Ergon Energy has three tariffs specialised for farmers – Tariff 62, 65 and 66. It also has a series of other tariffs for businesses that are similar to the ones we've already listed. For more information, visit the Ergon Energy website.
Ergon Energy Billing
Ergon has plenty of ways for customers to pay their bill, including:
Direct debit – Ergon automatically deducts payment from a designated bank account
Bpay – Pay either online or over the phone with BPay
Centrepay – Have your bill deducted from Centrelink
Over the phone – Call and pay using credit card
Cheque/Money order – Mail a cheque to Ergon Energy
Electronic funds transfer (ETF) – Directly transfer to Ergon Energy's account
Pay in person – Pay at the Australia post
Canstar Blue always encourages consumers to shop around for a great electricity deal, however as we've discussed, that's unfortunately not possible for Ergon Energy customers. But that's not to say there aren't other ways you can save! Canstar Blue has plenty of great guides on how to reduce electricity usage and lower your bills.
Check it out using the links below:
Ergon Energy Company Information
Here is some important information about Ergon Energy that may be of value if you live on the network. These details may come in handy if you need to contact the distributor if the power is cut to your property.
Ergon Energy Contact Details
Depending on the type of enquiry, there are a number of contact numbers for Ergon Energy, which we'll list a little further down. Ergon also has an online portal for general enquiries, including billing queries and complaints.
Residential customer service: 13 10 46 (Mon-Fri: 8am – 5pm)
Business customer service: 1300 135 210 (Mon-Fri: 8am – 5pm)
International enquiries: +617 4408 9207 (Mon-Fri: 8am – 5pm)
To report a power outage: 13 22 96 (24/7)
Mailing address: Ergon Energy, PO Box 1090, Townsville QLD 4810
Ergon Energy Coverage Map
As the map of Queensland below shows, Ergon Energy essentially covers all areas in Queensland aside from the south-east, which is supplied by the Energex network.  The distribution area also doesn't cover large parts of the isolated far west and north.
The Ergon Energy Network runs from the Toowoomba and Gympie region, south to the border with NSW and out as far west as Mount Isa and Burketown. It covers Queensland as far north as Cooktown, with additional distribution zones across the Torres Strait. As the map shows, many of Queensland's major towns and cities outside the south-east are covered by Ergon Energy, including:
Hervey Bay
Bundaberg
Gladstone
Rockhampton
Roma
Yeppoon
Clermont
Mackay
Townsville
Charters Towers
Cairns
And many more…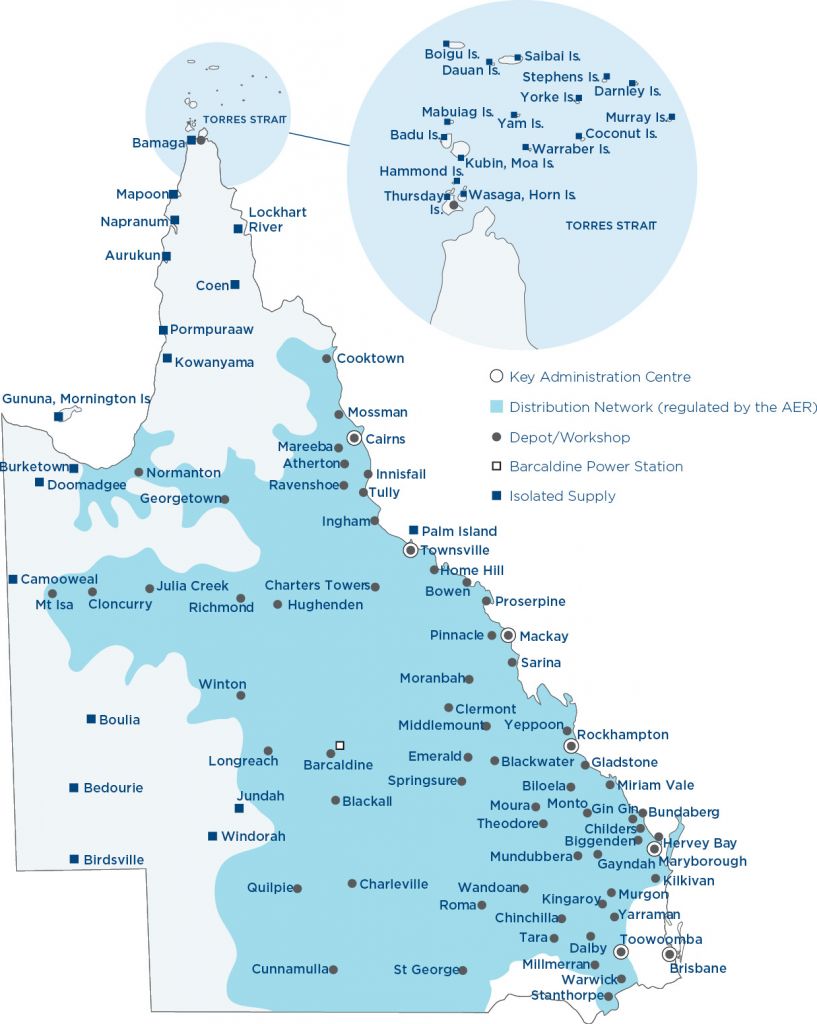 Ergon Energy Outages
Ergon Energy updates any known power outages on its website and alerts customers who opt in via text message. Residents can subscribe through Ergon's Self Serve Portal and receive SMS notifications or email alerts about outages in their area. On its website, Ergon Energy also has an outage finder which displays any power disruptions or loss of supply on a map.
Ok … I think we can see what the problem is here. We've got poles down after yesterday's storms in the South West. We'll get the power back on as soon as we can. Storm season is upon us and it's worth checking out this info on our website. https://t.co/Cazd17EdWp pic.twitter.com/upREpOwCfh

— Ergon Energy (@ErgonEnergy) September 30, 2021
---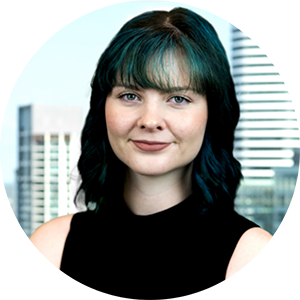 Kelseigh Wrigley: Energy Specialist
As Canstar Blue's Energy Specialist, Kelseigh Wrigley covers the retail energy market, with a focus on electricity, gas and solar. She joined the team after completing a Bachelor of Journalism at the Queensland University of Technology, and has previously written for a variety of online publications, including Hunter and Bligh. You can follow Kelseigh on LinkedIn.
---
Other QLD Energy Distributors
In Queensland, there are only two electricity distribution companies – Energex for the south-east and Ergon for the rest. For natural gas, there are also two distributors that cover most of the coastal area of the state.
Electricity: 
Energex for South-East QLD, including Brisbane, Gold Coast and the Sunshine Coast.
Ergon Energy for southern regional QLD and North QLD, including Toowoomba, Gladstone, Mackay, Bundaberg, Rockhampton, Townsville and Cairns.
Natural Gas: 
Allgas Energy for south of the Brisbane River, South Coast, Toowoomba and Oakey.
Australian Gas Networks for north of the Brisbane River, Ipswich, Gladstone and Rockhampton.
FAQs about Ergon Energy