Little One's wins big in baby wipes review
Busy parents have few more helpful weapons in their armoury than a packet of baby wipes. It's incredible just how messy young kids can get – so wherever baby goes, baby wipes will need to follow. They may be first and foremost designed to deal with dirty nappies, but baby wipes are way more useful than that. They clean dirty hands, dirty faces, messy highchairs, and just about anything your little sprog lays his or hers fingers on, because it's sure to be left sticky. Yup, baby wipes are high on the list of things you absolutely must pack in your baby bag for when you go out. You can be sure you'll need them.
However, there can be a big difference between good and bad baby wipes. From the packaging design to the moisture and strength of the wipes themselves, parents can easily spot a shoddy baby wipe a mile off. Baby wipes must be reliable, durable, and easily accessible at a moment's notice. If they're not moist enough to effectively clean those mystery sticky substances off your child's hands, forget it. Likewise, if they're too darn difficult to remove from the pack with only one hand while you're holding a baby covered in food in the other, you can forget it. So, where can you find the best baby wipes?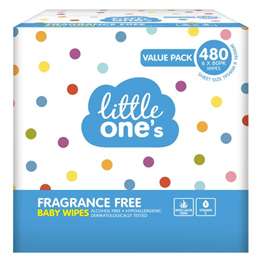 To offer some guidance, Canstar Blue annually surveys more than 1,000 mums and dads across Australia, to find out how they rate various baby-related items, from nappies and baby wipes to baby monitors and prams & strollers. When it comes to baby wipes, seven leading brands have featured in our 2017 review, with Little One's rated highest overall. The Woolworths brand was the only one to rate five stars for overall parent satisfaction, in addition to value for money and scent. It was four stars overall for ALDI Mamia, Coles Comfy Bots, Curash and Huggies. Dymples and Johnson's earned just three stars overall. However, Little One's was not the only brand to score top marks in a specific area:
Last year's winner, Huggies, rated well once again, being the only brand to achieve five stars for moisture & effectiveness, strength & thickness and ease of opening & dispensing, as well as rating five stars for scent
ALDI Mamia joined Little One's in rating five stars on value for money
Curash earned five-stars for scent, along with Little One's and Huggies
Leading the way from ALDI, Coles and big name brands is a fantastic result for Woolworths. The Little One's brand has also performed well in our 2017 review of disposable nappies, though on this occasion Huggies came out on top. To help you decide which baby wipes might be best for your baby – and budget – let's assess each factor separately.
Moisture and effectiveness
The effectiveness of baby wipes is largely determined by how moist they are and therefore how well they fulfil the task of cleaning up mess. Baby wipes that just don't pack in the same level of moisture will almost certainly be of less use to parents cleaning up after their little ones. While parents can help themselves by keeping the packaging closely sealed to avoid wipes drying out, some brands are simply better in this department than others. Huggies was the only one to rate five stars in this area, followed by ALDI Mamia, Coles Comfy Bots, Curash and Little One's with four stars. Dymples and Johnson's scored just three stars.
Strength and thickness
Closely following moisture and effectiveness in importance, baby wipes also need to be strong and thick – tough enough to battle even the messiest of messes, be it from nappies, dinner, or a play in the garden. Given that baby wipes are a tool to conveniently scoop up mess, as well as absorb it, a torn baby wipe is next to useless. Huggies was the only brand to earn five stars for strength and thickness, with ALDI Mamia, Coles Comfy Bots, Curash, Little One's and Johnson's behind on four stars. It was just three stars for Dymples.
Value for money
Baby wipes might be a relatively low-cost item in the grand scheme of things, but that doesn't mean you should pay more than you need to. Consider how often you buy baby wipes and you will realise the cost can quickly adds up. If you think you're getting your money's worth, that's great. But if you think you're paying over the odds for what you're getting, it may be time for a change. Supermarket brands ALDI Mamia and Little One's were the only baby wipes to rate five stars on value for money, ahead of Coles Comfy Bots, Curash and Dymples on four stars. It was three stars apiece for Huggies and Johnson's.
Ease of opening and dispensing
This factor is a lot more important than you might realise. Think about it, what good is a nicely moist, strong and thick baby wipe (that you purchased at a reasonable price) if you can't get it out of the packet quickly and easily when you need it most? Opening a packet of baby wipes is often a challenge in itself given its tight seal to maintain the moisture. If you're a savvy mum or dad, you'll make sure you have a packet or two open around the house for when they're called upon. If you don't, trying to open a new packet amid the madness of mess and screaming kids is a recipe for disaster. Huggies was rated five stars in this department, followed by ALDI Mamia, Curash, Johnson's and Little One's with four stars. Coles Comfy Bots and Dymples rated three stars.
Scent
Some baby wipes come with no scent, but others seem to put a lot of effort into it. While scent won't have any impact on the cleaning performance and reliability of baby wipes, you'd rather have a packet smelling pleasant than not. Curash, Huggies and Little One's all rated five stars on scent, with ALDI Mamia, Coles Comfy Bots and Dymples scoring four stars. Johnson's got three stars.