Ergobaby holds top spot in baby carrier ratings
Being a parent – especially of newborns – usually means little sleep and tired bodies, so mums and dads naturally appreciate any extra help they can get. A baby carrier can certainly help keep your hands free while keeping a close tie between you and your little one. Hands come in handy for things like grabbing baby wipes, reaching for bottles, packing your shopping bags, or just generally being able to function like a normal human being.
Of course, the difference between a good baby carrier and a bad baby carrier can make all the difference. A baby carrier that is just too fiddly to use can be more of a hindrance than a help. So, which baby carriers are up to the job? It's the fourth year that Canstar Blue has surveyed hundreds of parents across Australia to seek their feedback on the baby carriers they use and, for the fourth year in a row, Ergobaby has taken top spot. Ergobaby achieved five stars for overall satisfaction, comfort & support, fit, durability and flexibility. It was four stars for ease of use, fabric and value for money.
Best-Rated Baby Carriers
The six brands in our 2018 baby carrier review were rated in the following order for overall parent satisfaction:
1st Ergobaby
2nd Tula
3rd Manduca
4th BabyBjorn
5th Hug a Bub
6th Kmart
Tula, Manduca, BabyBjorn and Hug a Bub received four stars for overall satisfaction while Kmart was left with three. Other results on note included Tula and Manduca both achieving five stars for ease of use. Tula also scored top marks for fit along with Ergobaby, while Manduca received five stars for durability as did this year's winner. Manduca was the only brand to rate five stars in regards to value for money and fabric.
Other brands are available, but these are arguably the biggest baby carrier brands in Australia, and are a good first port of call for your next baby carrier purchase. That doesn't mean other brands aren't worth consideration, however.
It's important to note that our review includes feedback from parents with all types of carriers. With the average spend of those surveyed being $133, doing your research before buying a new baby carrier is a helpful first step. To give you a hand, below is an overview of the brands featured in our review:
Top Baby Carrier Brands
Ergobaby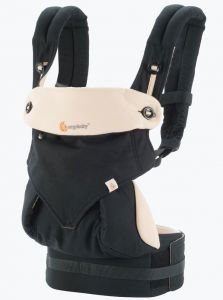 In Australia, Ergobaby is distributed by Babes in Arms and offers a huge range of baby carriers, with most being front carrier-centric. Ergobaby features the 'All-Position Omni 360 Collection', which is a range designed for all seating positions. It claims to be suitable for babies anywhere from 3.2 to 15kg, which is the size of a toddler. Ergobaby also publishes a guide to help parents decide, with wraps and hip seats also available, making mum or dad the ultimate kid-holding tree. Ergobaby carriers can be found for under $200, but the Omni 360 range can go up to as much as $289. Its baby wraps can be had for $99 RRP.
Ergobaby was a stellar performer in our ratings, with five stars for overall satisfaction and most other research categories except for ease of use and value for money where it achieved four stars.
Tula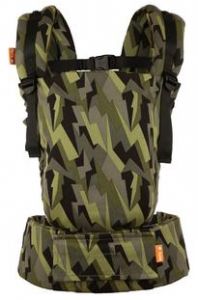 Tula is based in the US, but offers its baby carriers, plus kids' blankets, backpacks and lunchboxes worldwide. Ranges include standard carriers, soft structure, coast, woven wraps and ring slings with sizes stated to be suitable for babies from 3.2 to 27kg. Soft structured carriers are boasted for 100% cotton canvas and come in a wide range of prints and colours. Tula's 'Coast' line up is stated to use breathable mesh material to create ventilated carriers for active lifestyles and warmer climates. Expect prices from around $219 to $259 RPP.
Tula achieved four stars for overall satisfaction, as well as for comfort & support, durability, flexibility and fabric. It was five stars for ease of use and fit but three stars in regards to value for money.
Manduca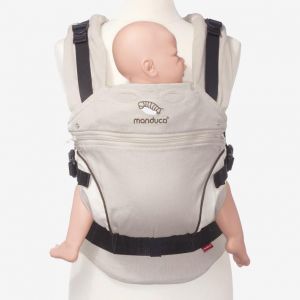 Manduca's range consists of classic baby carriers, pure cotton baby carriers, plus a limited-edition line along with baby slings and accessories. Endorsed by the Australian Physiotherapy Association, Manduca organic baby carriers are claimed to be ergonomically designed to support both the baby and parent. Sizes are stated to suit infants from 3.5kg all the way up to 20kg with most being front-facing carriers. It boasts adjustable straps, ergonomically shaped hip belts and integrated head support for comfort and convenience. Typically, prices sit from around $190 and $220, while baby sling carriers can be had for $110.
This year, Manduca was rated four stars for overall satisfaction, comfort & support, fit and flexibility. It also received five stars for ease of use, value for money, durability and fabric.
BabyBjorn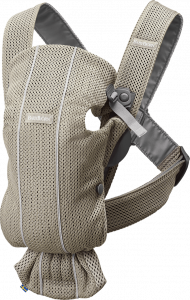 Perhaps unsurprisingly, BabyBjorn is a Swedish company specialising in family and baby products, and has a fairly concise range of baby carriers. Most err towards front carriers, but the dearer models can be customised to suit either front or rear applications. Cheaper models feature more basic functionality but still get the same materials and designs that the dearer ones do. The cheapest start from around $150, while the dearest ones fetch prices around $250. The 'Carrier One' is the flagship model in BabyBjorn's line-up and is designed to be an ideal carrier for hiking. It is suitable for newborns through to three year olds and features four-way front and back functionality.
BabyBjorn was a solid performer in our 2018 review, with four stars for overall satisfaction and in every other research category except for flexibility with three stars.
Hug-a-Bub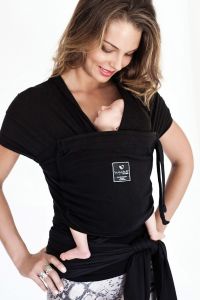 As the name might suggest, Hug a Bub is a brand primarily focussed on slings and wraps, rather than carriers. If you really wanted to turn your baby into a 'babyritto' then Hug a Bub may be a good bet. Its range includes pocket wraps, lightweight wraps, cotton mesh ring slings and even reversible ring slings. Hug a Bub claims to have ignited the baby wrap and sling craze here in Australia and its ring sling range is said to be ideal for breastfeeding as it's easy to get on and off and work around. All products feature organic cotton and soft-touch fabrics, and costs range from around $100 to $310. For a cheaper alternative, Hug-a-Bub might be it, but keep in mind it features no traditional carriers.
Hug a Bub was rated four stars overall and in all other research categories including value for money, comfort & support and flexibility. It was three stars for flexibility.
Kmart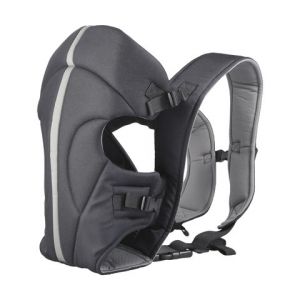 Kmart is a purveyor of cheap, trendy homewares and clothes, but what you might not know is it also produces a baby carrier – just one. It's designed to be pretty utilitarian and can be fitted three ways. It's suitable for babies 3+ months old and has a max load weight of 9kg. It features polyester for the shell and polyurethane foam for the filling to cocoon your little one. It also features adjustable head support for growing babies. It costs $29, making it a great deal cheaper than most other brands.
Price wasn't the only consideration for parents, however, as Kmart was rated three stars overall and three stars in every other research category including value for money.
Things to consider when buying a baby carrier
A baby carrier needs to be more than just cheap. Ergobaby doesn't make the cheapest baby carriers, but that didn't deter customers from rating the brand highly on value for money. They clearly see the 'value' in spending a little extra. Our research identified the following drivers of parent satisfaction:
Comfort & support: 24%
Ease of use: 23%
Value for money: 15%
Fit: 14%
Durability: 12%
Flexibility: 8%
Fabric: 4%
Comfort & support was evidently the main driver of satisfaction and having a carrier that's easy to use is also a huge factor. There's a bit more involved than plonking a baby in a sling and away you go on a 5km walk! Value for money was also an interesting factor, as 'value' implies more than just a cheap price.
While it's tempting to just go out and buy the cheapest baby carrier, cheap doesn't necessarily equal a happy parent. Ergobaby's customers were found to have spent an average of $178 on their new baby carriers, which is higher than the $133 average for all brands. With this in mind, a baby carrier clearly isn't a flippant purchase for a lot of parents:
39% of mums and dads bought their baby carrier based on a recommendation, either through word of mouth or an online review
Other key finding from our 2018 survey include:
What type of baby carrier should I buy?
There are two main types – carriers (or 'pouches') and backpack carriers. Sling carriers are also quite popular and worthy of your consideration. One isn't necessarily better than the other, but it does come down to how old your child is and your personal preferences.
Carriers or Pouches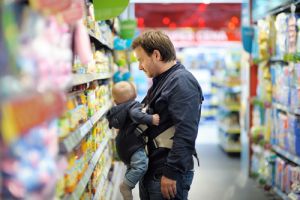 The most common type of carrier, these are best suited for newborns and babies younger than 18 months. They are usually worn off the chest, with the baby facing inwards, but customisable carriers have also come into vogue recently, with slightly older children able to face outwards.
Benefits: Keeps baby snug and close, facing inwards for more one-on-one time, allows parents to keep an eye on baby at all times
Drawbacks: Kids can get heavy fast, and the chest position can cause back pain when your child starts growing. Older babies may get more restless, and facing out can be a solution, but front-facing carriers can feel too snug
Of the parents surveyed, a massive 58% reported preference towards the front carrier, rather than a backpack-type carrier. One in three (32%) reported they get back pain using a baby carrier – no doubt this starts setting in when the little munchkin starts growing up! When your baby starts growing, it may be time to consider a backpack carrier.
Backpack Carriers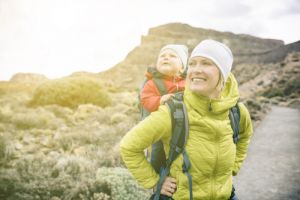 Backpack baby carriers often feature rigid frames, but some front-facing carriers are also able to be customised to fit on the back. Those with rigid frames are best suited to older kids who aren't exactly babies, but can't walk longer distances yet. If you've ever walked a popular hiking trail, there's probably no doubt you've seen these backpack carriers in action.
Benefits: Best suited to older infants and toddlers, suitable for longer walks, lets baby see out, weight of baby is able to be distributed across shoulders and back, rather than chest
Drawbacks: Provides less 'intimacy' between parent & child, not so suitable for younger babies and newborns, high position can be awkward at first
To the one in three of those surveyed who reported back pain, a backpack carrier may be more suited than a pouch-type. Almost one in five (17%) also reported that they are worried about their baby falling out of the carrier – a pouch evidently lets you keep a better eye on your baby.
Sling Carriers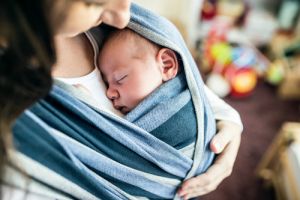 Sling types are less common and less of a 'type' of carrier, but more of a variation of the two above. Like sling bags, sling baby carriers are often worn across the shoulder and the baby sits across your body. They can be made of stretchy supportive fabric, but can also be made with rigid materials as seen in backpack carriers.
Benefits: Provide arguably the most 'intimate' feel for newborns and parents, are extremely cosseting, provide a 'cot like' feel for newborns
Drawbacks: Often don't provide as much padding or support, leave one arm occupied, unsuitable for older babies or toddlers
Sling carriers are arguably the most rudimentary of carrier designs, and most brands tend to omit this design from their product range. Still, if you have a newborn and wanting an intimate feeling, a sling carrier may still be the best bet.
The bottom line on baby carriers
It's important to take some time in finding the right fit for you and your baby. As your baby grows, the heavier it will get and the more back support you may need. Most baby carriers are one size fits most, being easily adjustable for your bub, plus allowing it to be shared between parents. If you want to make it a fashion statement, the wide array of designs and fabrics can also come into play. However, it would be wise to keep in mind the price as well as the ergonomics behind it.