Fact Checked
Baby Einstein rated a smart buy in baby bouncer review for 2nd year
There's never a dull moment when you have a little one running around. While it can be exciting to see them explore the world around them, sometimes having them figure out how everything works from just one spot in the house can be just as enjoyable. But keeping your bub settled in a particular area can be tricky unless you have a good baby bouncer.
Baby bouncers, swings, and rockers have been a saving grace for many tired parents, allowing your child to burn off energy while playing safely. But while it may be tempting to simply grab the first bouncer you see on the store shelf to give you a bit of brief respite, your choice of baby bouncer may impact your child's enjoyment, as well as your bank balance ─ you don't want to fork out cash only to find out that the quality doesn't live up to your expectations, or your baby's needs.
To help you out (and your bub), we've compiled a guide comparing top bouncer brands, so you can get a good idea of what's on offer.
---
How we rate baby bouncers
---
Our latest research shows Aussies spend an average of $132 on their baby bouncers. Two-fifths of parents (42%) purchased the cheapest bouncer they could find, with 22% of respondents managing to snag a baby bouncer that was on sale or part of a deal. Another large portion of people surveyed picked up something which matched their other baby products (46%), such as finding a bouncer with the same brand or colour.
Knowing what you're looking for is only half the battle, the other half is knowing what's out there. In this guide, Canstar Blue compares the top baby bouncer brands so you can make an informed choice when it comes to your baby.
Find more detailed information on our ratings methodology.
---
Top Baby Bouncer Brand – Baby Einstein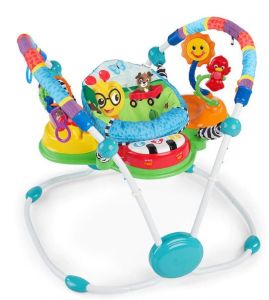 Baby Einstein is a renowned brand of multimedia products, including direct-to-video programs, CDs, books, toys, play mats, and baby items that offer interactive activities for infants and toddlers. In terms of bouncers, Baby Einstein only stocks 'activity jumpers' suitable for babies at least six months old and who can sit up unaided.
If your little bundle of joy has musical ears, Baby Einstein has the Neighbourhood Symphony Activity Jumper ($299 RRP) packed with musical activities including electronic bongo drums with lights, a piano that plays music, and spins, a guitar with colourful beads, plus more. It comes with four height positions to keep your baby's growing legs comfortable and a Secure Support seat.
For little ocean lovers, there's the Baby Einstein Neptune's Ocean Discovery Jumper ($299 RRP) that features an electronic turtle toy station, a crab that spins inside a clear ball, a little starfish that holds a self-discovery mirror, an octopus paddle toy, flashcards with real-life imagery, and more. You can find Baby Einstein products from Target, Baby Bunting, and other baby specialty shops.
Baby Einstein topped our ratings with five-star reviews for child enjoyment, design and style, additional features, and overall satisfaction. It scored four stars for value for money and durability and quality, plus three stars for weight and size.
What should you look for in a baby bouncer?
It's not just price that counts when buying a baby bouncer. There is no one-size fits all product, just ask the handful of parents who previously tried a different baby bouncer that didn't suit their baby (11%). Here are a few more insights our survey uncovered:
34% of parents bought a baby bouncer which required assembly
10% of people found the battery life on their bouncer was too short
7% of Aussies bought a baby bouncer that can be converted into a toddler seat
Other key findings from our 2022 survey include:
Which baby bouncer should you buy?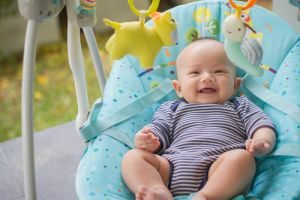 Finding something for your bundle of joy can be a tricky process, regardless of what you're after. But many consumers are doing their homework to make the decision easier, with 26% of those we surveyed having searched for online reviews before choosing which baby bouncer to buy.
As with any purchase, looking into all of your options before you head to the checkout can save you not only a few dollars, but a bit of back and forth between the store, particularly if you have a fussy baby or need something specific for your bub. Some providers offer hybrid models that convert from a bouncer to a baby seat, while other models acquire some assembly, which may impact how likely you are to take it home with you. Additionally, keeping an eye on your budget will also influence which brand and product you walk out the door with, meaning there's plenty to factor into your next purchase.
About the author of this page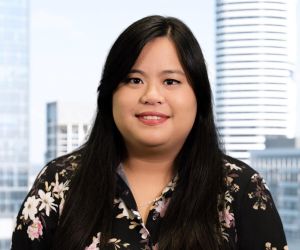 This report was written by Canstar Blue's home & lifestyle journalist, Tahnee-Jae Lopez-Vito. She's an expert on household appliances, grooming products and all things grocery and shopping. In addition to translating our expert research into consumer-friendly ratings reports, Tahnee spends her time helping consumers make better-informed purchase decisions on all manner of consumer goods and services, while highlighting the best deals and anything you need to be aware of.