Aussies coo over Ingenuity baby bouncers
There's never a dull moment when you have a little one running around. While it can be exciting to see them explore the world around them, sometimes having them figure out how everything works from just one spot in the house can be just as enjoyable. But keeping your bub settled in a particular area can be tricky, unless you have a good baby bouncer.
Baby bouncers, swings and rockers have been a saving grace for many tired parents, allowing your child to burn off energy while playing safely. But while it may be tempting to simply grab the first bouncer you see on the store shelf to give you a bit of brief respite, your choice of baby bouncer may impact on your child's enjoyment, as well as your bank balance ─ you don't want to fork out cash only to find out that the quality doesn't live up to your expectations, or your baby's needs.
To help you out (and your bub), we've asked nearly 400 parents for their feedback on the baby bouncer, swing, rocker or activity bouncer they purchased in the last three years. Respondents rated brands on child enjoyment, additional features, durability and quality, design and style, weight and size, value for money and overall satisfaction. Manufacturers which received the minimum survey sample size of 30 responses are featured in our report. 
Ingenuity was the smart buy in our latest ratings, being the only brand to achieve a five-star review for overall satisfaction.
Best Baby Bouncers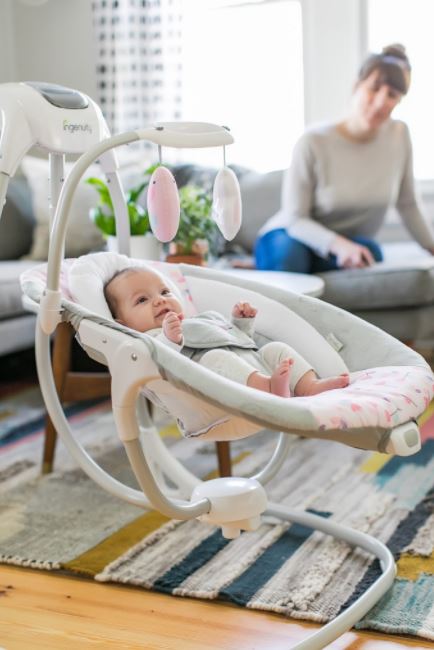 Here are the best baby bouncers in Australia, as rated by consumers in Canstar Blue's 2020 review:
Ingenuity

Bright Starts

Fisher-Price
Ingenuity bounced to the top in our latest baby bouncer ratings, after earning the only five-star review for overall satisfaction. It also got full marks for value for money, design, durability & quality, weight & size and additional features.
Bright Starts and Fisher-Price crawled next in line on a respectable four stars for overall satisfaction. It's worth noting though, that when it came to child enjoyment, Bright Starts and Fisher-Price edged out this year's champion, both achieving five-star ratings for the category.
Read on as we explore what the three brands in our 2020 review have to offer, plus tips on what to look for in a good baby bouncer.
Top Baby Bouncer Brands
Ingenuity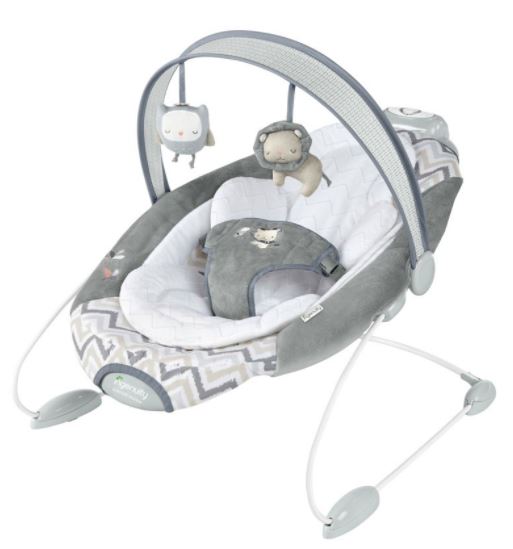 Under the Kids II umbrella, Ingenuity has been operating within the baby product market for over 40 years, and is available at baby speciality retailers, as well as general retailers such as Big W and Target. Offering cots, swings, rockers and bouncers, Ingenuity has day time and night time covered.
Ingenuity's range includes products such as the InLighten Cradling Swing, which features six swing speeds that sway in three different directions, helping to lull your bub off to sleep, as well as plug-in capabilities to save on battery costs. Other products within the Ingenuity range include the SmartBounce, which features 30 minutes of continuous automatic bouncing, as well as the Moreland bouncer, which features an adjustable 3-point harness and removable toy bar for a safe and fun playtime.
Ingenuity climbed to first place after rating best in six out of seven categories. These include value for money, design, weight and size, durability and quality, additional features and overall satisfaction. It also got four stars for child enjoyment. 
Bright Starts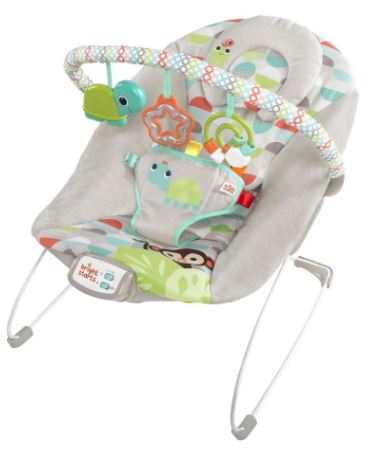 Bright Starts has also been in the biz of making baby bouncers for more than 40 years, and also under the Kids II banner.
Available at popular retailers such as Big W and Target, as well as baby speciality stores, the brand has a number of rockers and baby bouncers for parents to choose from. There's also a bunch of other baby products on offer, including everything you need to take you from play time, to nap time.
Bright Starts is one of the more affordable brands on the market, with some bouncers available from just $20. The bouncers feature vibration settings to help calm your baby, as well as a removable toy bar and machine-washable fabric, finding a middle-ground between child comfort and something easy to take care of for parents.
Bright Starts also offers a range of Disney-themed products featuring characters like Minnie Mouse, Mickey Mouse and Winnie the Pooh, making them the ideal companion for those Disney movie marathons with bub. Those after a portable swing also have a few products to choose from, with most models including multiple reclining seat positions, non-slip feet for additional safety and a foldable design to help you take it on the go.
Aussie babies went goo-goo gaga over Bright Starts' baby bouncers, with the brand achieving a five-star review for child enjoyment. It landed on four stars for most of the remaining areas, including value for money and overall satisfaction. The only exception was additional features, where it got three stars.
Fisher-Price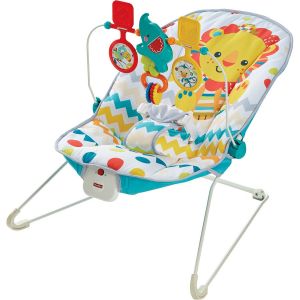 Founded nearly 90 years ago, Fisher-Price has been a mainstay within the baby market, offering a wide variety of products for babies, infants and children. While currently operating as a subsidiary of Mattel, the Fisher-Price brand is available from a wide variety of retailers, such as Myer, Kmart and Target, and offers one of the largest ranges of baby bouncers and the like around.
With bouncers, rockers and swings suitable for newborns, infants and toddlers, Fisher-Price has plenty for parents to choose from, including the Kick 'n Play Musical Bouncer – which features 15 minutes of music, a removable toy bar and adjustable harness – all the way to the Deluxe Bouncer, which features machine-washable seat pads, head support and calming vibrations to help your little one nod off.
The Fisher-Price swing line-up also offers plenty of variety, with the Starlight Revolve Swing even coming with Smart Connect technology, allowing you to control soothing features from your phone. Talk about modern parenting!
Plenty of bubs are bouncing up and down for Fisher-Price's range of baby bouncers, having earned a five-star review for child enjoyment. The brand achieved four-star ratings for additional features and overall satisfaction, and three stars everywhere else.
Other baby bouncer brands
While this year's baby bouncer review compared three major brands, there are still more worth checking out. Here are a couple.
BabyLove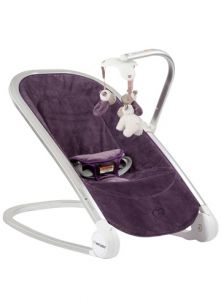 While it doesn't have the range as some of its competitors, BabyLove offers both rockers and bouncers for parents to consider. Available from speciality baby retailers, BabyLove additionally stocks baby seats, cots and walkers, suitable for whether you're looking for something for around the house, or something that can go with you.
BabyLove's primary baby bouncer – the imaginatively named 'Rock a Baby Rocker' – features an easily adjustable toy arm and folding capabilities for easy transportation and storage. Incorporating a 3-point safety harness and an adjustable backrest, the Rock a Baby Rocker weighs in at just over 2kg, and comes in either Mulberry or Cream finishes. Classy.
VeeBee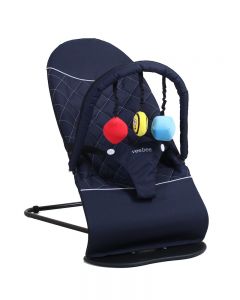 Made by Valco Baby, VeeBee is a wholly-owned Australian brand selling baby and nursery products such as strollers, ride-on accessories and play yards. The brand markets itself as being on the affordable side, and offers baby bouncers retailing between $59 and $89.
The cheapest option is the Serenity Bouncer, a lightweight option suitable for newborns and onward. Similar to other baby bouncers, it's fitted with an adjustable 3-point safety harness. The soft mesh seat is also said to make this particular option comfortable in warmer weather. Plus, the Serenity Bouncer is stated to store flat when not in use. Keep in mind that assembly is required.
There's also the VeeBee Baby Minder Bouncer, which comes with a removable padded toy bar and enough space to clip three soft-toys. It can recline in three different positions and is suitable for babies up to 9kg. For stability, the Baby Minder Bouncer contains rubberised feet to keep it in place on any surface. All VeeBee bouncers are available in a variety of styles.
You may also be interested in:
What should I look for in a baby bouncer?
It's not just price that counts when buying a baby bouncer. There's no one-size fits all, just ask the handful of parents who previously tried a different baby bouncer that didn't suit their baby (9%). Here are a few more insights our survey uncovered:
33% of parents bought a baby bouncer which required assembly
12% of people found the battery life on their bouncer was too short
9% of Aussies bought a baby bouncer that can be converted into a toddler seat
Other key findings from our 2020 survey include:
Which baby bouncer should I buy?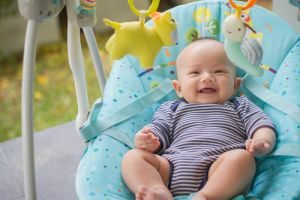 Finding something for your bundle of joy can be a tricky process, regardless of what you're after. But many consumers are doing their homework to make the decision easier, with 25% of those we surveyed having searched for online reviews before choosing which baby bouncer to buy.
Our latest research also shows Aussies continue to spend an average of just over $100 on their baby bouncers. A quarter of our respondents (25%) opted for a swing, while 21% chose a basic bouncer and 18% picked up a rocker. Activity bouncers were the next most popular type of baby bouncer (16%), followed by pods (3%).
Two-fifths (43%) of parents purchased the cheapest bouncer they could find, with 25% of respondents managing to snag a baby bouncer that was on sale or part of a deal. Another large portion of people surveyed picked up something which matched their other baby products (43%), such as finding a bouncer with the same brand or colour.
As with any purchase, looking into all of your options before you head to the checkout can save you not only a few dollars, but a bit of back and forth between the store, particularly if you have a fussy baby or need something specific for your bub. Some providers offer hybrid models that convert from a bouncer to a baby seat, while other models acquire some assembly, which may impact on how likely you are to take it home with you. Additionally, keeping an eye on your budget will also influence which brand and product you walk out the door with, meaning there's plenty to factor into your next purchase.
About the author of this page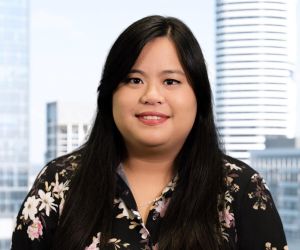 This report was written by Canstar Blue's home & lifestyle journalist, Tahnee-Jae Lopez-Vito. She's an expert on household appliances, grooming products and all things grocery and shopping. In addition to translating our expert research into consumer-friendly ratings reports, Tahnee spends her time helping consumers make better-informed purchase decisions on all manner of consumer goods and services, while highlighting the best deals and anything you need to be aware of.
Photo Credit: Bluedog Studio/Shutterstock.com.