Energy giant AGL is warning customers not to be fooled by a "sophisticated" billing scam being circulated to thousands of email addresses.
The AGL-branded scam, which is said to be targeting customers of multiple energy retailers, presents an e-Account and encourages victims to click a link to find out more about their bill – in the case below, for more than $400.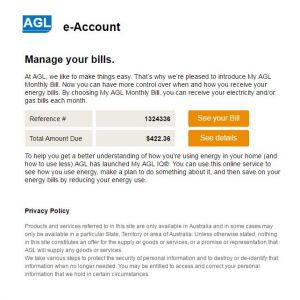 The scam contains malicious malware.
AGL issued a statement saying: "It is important that anyone receiving a suspicious email should delete it immediately or, if opened, not click on any links within the email. AGL advises recipients of any suspicious emails to run antivirus software and block the sender."
AGL said it will never send an email asking for personal banking or financial details and has no evidence that customer information has been compromised.
The scam has been reported to Scamwatch, the Australian Competition and Consumer Commission (ACCC), and the Australian Federal Police. AGL says that "activities have been undertaken to remove a number of identified sources of the hoax email".
How to spot an energy bill scam
Compare Electricity Plans