Red Energy cooking with gas in NSW ratings
It's time for NSW households to start thinking more carefully about their choice of gas supplier. With the removal of gas price regulations in 2017, customers look set to be inundated with a raft of new retailers and products, so it's crucial to do your homework because a great deal could be waiting for you. All this extra competition should help put a downward pressure on gas prices, but it may also make the process of picking the best deal for you more confusing. To help you along the way, consider our gas customer satisfaction ratings. We've surveyed more than 1,000 bill-paying customers in NSW to find out what they think about their gas supplier. Price is hugely important, but the best deal for you could also mean great customer service, helpful tools & advice, or having a retailer with a strong focus on environmental sustainability. So which supplier is really cooking with gas?
This year, our review includes the big three gas suppliers in NSW – AGL, EnergyAustralia and Origin – and arguably their biggest challenger right now – Red Energy. Gas customers across NSW have given us their feedback on their retailer across a range of important factors, with Red Energy coming out on top. While the big three gas companies currently dominate the market, Red Energy certainly seems to be making a big impression.
Red Energy received five-star reviews from customers with regards to its customer service, bill & cost clarity, focus on environmental sustainability, value for money and overall satisfaction. For tools & advice it scored four stars.
Origin emerged in second spot with four stars for overall customer satisfaction. It also achieved four stars with regards to bill & cost clarity, environmental sustainability, customer service and value for money. It earned three stars on tools & advice.
AGL and EnergyAustralia both received three stars for overall customer satisfaction. AGL scored three stars for all research categories with the exception of bill & cost clarity where it recorded a four-star review, while EnergyAustralia earned three stars in all categories but for tools & advice where it rated just two stars.
The NSW gas market should become even more competitive in the coming years following the lifting of price restrictions. If our customer ratings are any indicator, it will be worth keeping your eyes peeled for future offers as other retailers attempt to chip away at the dominance of the big three. Red Energy looks like one worth considering, having also topped our latest review of electricity providers in NSW. You can see how Red Energy, Origin, AGL, EnergyAustralia and many more electricity retailers compare on prices with our energy comparison tool below. Or read on for further details about your gas options.
Compare Electricity Plans
NSW Gas Suppliers
Red Energy
Red Energy is owned by renewable energy generation company Snowy Hydro, which should help explain why customers are happy with its focus on environmental sustainability. It also keeps things refreshingly simple for prospective customers in that it has just two residential gas market offers, in addition to its obligatory standard gas contract. Red Energy seems to focus on competitive rates rather than discounts, with a relatively modest pay on time discount available. The retailer also gives gas customers access to its exclusive Red Rewards program, providing money off social activities like movie tickets, attractions and hotels. All Red Energy plans in NSW come with variable rates, no contract term or exit fees. The pay on time discount is applied to your total bill and is ongoing. Red Energy achieved five stars for overall satisfaction this year, while also earning five stars for customer service, value for money, environmental sustainability and bill & cost clarity. It rated four stars on tools & advice.
Origin
Integrated energy company Origin offers a comprehensive range of gas products for NSW households to consider, including three variable rate deals and the only fixed cost plan on the market. Its variable rate plans come with varying discounts and conditions based on personal preference, with customers able to choose between a pay on time or direct debit discount off usage charges for 12 months. The third Origin plan offers a smaller, but guaranteed, discount off both usage and supply charges. The benefit term can be up to 24 months. Origin is also the only retailer to offer a fixed cost plan whereby customers can pay the same amount for gas every billing period for a year, regardless of their actual usage. The Predictable Plan sees households offered a unique quote based on their usage history. Origin rated four stars for gas customer satisfaction this year, with four stars across all other research categories except tools & advice where it got three stars.
AGL
AGL has three different gas products on offer in NSW, with varying discounts and conditions. The biggest discount is available for customers willing to commit to direct debit payments, while another plan brings a slightly smaller discount for those who would rather not set up a direct debit but can still pay their bills on time. In both cases these discounts are applied to gas usage charges only and there are 12 month benefit periods. AGL's third gas offer includes a smaller but guaranteed discount off both usage and supply rates for 12 months. All three plans have variable rates. AGL customers can also collect flybuys points with the retailer, with one point awarded for every $1 spent on energy. AGL also commonly offers online sign up credit and 'double up' discounts if you sign up for both electricity and gas. AGL was rated three stars for overall customer satisfaction in our latest NSW gas supplier review. It also got three stars in every other research category, with the exception of bill & cost clarity where it earned four stars.
EnergyAustralia
Like AGL and Origin, EnergyAustralia has a range of gas plans for prospective customers to choose from, including a fixed rate product that sees rates locked in for two years. EnergyAustralia claims it will pass on savings to customers on this plan should the wholesale cost of gas go down. The plan also includes a large pay on time discount, but exit fees apply if you cancel the contract early. The retailer also provides two variable rate gas plans. One brings a large conditional discount for paying on time, while the second deal has a smaller, but guaranteed, discount. Both plans have 12 month benefit periods and no exit fees. All EnergyAustralia discounts apply to usage charges only. The retailer also tends to offer bill credit when you sign up online, but this is usually only available with certain plans. EnergyAustralia scored three stars for overall satisfaction in our latest NSW gas review, plus three stars for every other category but tools & advice, where it scored just two stars.
About the NSW Gas Market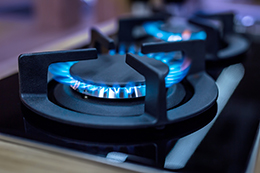 While AGL, Origin and EnergyAustralia have the most residential gas customers in NSW – 95% between them according to latest industry report from the Australia Energy regulator – households in NSW have been able to switch gas suppliers for several years, with providers such as Simply Energy, Click Energy and Dodo Power & Gas also competing for customers, though some retailers only offer gas when customers also sign up for electricity. Before the complete removal of gas price regulations in 2017, AGL, Origin and Actew AGL were required by law to offer regulated gas contracts in NSW, which were agreed with the Independent Pricing and Regulatory Tribunal. These regulated tariffs were provided in addition to their standard and market offers, which all gas suppliers in the state are now free to offer.
NSW Gas Contracts
The path to gas savings starts with understanding what type of contract you are on and which is the best bet for you. With the removal of regulated gas contracts in NSW in 2017, all households in the state will be on either a standard or market contract.
Standard contracts: All energy providers are required to offer standard contracts. While they have prices set by the retailers, these can only be changed every six months, and the retailers must adhere to a robust set of customer protection rules set in legislation. Standing offers are ongoing and have no exit fees.
Market contracts: These are contracts set entirely by the energy retailers. This means prices can be changed at any time, there are set contract periods, and exit fees may apply. However, these contracts also provide the opportunity for customers to save through conditional discounts.
While standing offer plans provide some protection against price increases, Canstar Blue research shows that households will almost always save by switching to market contracts, provided that they stick to the terms and conditions. Households previously on a regulated contract will have been switched onto their retailer's standard contract following gas price deregulation in NSW, unless they have explicitly asked to be placed on a market contract. Anyone unclear about their personal circumstances should contact their retailer. The NSW government also provides a helpful FAQ resource.
NSW Gas Plans
While there are more than 20 electricity providers now operating across NSW, only a handful also retail natural gas, and not in all areas. As more and more customers consider their electricity options, it could mean a growing number of households choose to get their gas and electricity from different providers. However, the big suppliers often offer 'double up' discounts for receiving electricity and gas with them. They also typically offer three or four different gas products to select from, with varying discounts. Most come with variable rates, though fixed rate deals are also occasionally provided.
Variable rate plans: The majority of gas plans in NSW come with variable rates, meaning prices can change at any time, as long as your retailer gives you notice of at least 10 business days.
Fixed rate plans: These plans allow customers to lock in set usage rates for the term of their agreement, typically two years. While providing some protection against future price increases, usage rates on fixed rate plans are likely to be higher to begin with.
Usage charges will likely make up the majority of your overall energy costs, but it's also important to pay attention to supply charges, because the providers with lower usage rates often make up for these with higher fixed supply charges. These are the costs you incur on a daily basis simply for being connected to a gas network. The cheapest gas usage charges that you're likely to find in NSW will be around 3 cents per megajoule – the unit of measurement for gas. To put this into context, a typical gas oven will use around 12 megajoules an hour. Fixed daily supply charges usually cost around 50-60 cents.
NSW Gas Tariffs
Fortunately, gas tariffs in NSW are fairly simple. Households are charged for gas in 'blocks', with the first block of gas used (say, 20MJ) usually costing the most. For example, you might pay 4.2 cents for the first block of 20 megajoules a day, then 2.5 cents for the next block, and so on.
Gas Distribution Networks in NSW
Besides contract types, usage rates, supply charges, tariffs and discounts, the other crucial thing that will impact the amount you pay for gas is where you happen to live. There are three different gas networks in NSW and power prices can vary significantly between them. For example, an Origin customer living on one network might have higher usage charges than another Origin customer with the same plan but living on a different distribution network. This is because energy distributors have their own costs and these are passed on to customers through retailer charges. The three distribution networks in NSW are:
Jemena Gas Networks – servicing Sydney, Newcastle, Central Coast, Wollongong and parts of country NSW
Central Ranges System – servicing Tamworth
Wagga Wagga Gas Distribution Network
ActewAGL – the primary electricity and gas retailer in the ACT – also serves some customers in regional NSW.
How to get a better deal on gas in NSW
While energy plans always seem confusing, this report has identified a few key things you can do to get a better deal on gas. It might seem like hard work, but when it comes to gas and electricity, you only find the best deals with a little leg work. Here are the three most important things to consider:
What type of gas contract are you on? Standard contracts are almost always more expensive than market offers, so switching from the former to the latter is the first positive step towards securing cheaper rates.
Compare the usage and supply charges of various gas plans: Energy companies are required to publish their price fact sheets on their websites, which is where you will find these details.
Consider the discounts and other incentives offered: Once you've worked out what cheap and expensive usage and supply prices look like, consider the discounts being offered and how they compare to other deals. Make sure you know the conditions of the discount and how long the benefit period is.
Also consider how other consumers rate their energy suppliers. You'll never really know how good or bad a retailer is until you're a customer, so online reviews like ours provide an insight into what you can really expect. It's the providers that strike the perfect balance between price and good customer service that usually rise to the top of our ratings. This year, Red Energy is the gas and electricity supplier to beat in NSW, but be sure to compare a wide range of options before diving in.