Red Energy back on top in Victoria gas ratings
When it comes to energy in Victoria, most of the hype is around the electricity providers and their big promises about big savings. But it's important not to lose sight of what you pay for gas – because getting a good deal on your natural gas supply is just as important. Gas plays an important role in the lives of most Victorian families, but it's something that's easy to take for granted – until your next bill comes in that is. Complaining about constantly rising power costs is something we all do, but not all of us are proactive in comparing providers to try and secure a better deal, often because it's perceived to be a difficult and ultimately fruitless exercise. Well, it doesn't have to be – and can be well worth the effort. To make the process easier, Canstar Blue produces an annual review of gas suppliers in Victoria to find out which are keeping their customers happy – and which are not! Read on for details.
This year, more than 1,600 households in Melbourne and across Victoria have given us their opinions of their gas suppliers, with their feedback reflected by the ratings table you see above. Seven different gas providers feature in the results and there is a clear divide between suppliers big a small. However, only one retailer was deemed worthy of five stars for overall customer satisfaction – Red Energy.
In addition to overall satisfaction, Red Energy achieved five stars on customer service, value for money and environmental sustainability. It picked up four stars for bill & cost clarity, with three stars for tools & advice.
Lumo Energy, Momentum Energy and Simply Energy received four stars for overall satisfaction. The overall rating aside, it was a mixed bag of results for all three, although Momentum Energy was praised for its customer service and bill & cost clarity, while Simply Energy earned five stars on value for money.
AGL, Alinta Energy, EnergyAustralia and Origin all recorded three stars for overall satisfaction in this review. AGL, EnergyAustralia and Origin also rated just two stars on value for money. Alinta and Origin both recorded some creditable four-star ratings in specific areas.
Red Energy has returned to the top of our gas customer ratings for Victoria for the first time since 2012, with sister company Lumo Energy filling in most of those years in between. At the other end of the table, this year's review has not been kind on the traditional 'big three' gas suppliers in Victoria – AGL, Origin and EnergyAustralia. If you haven't considered a switch to a smaller gas supplier before, now might be a good time to think again. In addition to customer satisfaction, you can see how these gas retailers stack up on price in our Victoria gas cost comparison report. And you can compare their electricity prices with our comparison tool below.
Compare Electricity Plans
VIC Gas Suppliers
Red Energy
Red Energy is owned by renewable energy generation company Snowy Hydro, which helps explain why customers are happy with its focus on environmental sustainability. Red Energy also keeps things fairly simple for prospective customers in Victoria in that it has just two residential offers to choose between, based on whether you want to make extra contributions towards GreenPower or not. Red Energy seems to focus on competitive rates rather than discounts, with a relatively modest pay on time discount that is applied to your whole bill. The retailer also gives gas customers access to its exclusive Red Rewards program that provides money off activities like movie tickets, attractions and hotels. All Red Energy power plans come with variable rates, no contract term or exit fees. Red Energy achieved five stars for overall gas satisfaction this year, while also earning top marks for customer service, value for money and focus on environmental sustainability.
Lumo Energy
Like Red Energy, Lumo Energy is a retail arm of Snowy Hydro. But unlike Red, it offers a diverse range of gas products in Victoria, including a plan targeted at customers who rent a home and often move. Lumo Energy's gas plans all come with either pay on time or direct debit discounts, but the details vary between products. Amongst them is an online-only plan that provides the biggest discount of all. All discounts are applied to the whole bill rather than just usage charges. Plans are on a no contract basis and there are no exit fees. Rates are variable. Lumo Energy has been a consistently solid performer in our Victorian gas ratings over the years, coming out on top on three separate occasions. This year, Lumo Energy received four stars for overall satisfaction, as well as bill & cost clarity, value for money and customer service. It scored three stars for tools & advice and two stars on environmental sustainability.
Momentum Energy
Momentum Energy is a champion of renewable energy generation, which is just what you would expect from a retailer owned by Hydro Tasmania! It's also an advocate of keeping things relatively simple for prospective customers, steering clear of large conditional discounts and instead just focusing on fairly competitive rates. In Victoria, Momentum has two residential market offers, with varying rates and no exit fees. Momentum's approach to energy retail – and its focus on renewables – has clearly seen it win over lots of customers in Victoria. In our latest review of gas suppliers in Victoria, it earned four stars for overall satisfaction, plus four stars on value for money and environmental sustainability. However, it did record top marks for bill & cost clarity and customer service, but fell down with regards to tool & advice, scoring two stars.
Simply Energy
Simply Energy offers a comprehensive range of energy plans for Victorians to choose from. They include an exclusive deal for RACV members which brings an additional discount to its other offers, as well as an offer targeted at movie-lovers, with up to 16 'free' Gold Class cinema tickets available. Contract periods are 12 or 24 months – depending on the plan – but there are no exit fees. All products come with variable rates and varying conditional discounts off usage charges for paying bills on time. The retailer also teams up with the Hawthorn Football Club to offer an exclusive deal to supporters at certain times of the year. Simply Energy is owned by French utilities giant Engie. It achieved four stars for overall satisfaction this year, in addition to bill & cost clarity and customer service. It notably recorded five stars when it comes to value for money, but got three stars for tools & advice and two stars on environmental sustainability.
AGL
AGL usually gives Victorians three or four gas plans to choose from, with conditional discounts the point of difference with most. Customers happy to pay by direct debit can usually achieve the biggest discount off gas usage costs, while a smaller discount is offered to those who prefer not to pay by direct debit, but still pay on time. If you're not confident with paying on time or by direct debit, AGL offers a third plan with a guaranteed – but slightly smaller – whole bill discount. All three gas plans have variable rates and 12 month benefit periods. However, AGL also occasionally offers a fixed rate plan whereby charges are locked in for 12 months. It's also common for AGL to offer a double up discount for households that buy both gas and electricity from the retailer, though this may not always be available. Customers can also collect flybuys points through AGL, with one point awarded for every $1 spent on energy. AGL rated three stars for overall satisfaction in our latest review, with three stars in most other categories. The one exception was value for money where it scored just two stars.
Alinta Energy
A major gas and electricity retailer across Victoria, Alinta Energy was recently acquired by a Hong Kong-based conglomerate company, but remains headquartered in Sydney. In terms of its plans, Alinta keeps things markedly simple with a single variable rate market offer in each state that it serves. This comes with a significant pay on time discount off gas usage charges, with a benefit period of 24 months. There is no lock in contract or exit fees. In our latest review of gas suppliers in Victoria, Alinta Energy earned three stars for overall satisfaction and customer service. It achieved four stars for bill & cost clarity, tools & advice and environmental sustainability, but just two stars on value for money. However, it has been a good year for Alinta in Queensland where it has been rated highest for electricity providers in the state.
EnergyAustralia
EnergyAustralia has a range of gas plans for prospective customers to choose from, including a fixed rate product that sees rates locked in for two years. EnergyAustralia says it will pass on savings to customers on this plan should the wholesale cost of gas come down. The plan also includes a large pay on time discount, but exit fees apply if you cancel the contract early. The retailer also provides two variable rate gas plans. The first brings a large conditional discount for paying bills on time, while the second deal has a smaller, but guaranteed, discount. Both plans have 12 month benefit periods and there are no exit fees. Discounts apply to usage charges only. The retailer also tends to offer bill credit when you sign up online, but this is usually only available with certain plans. EnergyAustralia was rated three stars for overall satisfaction in Victoria, with a mix of two and three stars across the board.
Origin
Origin has four different offers for Victorian households to pick from, depending on personal preference and circumstances. The biggest conditional discount comes for those who are happy to commit to direct debit payments and receiving bills via email, while a smaller discount is on offer for those who just want to pay bills on time. In both cases, discounts come off gas usage charges and there are 12 month benefit periods. Origin also has a plan with a smaller but guaranteed discount with a benefit period of either 12 or 24 months. There are no exit fees with any Origin gas plan, but prices are variable. Origin also tends to offer a modest first bill credit when you sign up online, though this is not always available. Customers may also want to consider Origin's Predictable Plan, whereby you pay the same amount every month for a year regardless of your gas usage. Unique quotes are offered based on previous usage history. Origin was rated three stars for overall satisfaction in our latest review of Victorian gas retailers with a mixed bag of results across the board, including just two stars on value for money.
While there are many gas offers to choose from, keep in mind that some providers only sell natural gas when you also purchase electricity.
About the Victoria Gas Market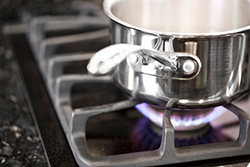 Victoria has a hugely competitive gas retail market, but that hasn't always been the case. Since 2002, households around the state have been able to move from standard contracts onto market offers with different providers, but with price regulations, there would have been little financial incentive to do so. However, the Victorian Government lifted energy price regulations for both gas and electricity in 2009, paving the way for new companies to enter the market and challenge the dominance of the incumbents. That's exactly what's happened, with providers such as Simply Energy, Lumo Energy, Momentum Energy and Red Energy offering competitive plans and often superior customer service.
While competition is important, it can also lead to confusion, with multiple gas contracts now offered by most retailers. This makes it hard to work out which offer is right for you. However, before talking about plans, let's first go over the basic information you'll need to know in order to get a better deal.
Gas Contracts in Victoria
There are two types of gas contracts in Victoria – standard contracts and market contracts.
Standard contracts are what households are likely to be on if they have not switched providers since Full Retail Competition was introduced in Victoria in 2002. Prices on standing offers have been set by the retailers since the market was deregulated, but their terms and conditions are still controlled by the Victorian Essential Services Commission which regulates the industry. This means certain minimum standards are met around prices, price changes, exit fees and other T&Cs.
Market contracts are what customers in Melbourne and the rest of the state are likely to be on if they have switched providers in the last few years. Market offers are almost entirely set by the energy companies, meaning they come with varying contract lengths, conditional benefits and may include exit fees. Importantly, the retailers can also change prices whenever they want, unless you have a fixed rate plan whereby prices are usually increased every two years.
Market contracts should always work out the cheaper option, but only if you stick to the conditions of your plan. Failure to do so could leave you paying significantly more.
Gas Plans in Victoria
Whether you have a standard contract or market gas contract, the amount you pay will be determined by two main charges – supply costs and usage charges.
Supply costs are what you pay to be connected to the gas network in your area. These are fixed daily charges that you'll need to pay regardless of how much gas you actually use.
Usage charges are what you will pay for the gas that is actually used to heat your oven, or that is used to heat your hot water, for example. These costs can vary depending on the time you use gas, which we'll come to shortly.
The easiest way to compare two different gas providers is to check out their supply and usage charges. In Victoria, these costs can vary significantly between providers. Some may appear to have cheap supply prices, but these could be made up for by higher usage rates, or vice versa. Also, be aware that most plans come with variable rate charges, meaning the amount you pay could be changed by your provider at any time. Some gas retailers offer plans with fixed rates – meaning your supply and usage charges are locked in for a set period – but there are pros and cons to these types of plans.
Gas Charges in Victoria
Natural gas prices are charged in cents per megajoule (the unit of measurement for gas). Peak time gas usage rates will typically cost between 2.5 and 3 cents per megajoule. To put this into perspective, your gas oven probably uses around 12 megajoules an hour. It's important to have a handle on gas prices to help you monitor and act on your usage.
If you have a time of use tariff, the amount you'll pay for gas will change depending on the time of day you use it. In Victoria, gas usage may also be broken into daily 'blocks', with the first block of power usually costing the most. For example, you could:
Pay 2.6 cents per megajoule (MJ) for the first 100 megajoules
Then pay 2.2 cents per megajoule for the next 100 megajoules
Then pay 1.8 cents per megajoule for the next 100 megajoules
These rates are typical of peak-time gas usage costs. However, you can expect cheaper rates if you use gas at off-peak times. The majority of households in Victoria now have smart meters and are therefore able to use flexible pricing tariffs.
Gas Distribution Networks in Victoria
You may not realise, but one of the biggest factors in determining the price you pay for energy is your location. Melbourne and the rest of Victoria is split between various energy distribution networks, with different companies responsible for maintaining and improving the vast infrastructure that transports gas or electricity to your particular suburb. While there are five electricity distribution networks across Victoria, households are divided into three gas networks:
Australian Gas Networks – servicing northern suburbs of Melbourne, eastern Victoria and the Mornington Peninsula.
AusNet Services – servicing outer western suburbs of Melbourne and western Victoria.
Multinet Gas – servicing eastern suburbs of Melbourne.
This is useful to know – not only because these companies are who you will need to contact if you have a problem with your gas supply, or notice a gas leak, but because the network you live on has an impact on your overall costs. Energy distributor costs can account for up to 50% of your overall energy bills.
How to get a better deal on gas in Victoria
Whether you're buying gas or electricity, the key to getting a better deal is understanding the different factors that determine the costs you'll need to pay, including contract types, plans, tariffs and charges. In summary, here are some questions that are worth asking any prospective gas provider in Victoria:
What type of contract are they offering?
What is the contract length and are there any exit fees?
How much are the supply and usage charges?
What discount is available and what are the conditions?
Remember that the Victoria gas market is hugely competitive, with more than 10 different gas providers all competing for your business. This puts you – the customer – in the driving seat. Make sure you shop around for the best deal for you and don't be afraid to switch if you're not 100% satisfied with the price you're currently paying or the servicing you're receiving.