As 2015 comes to a close, the Australian Energy Regulator (AER) has published its annual review of the energy market with an outlook of what's to come. We take a look at the where electricity and gas prices have risen in the past year and what to expect as renewable energy solutions become increasingly viable.
Electricity demand and prices
Demand for electricity has experienced flat or negative growth for the past six years, the AER reports. In New South Wales, Victoria and South Australia, peak demand was 20 per cent below that of 2014, while Queensland saw a record high peak demand of 6% higher than previous records. This came during a heatwave in March.
This fall in demand has caused the wholesale price of electricity to drop considerably. Compared to the previous year, the average wholesale rate of electricity fell 42 per cent in Victoria, 38 per cent in South Australia and 32 per cent in NSW. The only state to experience increased average wholesale rates was Queensland, reportedly due to questionable bidding strategies which are illegal in some other states, the AER says.
A number of energy plants have either closed or reduced electricity output, however these cutbacks have been unable to keep up with falling demand, meaning there has been a surplus of electrical generation in 2015.
This fall in demand, as well as more stringent legislation has also resulted in a forecast reduction of network costs, as networks begin to cut back on large-scale investment.
This is good news for consumers as electricity prices have remained stable or have fallen in 2015 in all states except Victoria and Tasmania, which were subject to network determinations made at a time of higher business costs. Despite an increased wholesale electricity rate in Queensland, a significant cutback in network projects has seen an overall drop in average electricity costs.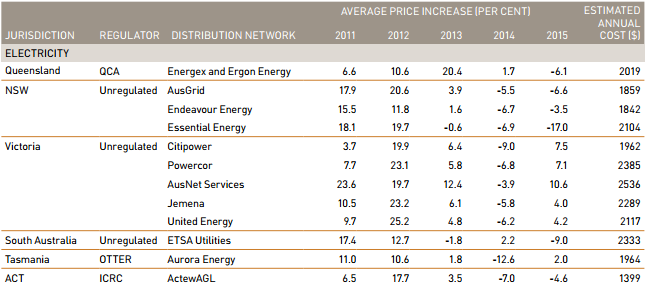 Renewable energy
2015 has been a big year for renewable energy – particularly solar. Solar PV installations have been predominantly in the residential sector, but commercial installations have also grown, accounting for nearly 12 per cent of installed systems in the previous period, and is expected to grow to 23 per cent within 10 years.
Almost 1.5 million (15%) of Australian households now have a solar PV system, producing 3,700 MW annually. To illustrate how staggering this is, in 2010, the output of solar was around only 400 MW.
Recent advancements in the efficiency and affordability of solar storage technologies is yet to have a visible impact on the electricity market, though it is expected storage batteries will make solar even more attractive in coming years, accelerating the decline in grid energy demand.
Natural gas
Domestic gas demand has remained flat in the previous period, but export demand is rapidly rising. To meet the global demand, two major Queensland projects commenced exports in 2015, with a third set to commence in 2016. According to the AER, the volume of exports is causing gas prices to rise while also heavily contributing to massive "spot price volatility", which has seen gas prices jump from between $1 to $12 per gigajoule (graph below). The eastern gas market is set to stablise in 2016, but the AER says gas prices will rise as domestic gas supply contracts are now being struck with reference to global prices. Legislative intervention has been requested, but there is no guarantee this will happen.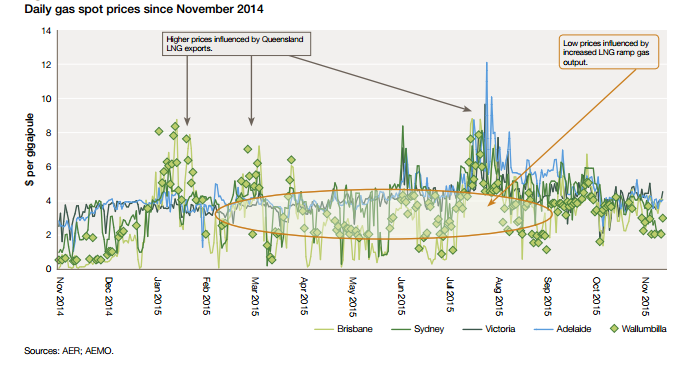 Complaints and consumer protection
In 2015, the Federal Court has come down on dodgy retailers, imposing penalties for failing to obtain explicit consent, or for using misleading conduct or falsely advertising energy rates.
Complaints as a percentage of total customers made to the Energy and Water Ombudsman mostly fell for both electricity and gas, with the majority of complaints coming from billing issues.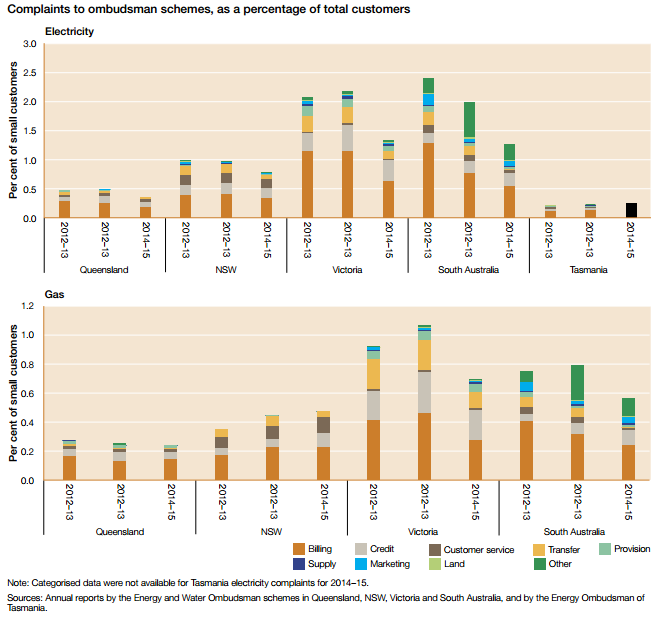 So what's next?
The report can be grossly summarised like this: Electricity demand and price is falling as renewable technologies become increasingly popular. On the other hand, gas demand is stable, though prices are set to climb. So what does this mean for you? Although electricity prices have fallen, it will eventually normalise as reductions in electricity supply catch up. With gas prices also expected to rise, it's probably the best time to invest in solar and take advantage of rebates and feed-in-tariffs while they remain available. If you are considering a solar system, check out our solar panel buying guide to get you started.