The majority of you reading this article will buy your electricity from one of Australia's big three energy retailers – AGL, Origin or EnergyAustralia. And if you're happy with the price and service you're receiving, there is absolutely nothing wrong with that. But if you're not, the question you should be asking yourself is: Who am I going to switch to?
Deregulation
Those big three companies became so dominant because of an historic lack of competition in the Australian energy market, having acquired their electricity retail businesses through privatisation or subsequent acquisition. However, the introduction of Full Retail Competition in New South Wales and Victoria in 2002 – followed by South Australia in 2003 and Queensland in 2007 – prompted the arrival of new retailers to challenge those incumbents. And once electricity price regulations were lifted in Victoria in 2009, the floodgates were well and truly opened.
South Australia followed Victoria's lead in removing electricity price regulations in 2012, before NSW did so in 2014. Queensland is set to follow suit in 2016.
What does this mean for you? Well, depending on which state you live in, you could have as many as two dozen electricity providers to choose from – and they all want your business.
So, do you stay with a big energy company, or give one of the newcomers a chance? After all, the retailers are simply responsible for the customer-facing side of your electricity supply – including sending out your bill and handling enquiries – so you don't need to worry about losing power because a smaller provider is somehow less capable of getting electricity to your home. That responsibility falls to the electricity distributors which own and manage the infrastructure in their respective regions. You don't get to choose your distributor.
Compare Electricity Plans
Is a smaller energy provider better than the large firms?
One thing energy companies all have in common is that they will promise to save you money. But what, if anything, makes smaller providers different?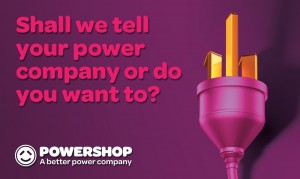 Powershop is an online electricity retailer operating in New South Wales and Victoria. Its eye-catching marketing campaign features a distinctive power socket smiling face in various guises, and the company generally portrays a rather wacky, happy go lucky image. It declares on its website: "We have a crew of around 70 geeks, problem-solvers and designers working hard to make Powershop the best power company ever."
Powershop General Manager Ed McManus told us: "Companies like Powershop are keen to grow, and so have a core focus on customer service in order to achieve this. Unlike the incumbents, Powershop has been designed completely with the customer in mind, with modern online systems that try to make the customer experience better."
Mr McManus said the only downside to switching to Powershop was that you'll no longer get a paper bill. "We send these via email. So if a customer still wants trees to be chopped down then they should probably stick with one of the big three," he said.
Customer Service
Canstar Blue's latest survey of electricity bill-payers found customer service to be a significant driver of overall satisfaction – second only to costs in most states. This was especially true in Victoria where the maturity and competitiveness of the energy market seems to have given consumers particularly high standards as they search for a point of difference between the more than 20 retailers.
If you have a problem you want to raise with your retailer, there's nothing worse than feeling like you're not being heard or taken seriously. Or even worse, you're passed from pillar to post, forced to explain your situation to numerous consultants. As a result, one of the big selling points of smaller energy retailers is that they'll give you a more personalised service – and won't treat you as just another number.
Overseas call centres are another major bugbear for consumers, and lots of smaller energy companies make a point of telling customers about their locally-based service.

One such small retailer is Momentum Energy, which says it "puts a human lens on all its interactions with customers". Managing Director Paul Geason told us the company's 300 employees are encouraged to care for every customer.
"This reflects our vision, which is to make energy human," he said. "We train all our customer care consultants so they can handle all enquiry types. This results in fewer customer transfers because we empower and train our consultants to do their best to help at the point of contact, or to ensure we proactively follow up.
"Because we're a smaller business, we're like a family. Across all levels of the business – from the teams on the phones to senior management – we're all talking about our experiences, what we've learnt and how we can better meet customer needs."

Another Melbourne-based retailer, Diamond Energy, also promises a high level of service for customers. Managing Director Tony Sennitt said: "We understand time and service is important to our customers, they want the right answers to their questions and don't want to waste time in phone queues. Our customers are happily surprised when they call us and the phone is answered quickly by a friendly, knowledgeable person.
"We invest in our people and systems so that we can help our customers with smart energy tips and tools that enable them to save electricity and money. We are passionate about renewables and have a very strong focus on servicing customers with solar systems. Every day our customers receive low rates, great service and make their electricity spend count by supporting new renewable generation."
Things to Consider When Switching
Ultimately it's your responsibility to look past all the quirky marketing campaigns and sales pitches. Do your homework and choose an electricity provider based on its merits. The most important things to consider are:
Tariffs and charges: This includes daily supply charges, as well as peak and off-peak rates. Also consider plans that offer discounts for paying on time or paying by direct debit. Finding a good plan can be a daunting task, so it's wise to take your time and compare different offers from numerous providers.
Contract length: Are you looking for flexibility or certainty? Some providers offer no contract term plans, while 12 and 24 month contracts are common. Some also offer plans with no rate changes for a number of years, but those deals will generally only be available on long contracts.
Customer service: The chances are you'll receive great service when you call to enquire about switching, but you may not get a real insight into a provider's customer service until after you sign up and have an issue. Therefore it's a good idea to ask other people about their experiences.
Billing information and advice: Like their customer service, you won't really find about a provider's billing and communication credentials until after you start paying them. However, there's nothing stopping you asking a friend if you can look at their bill to get an idea. Being able to understand what you're paying for is a crucial element of customer satisfaction.
Canstar Blue annually surveys thousands of electricity customers, asking them to rate their providers on factors like these. You can see the latest results here.