 Love N Care Strollers Review & Guide
Whether you need a high chair or a change table, it's hard to stroll past Love N Care. The Australian brand supplies a range of strollers to suit different types of families, offering a broad range of styles and features. For families who prefer farmer's markets over supermarkets, there are also items like the Cony Stroller and the W-Life Stroller which are said to give your baby the UV protection it needs to stay sun safe. There are also plenty of compact and lightweight travel-friendly options designed with aluminium frames and puncture-proof wheels to help you survive exciting adventures.
Other baby products available include travel cots, mosquito nets, baby walkers, car seat adaptors and wardrobes, bathtubs and bath aids.
To help you find what you need from the Love N Care's catalogue, we've created a guide showcasing the different models currently available and listed their features.
Range of Love N Care Strollers
From transformer strollers to travel system strollers, Love N Care provides a number of models to suit newborns and toddlers of different shapes and sizes. The collections include:
IGO Seat & Canopy
EVO Seat & Canopy
Twingo Stroller
Nexo Buggy
Cony Stroller
Lone Rider Stroller
High-Rise Tandem
Mirage Stroller
IGO Seat & Canopy
The IGO Seat & Canopy collection features a range of versatile luxury prams for parents who need a stroller to adapt to their child's growing body.
Each IGO model easily converts into a pram, allowing you to customise the pushchair to suit newborns and younger babies as well as older children. The backrest and footrest can similarly be adjusted into the sleeping position, while the canopy can be extended to offer more coverage while the child sleeps. The stroller also includes an extra-layered mosquito net fitting under the canopy to promote good airflow and help your little one stay cool on warm days.
When strolling outdoors, the front wheels contain built-in front wheels suspension which is said to add stability and prevent the stroller from lifting off the ground when turning. These wheels can also swivel 360° to help you move around easier. To save time and space, the pushchair is said to fold quickly and compact. You can even take off the wheels for an even smaller fold.
The IGO strollers can accommodate newborns and children who weigh up to 24kg.
EVO Seat & Canopy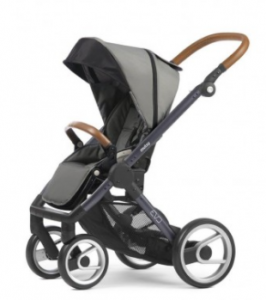 If you're looking for a stroller packed with customisable features, the EVO Seat & Canopy collection may be ideal for you. It features adjustable leg and foot supports that can be raised or lowered, and back support which can transition between four positions. The adjustable seat can even be rotated to alternate between forward-facing and parent-facing mode. The hood is also expandable.
And just so the parents don't feel left out, the EVO also features an adjustable push bar so you can comfortably wheel your baby around whatever your height. The front wheels can also swivel 360° to help you move around more easily on different types of surfaces.
Twingo Stroller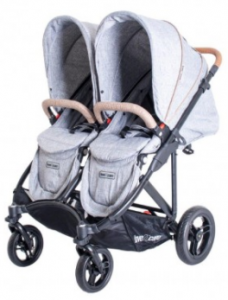 If you're a parent to twins, or expecting a new addition to the family, the Twingo stroller features two seats and allows you the option to attach a carry cot for a newborn. Small enough to fit in the back of a car, the stroller is said to have a light frame which can be easily folded and quickly secured using the foot brake.
For safety, you can secure your children using the padded 5-point adjustable harness included on each seat. The stroller similarly comes with detachable flip-open front bars. You can also keep a close eye on your children by transitioning between forward-facing and parent-facing modes. The option to recline the seats in different positions is also available.
Nexo Buggy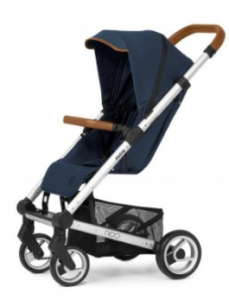 If you loved the IGO stroller for your newborn, then the Nexo Buggy from the Mutsy range may be the next step. Suitable for toddlers who can sit up by themselves, this stroller is described as an ideal combination of a pushchair and a compact buggy. The extendable hood is even connected to the backrest so your child can avoid getting cold.
With a lightweight frame said to weigh in at 5.3kg, the Nexo model may be a suitable travel buddy as it folds quickly and easily. You can even remove the wheels with just one click for a more compact storage solution. There are also a range of compatible car seats which can be attached.
For parents, the push handle is adjustable to suit a range of heights. The stroller also has front swivel wheels to help you keep a smooth stroll.
If you want to use the buggy for a baby but don't want to use the IGO stroller, this model can be set to baby mode which allows the baby to sleep flat.
Cony Stroller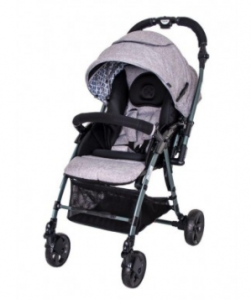 If you're constantly outdoors, the Cony Stroller is said to provide 99% UV protection and features a full canopy with a rear window. It also includes a large basket to hold your belongings while you're out.
Unlike some of the items from the Love N Care range, the Cony stroller features a stand fold design which allows it to stay upright when folded. The model also has a 0.3G shock absorber and front swivel wheels to help you and your baby move around more smoothly. It similarly includes an extra padded body cushion for support, and a fully reclining backrest to allow your child nap comfortably.
The stroller is suitable for newborns and children who weigh up to 24 kg.
Lone Rider Stroller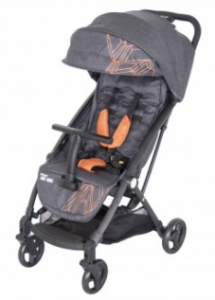 For parents searching for an ideal travel companion, the Lone Rider Stroller is described as lightweight and an easy-to-use stroller. Designed with an aluminum chassis and puncture-proof wheels, the model collapses into a convenient umbrella-style fold when packed up. Like many of the other models available from Love N Care, the Lone Rider includes a 5-point harness seat and a removable front bracket and basket. It also includes a window in the back cover to allow you to check up on your little one.
The Lone Rider model is suitable for newborns and children who weigh up to 20kg.
You may also be interested in:
W-Lite Stroller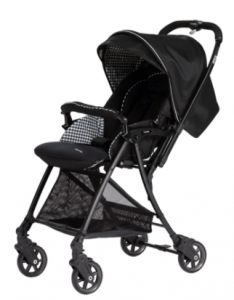 The W-Lite Stroller from Love N Care is a slightly more affordable alternative to the Cony Stroller. It similarly includes a 5-point safety harness, 0.3G Shock Absorber, head support and an extra padded body cushion. But while it offers 99% UV protection, it only contains a half canopy.
Designed with a cool mesh fabric, the model includes a fully reclining backrest and an extendable leg rest. It also has an adjustable and reversible handle, as well as a stand fold design which can be packed up with one hand.
You may also be interested in:
High-Rise Tandem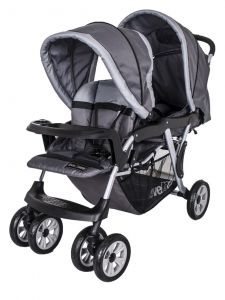 If you're an on-the-go parent of two, the High-Rise Tandem can be customised to suit the needs of each child. For comfort, the model includes thick padding and tri-position layback features. It also includes an additional padded insert to accommodate babies. When it's time to go home, the aluminum frame can fold to the same size as a single pram and can be packed up with just one hand.
The High-Rise Tandem also comes with detachable features like a removable hood and a detachable tray with a cup holder.
You may also be interested in:
Mirage Stroller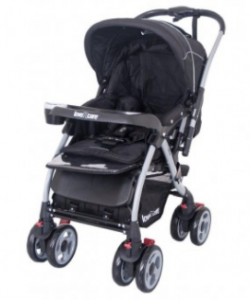 If you're looking for a stroller which can adapt to your child as they grow, the Mirage Stroller may be the one.
For the child, the model can recline into four different positions and has an adjustable foot rest for extra comfort. There is also a removable food tray so you can conveniently allow your child to eat from the comfort of their seat.
For the parent, the model includes a reversible handle and four swivel wheels to help you move around with more control. Despite its heavy duty frame, the Mirage Stroller may be a perfect stroller for travel as it features a lightweight structure to help with mobility. It can also keep itself upright when folded, an ideal feature for families who regularly use public transport.
Is Love N Care the right stroller brand for me?
From mattresses to child-proof safety gates, Love N Care offers a wide selection of essential baby products to help you raise your little one. Some of the items include glider chairs, cradles, high chairs, baby carriers, bed rails, bath aids, walkers and kids' tables.
Sometimes it feels like children grow up too fast. This is why models like the EVO Seat & Canopy Stroller and the Mirage Stroller may be suitable options for parents who want a stroller to adapt as their little one grows. There is also the Twingo Stroller if you're shopping for two.
If you're looking for a luxury stroller, the IGO range includes some of the most expensive items available from Love N Care. These lightweight strollers typically cost around $1,270 and are suitable for newborns and toddlers, but the price can vary. There are also travel-friendly solutions like the Nexo Buggy, Cony Stroller and the Lone Rider Stroller for families to suit little explorers.
We know that finding the right stroller isn't a walk in the park. This is why we're constantly working on creating plenty of reviews and ratings to help you find the best model for you. Follow the link below and compare the wide selection of prams and strollers currently on the market.
About the author of this page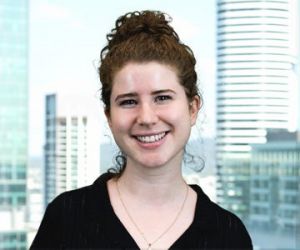 This report was written by Canstar Blue's Content Producer Luciana Lawe Davies. She writes about streaming, appliances and consumer products and services. Luciana enjoys bringing readers the best in what's on TV and at the shops, including the best deals and latest reviews.