Valentine's Day is a time to share your true feelings with that special someone – even if those feelings might not be reciprocated. It's also a time for couples to enjoy some special time together and remind themselves of exactly why they fell in love in the first place.
But do all couples celebrate Valentine's Day? Canstar Blue sought to find out by asking 2,050 Australian adults in a relationship what they think. The results may surprise you.
How much do people spend on Valentine's Day?
We found that the younger you are, the more you are likely to spend, but on average Aussies expect to splash out $44.32 on gifts for their partner. You can decide whether you think that's a good amount or not…
Perhaps unsurprisingly, men ($52.19) expect to spend more than women ($36.71). That makes sense considering 36% of overall survey respondents agreed that men should make more of an effort than women on Valentine's Day. You might like to know that 42% of woman agreed with that statement compared to 29% of men.
What will people do on Valentine's Day?
We asked the question and found:
19% will go out for dinner and have a few drinks
21% will have a special dinner and drinks at home
3% will go to the movies
2% will take the day off work and spend time together
3% will stay at a nice hotel or take a short break
5% said something else – including things like going to church, the movies, or even celebrating the occasion a few days later when everything love-related is on sale!
But a whopping 46% said… we're not doing anything
With so many couples choosing not to do anything to celebrate Valentine's Day, could it be that Australia is not a nation of romantics? Maybe… Or perhaps some people are just sceptical about an occasion often accused of being too commercialised. We found:
54% don't believe in celebrating Valentine's Day
53% say Valentine's Day is more of a chore than a special day
41% say they're bored with the same old Valentine's Day gifts (cards, flowers, chocolates etc)
How happy are we?
How much you enjoy Valentine's Day could depend on how much effort you and your partner put into it. We found that 28% of adults plan to do something extra special for their partner this year, but 22% often feel disappointed with their partner's efforts on February 14. This sentiment resinated considerably more with women (31%) than it did men (14%). Make of that what you will…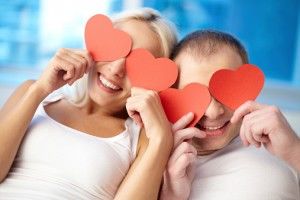 Not only is what you do important, but also where you do it. So we asked our 2,050 loved-up survey respondents a key question: Have they ever had flowers or gifts delivered to their place of work on Valentine's Day and what did they make of it? The backfire potential of such an act can be quite high, but overall most recipients were impressed by this gesture.
80% thought it was sweet
15% were embarrassed
5% felt like their work colleagues hated them
You probably won't be surprised to learn that the men who have received gifts at work (13%) were a lot more embarrassed than the women (29%) who have!
Finally, we asked our survey respondents how happy they are with their partner. Now, you might think that because so many couples have no plans for Valentine's Day that we're all stuck in loveless, unhappy relationships, but that's really not the case, according to our results. Unless, of course, those answering the questions were worried their partner was looking over their shoulder… Anyway, this is what we found:
57% are very happy
30% are happy
10% aren't sure
2% are unhappy
1% are very unhappy
So what have we learnt? Well, we might not spend a fortune on our loved ones and have the brain power to come up with stunningly romantic ways to illustrate our love and affection for them. BUT… oh we don't know, you make your own mind up!
If you have something special planned for your partner, let us know. We promise we won't tell!