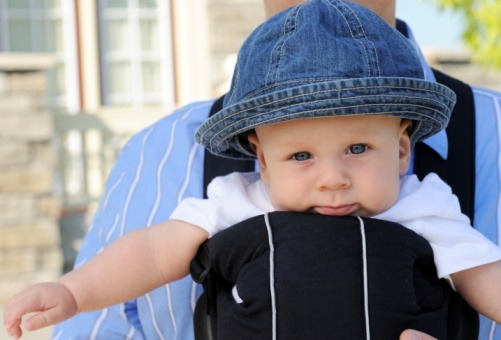 33% of Australian parents surveyed told Canstar Blue they worry about their baby falling out of their baby carrier. ACCC Product Safety Australia has provided recommendations for safe use of baby carriers and baby slings, so we need fear no more.

Alternatives to a pram or stroller
A baby carrier is any device that straps onto an adult's back or front from the shoulders to the hips or waist. These come in sling, carriers and backpack styles. They're great because they take the weight off your arms and back, leaving you pretty much hands-free to do what needs done while your baby sleeps peacefully against your body.
Thankfully, the vast majority of Australian parents – 88% in fact – said they prefer to carry their baby at the front instead of the back, which is the safer option. The ACCC says you need to be able to see your baby's face at all times to prevent suffocation risks. But there is much more to safe carrying than that.
What are the risks?
The risks of using an unsafe baby carrier or sling or using an unsafe carrying position are severe:
Rapid suffocation if your baby's face is pressed against the fabric or your body.
Slow suffocation if your baby is lying in a 'C' shape curved back position, with their chin tucked against their chest. Any pressure on the chin can close the airway.
Neck injuries, finger traps and pinching in a framed carrier, especially for infants less than four or five months old.
Falling out of the carrier or sling.
Do not use slings for newborn babies
Babies who are under 4 months old, premature, low birth weight or having breathing difficulties are at greater risk in slings than other babies. Never use a sling for a newborn less than 4 months old, and consult a paediatrician before using a sling for a premmie baby.
Do not use framed carriers for newborn babies
Do not use framed baby carriers until a baby is at least 4-5 months old. Newborn babies' necks are not strong enough, and a jolt from your movement bumping the frame can cause injury.
Baby carrier safety
When choosing a carrier to buy
The carrier needs to be suitable for your baby's size and weight.
If you are buying a framed carrier, buy a carrier with a frame that suits your height and weight.
Trying it on with your baby inside, ask yourself these questions:
o   Is it deep enough to your support baby's back?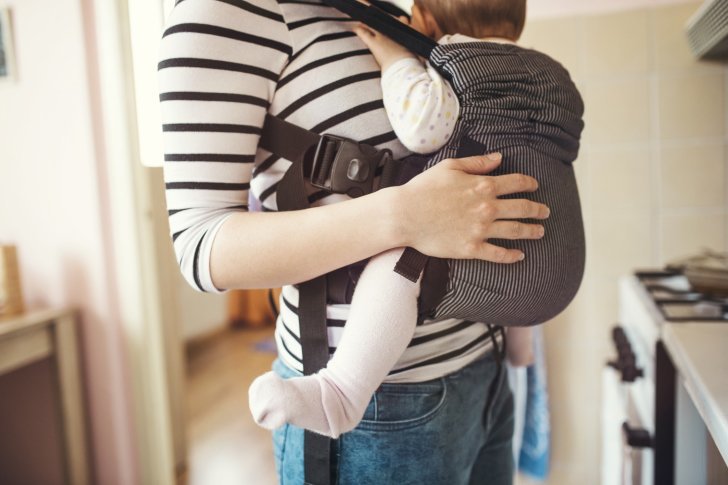 o   Are the leg openings small enough to stop your baby from slipping out?
o   Are the leg openings too small so that they would chafe your baby's legs?
o   Does the carrier actually come with clear instructions that you can follow? Or are you getting confused just trying it on?
o   Is there enough support for your baby to distribute their weight evenly and still let them move their head, legs and arms a little?
For framed carriers, look for:
o   Restraining straps and straps over your baby's shoulders, to stop them falling out.
o   A broad hip or waist strap to take the weight off your shoulders.
o   Sturdy materials and heavy duty fasteners.
o   Safe folding frame joints that won't trap or pinch tiny fingers.
o   Padding on the metal frame near your baby's face in case of bumps.
o   Other sharp points or rough edges that might hurt your baby's soft skin.
o   You need to be able to adjust those straps with one hand while you're getting your baby in and out with the other hand.
When using the carrier
Always use the restraining straps so your baby can't slip out.
Always bend from the knees, not the waist, so your baby can't fall out.
When you bend, make sure your baby can't reach any other safety hazards, like your steaming mug of coffee.
When folding the carrier, check that your baby's fingers are far away from the frame joints so they can't get trapped.
After using it, check for any ripped seams or straps or loose fasteners, to make sure it's still safe to use next time you need it.
Take your baby with you.
Ask for a demonstration of how to use it with your baby.
Baby sling safety
When choosing a sling to buy
o   Get someone to help you wrap and unwrap the sling properly the first time.
o   Practise wrapping and unwrapping it on yourself with your baby.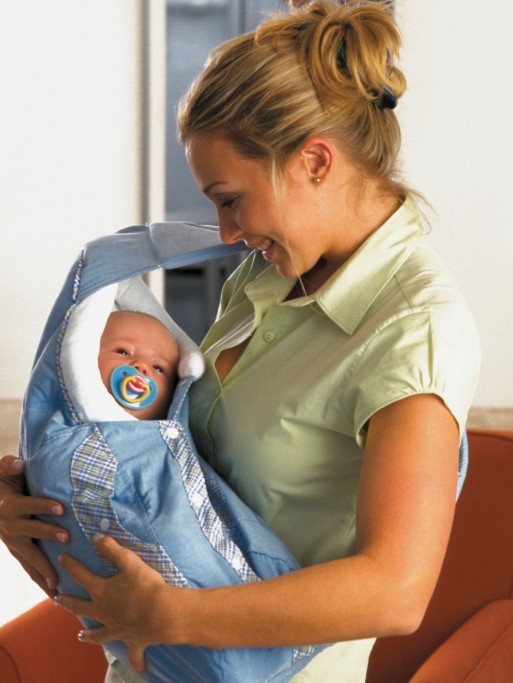 o   Does the carrier actually come with clear instructions that you can follow? Or are you getting confused just trying it on?
Never use a product described as a 'cocoon' or 'womb-like'. These slings put a baby in the foetal position, and while a foetus doesn't need a straight back to breathe properly, your baby definitely does.
Make sure the sling is not too big so your baby can't get smothered in too much fabric.
Keep your baby in a position where their back is straight, so that your baby's chin can't rest on their chest. A slanted or upright position is safest.
Make sure you can see your baby's face at all times and that their face is uncovered at all times by your body or the sling fabric.
Hold your baby with at least one arm.
Regularly check your baby for signs of discomfort. If they are having breathing difficulty they might act unsettled, but they can also not make any obvious sounds or movements, so you need to pay close attention.
Regularly check that your activities are not loosening the sling or changing the baby's position.
Watch out for things that might spill or fall on your baby in this position, e.g. your afternoon coffee.
Watch out for your own safety, as slings can change how you move around, especially going up and down stairs.
When using the sling
See the ACCC baby sling fact sheet released in 2014 for more details. (Download the PDF version here.)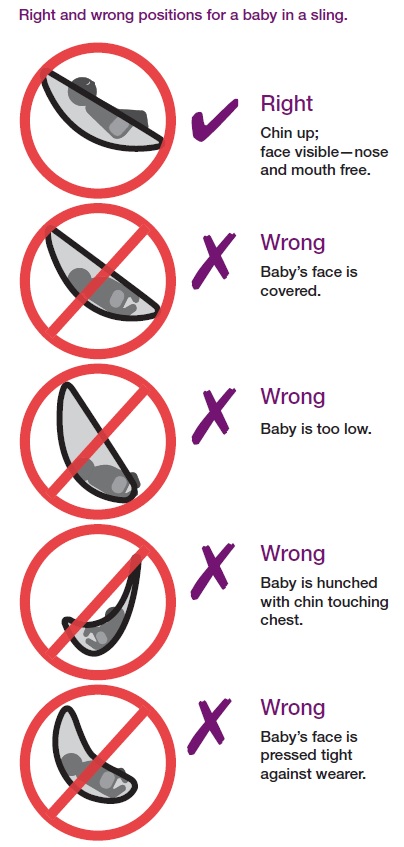 Warning signs and how to check your baby's breathing
Babies sometimes act unsettled when they are having difficulty breathing, but they can also not make any obvious sounds or movements, so you need to pay close attention.
Take the baby out of the sling immediately if you see these signs:
Face covered
Chin tucked in against chest
Head turned to the side
Back curled into a 'C' position
Grunting
Wheezing or whistling breaths
Laboured or rapid breathing
Change in the colour of your baby's skin, looking darker or with a blue tinge
Fussing, being restless, squirming
Follow the TICKS rules
T for tight: Your sling should be tight enough to hug your baby close to you.
I for in view at all times: You should always be able to see your baby's face by simply glancing down.
C for close enough to kiss: You should always be close enough to kiss your baby on the top of their head by tipping your head forward.
K for keep chin off chest: Never let your baby curl up so their chin is forced against their chest, as this restricts their breathing.
S for supported back: Your sling should support your baby's back in a natural position so their tummy and chest are against you.
Baby carriers we surveyed
Canstar Blue surveys revealed Ergobaby was a clear winner of the customer satisfaction award in Australia. Australian customers showed their drivers of satisfaction when choosing a baby carrier or sling were the secure fit and whether it was easy to use. You can view the rest of our survey results online. Link not yet available at time of writing, Wed 1 July 2015; please insert link to Baby carriers vertical when available.
Standards for other baby transport and walkers
Australian safety standards for prams and strollers can be found here.
Australian safety standards for baby walkers and other toys can be found here.
For more information about safe sleeping, visit http://www.sidsandkids.org/safe-sleeping
For more information about keeping your baby safe around the home, check out the ACCC Keeping baby safe fact sheet.