What do you get when you combine Wall Street with blood feuds, elaborate scheming and rich men with way too much money? Epic financial drama Billions, of course. Fans all over the world have been demanding the fourth season ever since – well, ever since the release of the third season in March 2018. Luckily the waiting game is finally over, with season four hitting Stan on March 18!
Sorry, what is Billions?
At its core, Billions is a story of a rivalry between two men just as powerful, intelligent and stubborn (and, arguably, petty) as each other. The show is based, loosely, on the true story of former U.S. Attorney Preet Bharara's decade-long investigation into the corruption and insider-trading wrongdoings of multi-billionaire hedge fund manager, Steve A. Cohen.
In the world of Billions, these two titans are reborn as U.S. Attorney Chuck Rhoades (Paul Giamatti of American Splendor and Sideways) and hedge fund king Bobby 'Axe' Axelrod (Damian Lewis of Band of Brothers and Homeland).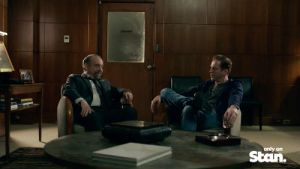 Let us break it down for you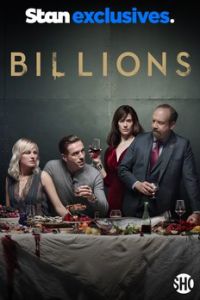 Although Billions is a show about alleged financial corruption, what keeps us all coming back for more is (shock horror) the way that everyone's personal lives manage to make their way into Wall Street. The prime example is the friendship-enemy-love triangle surrounding Chuck, Axe, and Wendy Rhoades (played by Maggie Siff of Sons of Anarchy). A rose between two thorns if you will, Wendy is Chuck's wife, but works closely with Axe and refuses to leave his ($14 billion dollar) company – fair enough.
Another character that helped to propel Billions from its season one popularity to its current worldwide acclaim is Taylor Mason. A breath of fresh air, Taylor is a brilliant and promising new employee working for Axe Capital and the first nonbinary season regular character on a major American TV show. (Mason is played by Asia Kate Dillion, who also identifies as nonbinary).
Despite starting off as a feud between two individuals, Billions season two and three dig much further into the 'corruption' of the U.S. system, and of the mega rich – and how defeating corruption means becoming poisonous yourself.
Enemies are now allies, allies are now enemies.

The brand new season of Billions premieres March 18 – only on Stan. pic.twitter.com/H1pL3PgwKQ

— Stan. (@StanAustralia) March 10, 2019
What can we expect from Billions season 4?
The aftermath of season three's finale and Taylor's shock plan to leave Axe Capital to start a new firm will see an unlikely alliance brewing between Axe and Chuck – they are, as Chuck describes in the season four teaser trailer, "tighter than AC/DC in 78". They're "not friends", "not enemies", but are also "not f*cking around" – could this all have to do with the threat Taylor's departure brings to Axe Capital?
But what's in it for Chuck? Our guess is that he's running for the New York State Attorney General seat, but needs a little help in getting there. Sounds to us like Billions is stepping things up a notch (again) and quite frankly, we're here for it.
Where can I watch Billions season 4?
Aussie viewers will be able to tune into Billions on Stan from March 18, but unfortunately will have to wait a week in between episodes. But if you've forgotten about what exactly has happened, or you just want to enjoy all the events again, the first three seasons are available on Stan for you to binge before season four kicks off. Who knew hedge funds could be this exciting?
Stream Sports with Kayo
Love streaming? Love sports? Kayo is a new streaming platform that provides access to a wealth of sports, from basketball to cricket, motorsports and soccer. Click 'go to site' for more details.
Brand
Subscription Type
No. of Screens

/same time viewing

Advertised Cost^^

/month

More than 15,000 hours of sport on-demand
Watch on 2 screens at the same time
14 days FREE trial (New Customers Only)

min. cost $25 over 1 month

2

$25
Go To Site

More than 15,000 hours of sport on-demand
Watch on 3 screens at the same time
14 days FREE trial (New Customers Only)

min. cost $35 over 1 month

3

$35

Go To Site

Telstra Exclusive Offer – Basic Subscription

Special Offer: Save $10/mth on Kayo for 12 months
Available to Telstra customers only. T&Cs Apply
Stream over 50 sports, Live & On Demand
Watch on 2 screens at the same time – Add up to 5 profiles

min. cost $15/mth first 12 months then $25/mth

2

$25$15

Get Offer

on Telstra's website

^^View important information