Attention, students of Moordale Secondary School – Sex Ed is back in session.
It's almost been a whole year since season one of Netflix's surprise hit of 2019 first dropped, and the wait for the second season has quite frankly been agonising. Charming-as-hell, funny and… painfully relatable, Sex Education's candid approach towards teenage dating has proven hugely popular amongst people of all ages and walks of life (Netflix even revealed that the show reached 40 million households within the first month of its release). Thankfully, we don't have to wait much longer as the entire second season drops on Netflix on January 17.
What is Sex Education?
Socially inept high schooler Otis Milburn (Asa Butterfield) can't think of anything worse than having a sex therapist for a mum (hello, Otis? Your mum is Gillian Anderson – she could be a murderer for all I'd care). It's mortifying, embarrassing and he has enough trouble focusing on his own life without tripping (literally and metaphorically) over Gillian Anderson's ridiculous decked-out house of sex.
Otis is a reluctant sex expert – but the only problem is he has no real-life experience with girls. So when whip-smart/new student/girl of his dreams Maeve Wiley (Emma Mackey) overhears Otis give an impromptu sex therapy session to a classmate and sees the financial potential, she suggests they open an underground sex therapy clinic together ("I'll do the books, you do the therapy") and he can't really say no, can he?
The two are open for business, as Maeve recruits the sexually needy (and their money) whilst Otis has the delightful task of solving his classmates' TMI problems. As Otis weaves through a sea of teenage sexuality, he might just discover that he needs some therapy of his own (just not from his mum).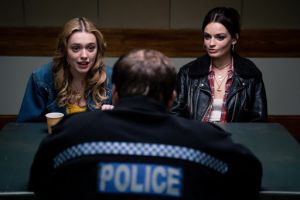 What can we expect from season two?
Contrary to what you were literally just told, Sex Education isn't solely about Otis and Maeve and sex therapist Gillian Anderson – there is a cracking cast that creator and writer Laurie Nunn said will be explored more as the show refines their focus on an ensemble cast and their backstories in the second season.
In the first season, we fell in love with Otis' best friend Eric (Ncuti Gatwa) as he came to grips with his sexuality, had to deal with his father's judgement, and went through a rollercoaster relationship with the headmaster's son, closeted bully Adam (Connor Swindells). The end of the first season saw Adam being shipped off to military school by his father (that family has some major troubling dynamics that is confirmed to be explored) right as we were beginning to root for team Adam+Eric.
Season two could've been a pining disaster for Eric, but according to the trailer, a French hottie is going to show up at Moordale Secondary School and sweep him off his feet (a victory we think Eric is only much too deserving off). But what happens when Adam returns? Only time will tell.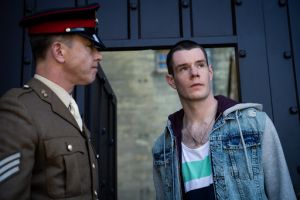 Another love story (or should I say square) I am deeply invested in Otis/Ola/Maeve/Jackson. Ola (Patricia Allison) likes Otis, Otis thinks he likes Ola (but he actually likes Maeve), Jackson (Kedar Williams-Stirling) likes Maeve, Maeve thinks she likes Jackson (but she actually likes Otis) – and to top it all off, Ola's Dad is dating Gillian Anderson. I am very much ready for the impending blow up.
Other standout characters include space-bun fanfiction lover Lily (Tanya Reynolds) who writes a Romeo and Juliet-inspired production that the students of Moordale School put on (good to see her getting some of the spotlight) and Aimee (Aimee Lou Wood), who flourishes after she breaks away from her unhealthy friendship with 'The Untouchables' and begins a blossoming friendship with Maeve.
Catch the season two trailer here
Netflix recently dropped the trailer we've all been waiting for – so pour over it, study up, and get ready for class as season two hits Netflix on January 17.
Sign up to Disney+
There are two plan options to choose from – a monthly subscription at $8.99 per month, or prepay for a year at $89.99 and save on the monthly cost. Both plans include the same features, with unlimited downloads and the ability to stream on up to four screens at the same time.
Brand
Subscription Type
No. of Screens

/same time viewing

Advertised Cost^^

/month or year

Stream the Disney+ library, including Disney+ Originals, Star Wars, Pixar, Marvel & National Geographic
Watch on 4 screens at the same time
Add up to 7 profiles
Unlimited downloads of shows and movies on up to 10 devices
7 days FREE trial (New Customers Only)

min. cost $8.99 over one month

4

$8.99

Get Deal

Canstar Blue receives a commission for sign-ups through Disney+ *

Stream the Disney+ library, including Disney+ Originals, Star Wars, Pixar, Marvel & National Geographic
Watch on 4 screens at the same time
Add up to 7 profiles
Unlimited downloads of shows and movies on up to 10 devices
Prepay for a yearly subscription and save on the monthly cost
7 days FREE trial (New Customers Only)

min. cost $89.99 over one year

4

$89.99

Get Deal

Canstar Blue receives a commission for sign-ups through Disney+ *

^^View important information