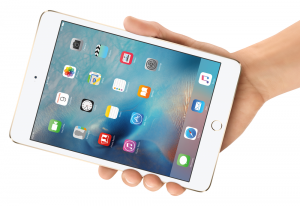 Apple's iPad was the first device to really kick-start the era of tablet and 2-in-1 computers, and to this day the tech giant is still the market leader. With the iPad having evolved over the years from a single device into the current iPad Air, iPad mini and recently released iPad Pro, the company now makes products for Apple fans of all tastes.
Back in September at its annual press conference full of hype, Apple unveiled the two latest iPad iterations – the iPad Air 2 and the iPad mini 4. The latter of these two represents an interesting conundrum. At a time when big smartphones are encroaching rapidly on the market once occupied by small tablets, is the mini tablet still relevant for consumers?
Apple certainly seems to think so, having beefed up the mini 4's capabilities to make it far less of a performance compromise compared to its big brother. Having surveyed hundreds of Aussie tablet owners across the country regarding what they thought of their devices, we've identified the pros and cons of Apple's baby tablet to give you an idea of just how good it really is.
Hardware
The iPad mini 4 packs a 7.9-inch Full HD display with an impressive 326 pixels per inch. It comes in capacities of 16GB, 64GB or 128GB, with prices matched accordingly – you can also choose between a Wi-Fi only device or one equipped with a SIM card slot also, which allows you to use mobile broadband. The design is classic Apple – a clean, unified metal casing with the signature round home button at the bottom.
The mini 4 is powered by Apple's A8 processor, which is actually a step below the A8X chip used in the iPad Air 2 – though they both share an M8 motion coprocessor. Whilst this has a slightly negative effect on the device's performance under heavy load, it also compensates for the smaller battery, allowing the mini to claim the same 10-hour battery life as its big brother. All of this hardware is crammed into a device with a total weight of just under 300 grams. At 6.1mm thick, it's 18% thinner than the previous mini – no small feat considering its already svelte proportions. The iPad customers we talked to were in love with the mini's size and shape, with many commenting positively on its lightness, its ease of handling and how convenient it was for to take travelling.
Also featuring on the mini's hardware list are its cameras. Featuring an 8MP rear camera capable of shooting 1080p video, as well as 1.2MP front-facing camera shooting 720p, the mini's photo capabilities include 120fps slow motion, burst mode capture, time lapse and plenty more.
Software
On the software side, the iPad mini 4 comes with Apple's latest iOS 9 firmware straight out of the box. This includes such features as multitasking, easier sharing between Apple devices, a swag of new and updated standard apps like News and Notes, and a number of behind the scenes improvements which make the OS faster and less bulky.
The iOS 9 update allows you to have two apps side by side in a split view, sneak a look at another app by swiping from the side, or even have a video playing in a corner while you use another app. It takes advantage of the mini's screen space like never before, letting you quickly send a message or see a news headline without interrupting your Netflix session.
The latest software also deeps the integration with Apple's other products. Handoff lets you start a piece of work on your iPad mini and continue it seamlessly on any other Apple device, whether that's your iPhone, MacBook or desktop. iCloud is also baked into the system, backing up your photos, apps and contacts as well as giving you iCloud Drive space to save documents to your heart's content. Apple's continued work in this department has seemingly paid off, with many customers expressing their praise towards the mini's ease of use, wide range of useful apps and the ease with which it synchronises with other devices.
Is the iPad mini 4 value for money?
So what are the downsides of Apple's pocket rocket iPad? The usual Apple gripe of high prices rears its head, with many customers stating that the mini was too expensive. Others also expressed mixed to negative opinions on the battery life, which will probably struggle if you're using your iPad for a lot of media throughout the day.
Despite these niggles, the single most common negative was…nothing at all. The iPad mini 4's overwhelmingly high quality, comprehensive features and snappy performance once again win over a lot of customers, and Apple's position as top dog looks unlikely to be challenged in the near future. For more information about the latest tablets, check out our star ratings.