When it comes to the humble computer monitor, there's plenty of debate as to what type and size is the best. While some people prefer a smaller screen to help them concentrate, others might prefer a larger screen, a curved model, or even a specialised gaming monitor to help them see everything they need to get the job done. So, when it comes to the computer monitor, is bigger better?
One option that PC users now have is the ultrawide monitor – a recent addition to the industry which gives users all the space they need to both work and play. But when it comes to finding an ultrawide monitor to plug in, what should you be looking for, and which brands offer ultrawide models? Find out in this Canstar Blue guide.
What is an ultrawide monitor?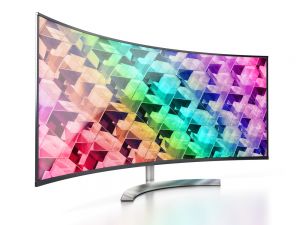 The hint is in the name, with ultrawide monitors larger than traditional monitors, generally coming with a 21:9 aspect ratio to provide a more immersive and wider viewing experience for users. It's the same ratio that's generally used for movie theatre screens. Traditional monitor displays use the 16:9 ratio, meaning the ultrawide screen provide both viewers and gamers with a massive field of view, ideal for when you don't want to miss a thing during your next movie binge or gaming session.
Ultrawide monitors and regular monitors compared
While it may be tempting to part ways with your old monitor to make space for an ultrawide model, what are the pros and cons of owning a larger monitor? Find out below.
Ultrawide Monitors
Pros
Cons
– Higher display quality, with most ultrawide models having 2560 x 1080p or 3440 x 1440p capabilities.- Ultrawide monitors provide a wider and more immersive experience than regular monitors.

– Boasts an impressive 21:9 aspect ratio, similar to traditional movie screens.

– Not as effective for competitive gaming.- More expensive than regular monitors.

– Potentially need more desk space to house larger models.
Regular Monitors
Pros
Cons
– Usually cheaper than majority of ultrawide monitors.

– Bigger market and more products available, including wall mounts and other accessories.

– Provides competitive gaming benefits with screen diameters.

– Smaller field of view than ultrawide monitors.- Lower resolution than ultrawide models, meaning you may miss out on smaller details.
Ultrawide Monitors
With ultrawide monitors beginning to find their own space in the market, which brands currently offer them? Here are some of the ultrawide models currently available.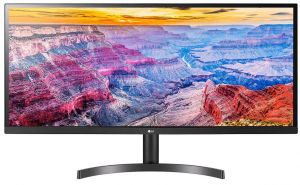 LG 34" Ultrawide Full HD IPS Monitor
LG offers the 34" Ultrawide Full HD IPS monitor, which encompasses a sleek, borderless design and classic 21:9 ultrawide aspect ratio to give users an immersive widescreen experience. With features including HDR10 range, sRGB 98% colour fidelity and updated 2.2 On-Screen Control, the 34" Ultrawide Full HD IPS monitor is ideal for those looking for an ultrawide display from a big-name brand.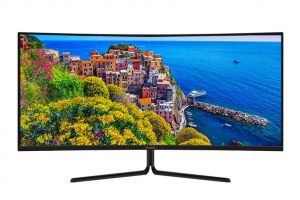 Kogan 34" WQHD Ultrawide Monitor
The Kogan 34" WQHD Ultrawide monitor is a great option for those not wanting to break the bank but still want to treat themselves to an ultrawide experience. With a 3440 x 1440 pixel count, the WQHD Ultrawide Monitor also comes equipped with a VA panel for superior contrasting, a curved design for an immersive experience, as well as a 144Hz refresh rate to keep you well and truly in the game.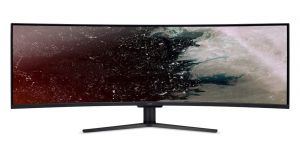 Acer 49" FreeSync2 Ultrawide Curved VA Monitor
The Acer 49" FreeSync2 Ultrawide Curved VA monitor is one of the largest monitors going, with a massive 124.4cm DFHD display letting viewers experience movie cinematics and gameplay like never before. With a resolution of 3840 x 1080, this monitor's 32:9 aspect ratio and 1800R curved screen makes it arguably one of the most powerful and immersive models available, although comes with a price tag to match, meaning it's not for the faint of heart.
Where can I buy an ultrawide monitor?
Ultrawide monitors are available to purchase at electronics and computer retailers such as Officeworks, JB Hi-Fi and Kogan, along with through brands directly, giving you a few options to choose from when it comes to finding a model and a bargain.
Is an ultrawide monitor worth buying?
Deciding on the right monitor for you will be based on your personal preferences when it comes to gaming, watching movies or how you best work in your home office. Modern standard monitors still offer plenty of features and high definition resolution, but if you fancy a wider screen and have a little bit of extra money to invest, an ultrawide monitor might be worth exploring. With plenty of monitors available, finding what suits your work and play style, as well as your budget, can save you in the long run.

Photo credits: Leonel Calara/shutterstock.com, cigdem/shutterstock.com