When it comes to putting a movie on the big screen, projectors are often a fun and cost-effective alternative to modern TVs, with projectors generally providing similar video quality and a bigger display at a much more affordable price. With select projectors also capable of 4K quality, include multimedia functions and come with home theatre accessories, a projector could be exactly what your home theatre or living room needs.
With a long list of projectors available for purchasing, it can prove to be a lengthy process to find the most suitable brand and model for your needs. Thankfully, Canstar Blue has put together this guide on projectors, including what to consider, popular brands and where to buy them. Read on to get yourself sorted by the time movie night rolls around.
How do projectors work?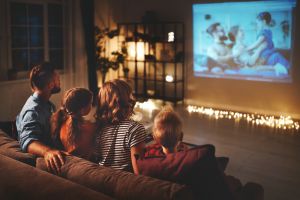 A projector is an optical device that physically projects an image or series of images onto a (typically flat) surface. Common projectors shine light through a set of transparent lenses to effectively create and reflect the image, while newer models use laser technology to bolster image quality, although how projectors reflect light is dependent on the type.
The brightness of projectors is integral to the quality and is measured in what is known as lumens, with different environments requiring differing lumen levels for optimal viewing quality. For home theatres or darkly-lit areas, at least 1,500 lumens are required, while for conference rooms, class rooms and other brightly-lit areas will require a minimum of 2,500 lumens.
Types of Projectors
While all projectors may essentially do the same thing, there are a few key differences to note that may help you find the best option for your viewing needs. Below is a breakdown of the common types of projectors you'll find on the store shelf.
Liquid Crystal Display (LCD) Projectors
LCD, also known as Liquid Crystal Display, is a type of projector display that comprises of three panels, each coloured red, green or blue, which create the full palette of colours for the projector's image once a light is shown through. LCD projectors traditionally have a better colour saturation as a result, and are priced anywhere from $100 to $5,000, giving you plenty to choose from depending on your budget.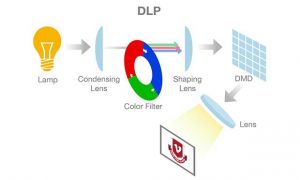 Digital Light Processing (DLP) Projector
Also known as DLP, Digital Light Processing is arguably the most popular type of projector, and is widely used in movie theatres. DLP uses a collection of miniature mirrors to reflect light, with a built-in rotating colour wheel used to reflect the colour onto the screen. Due to their popularity, DLP projectors are argued to be better at capturing contrasts and shadows than LCD models, with DLP models also falling into the same price bracket of a few hundred dollars to a few thousand depending on the model and brand.
Portable Projector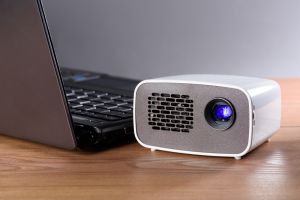 While some projectors are screwed into the wall or ceiling, other models are designed to be more portable so that you can take your movies or presentation with you on the road. While these models aren't as common, and are generally available as either a DLP or LCD variant, these projectors rely on being plugged into your computer via USB cables. While they may not offer the same quality, it may be more convenient to use, with some models small enough to be thrown into your backpack to be taken on the go.
Projector Brands
Now that you may have an idea of which type of projector you'd like to go with, here are some of the major brands for you to choose from.
ViewSonic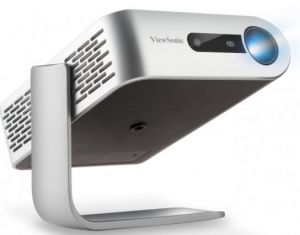 ViewSonic is a multinational electronics company that offers a wide range of monitors, viewboards, projectors and commercial displays, ranging from 4K displays through to pocket projectors. The M1+ LED projector is one of ViewSonic's more popular models, including Bluetooth speakers and app connectivity for easy use, as well as a smart stand that allows for 360-degree rotation, allowing you to find a suitable space to showcase your display. ViewSonic projectors are available at major retailers, as well as through the ViewSonic website, with a number of accessories and guides available online to help you find the best fit for your room requirements.
Epson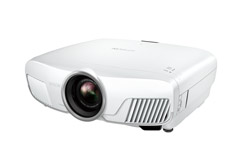 Epson is a Japanese electronics company and one of the world's biggest manufacturers of computer printers. In addition to printers, Epson offers a variety of projectors, with its range categorised into Business, Education, Large Venue and Home Theatre, helping you to find what you're after. For those after something for your home, the EH-TW9400W is the top of the line model from Epson, offering a 4K LCD display with a dedicated 4K processor to ensure your picture quality stays vibrant and consistent throughout your movie. The model also features wireless HDMI for cable-less setup, with a number of accessories also available, including a ceiling mount.
BenQ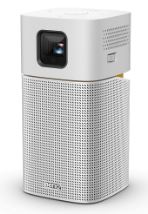 BenQ is a Taiwanese multinational company that specialises in technology products and consumer electronics, offering a line of projectors varying from heavy duty theatre use to portable on-the-go entertainment. The GV1 portable projector may be a handy addition to your work or social life, including dual-band Wi-Fi connectivity, hotspot and Bluetooth capabilities along with Smart TV compatibility, making it suitable for an office presentation or private movie session. And considering it only weights 700g, it may also make the perfect travel companion.
What to consider when buying a projector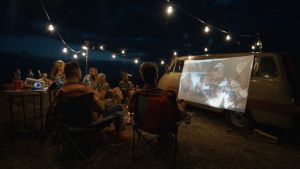 Choosing the perfect projector for your environment can be challenging, but to help with the decision process, here are a few areas that you should consider before purchasing.
Type: With LCD and DLP projectors working slightly differently, it's worth looking into what you plan on using your projector for. If you're looking to primarily watch movies with it, you may prefer a model with a richer colour contrast, while you may not have to worry about that as much if you're simply looking to showcase a presentation at work.
Lighting: With the picture quality dependent on the lumen count and outside light, it's best to consider where you plan on using your projector in order to find the best fit for your needs. If you're looking to set up in a home theatre with minimal lighting, a lower lumen count may be what you need, while if you're potentially presenting at work, you may need a higher lumen count to help get the message across.
Installation: If you're looking to create a home theatre in your house, you'll have to consider more than just the projector, with the installation process an important, and sometimes tricky, area to consider. As a result, it's best to consult with either an electrician or the brand directly in regards to the best practice on how and where you can install a projector in your home.
Cost: As with most purchases, the price tag can often sway the decision, meaning it's best to look into all of your options before you decide to part ways with your cash. By researching into brands, models and retailers, you may find a model on special, meaning you can spend more on snacks for movie night.
Where can I buy a projector?
With projectors proving to be a popular option for both workplaces and homes, shoppers can purchase one at most major electronics retailers, such as JB Hi-Fi, Officeworks, Harvey Norman and Kogan, as well as through brands directly.
Is buying a projector worth it?
Finding the middle ground between work and play, projectors can also be a more affordable option in comparison to modern TVs, allowing you to settle in for movie night guilt-free. But with plenty of brands, types and models available, it's best to look into all of your options before purchasing, particularly if you're looking to get a model installed into your wall or ceiling. But if you're big on your movies, or you're looking to blow away clients with a presentation, a projector may be worth the investment.

Photo Credit: OverdoseStudio/shutterstock.com, Evgeny Atamanenko/shutterstock.com, Manuel Findeis/shutterstock.com, Vimeocdn.com, FrameStockFootages/shutterstock.com