If the NBN has rolled out to your suburb, or is going to be, it may be time to hunt for a new NBN plan. Optus is one of the largest telcos in Australia, and has some of the most competitive NBN plans around. Review the full range of Optus NBN plans below.
Optus NBN Plans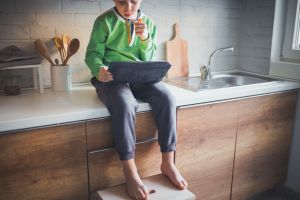 Optus has two key NBN plans and both come with unlimited data:
$60 – Basic NBN with NBN 12 speeds.
$80 – 'Entertainment' plan with NBN 25 speeds, choice of extra speed tiers and Fetch TV
The $60 plan does not come with any speed boost options, so if it's just basic NBN you want, this could be it. However, like many other Australians, you may desire something with a bit more ticker – the $80 plan comes with NBN 25 speeds as a minimum, with speed boosts costing the following:
Boost to NBN 50: $15 extra per month ($95 total)
Boost to NBN 100: $20 extra per month ($100 total)
Optus states that its top-tier NBN plan fetches 60Mbps in peak periods (between 7pm and 11pm), 30Mbps for NBN 50 plans, 15Mbps for NBN 25 plans and 7Mbps for NBN 12 plans.
A basic, no-frills option is available for $80 with no Fetch included and a choice of speed tier from NBN 12 to 100.
Customers get a choice of either a 24 month contract, or a month-to-month contract – the latter costs $200 to set-up. The $60 plan comes with a basic Sagemcom Wi-Fi mode, while the $80 plan comes with a Sagemcom AC Wi-Fi modem capable of gigabit speeds. See current plans below:
Optus TV by Fetch
If you're after a broadband plan with more than just data on offer, an Optus TV plan may be up your alley. Starting at $80 a month, Optus includes a Fetch TV package on its NBN plans.
You'll get a 'Mighty' set top box included, which allows you to watch FTA TV and streaming channels, plus record and rewind live TV.
One channel pack is included, which ordinarily costs an extra $6 a month. You'll get a choice of 'Kids', 'Knowledge', 'Vibe' or 'Variety'. Kids has kids channels (believe it or not), Knowledge has news and Nat Geo channels, Vibe has sports channels, while Variety has entertainment/drama channels.
Beyond that, Optus Sport is also included, which retains rights to English Premier League soccer, and various cricket leagues/matches around the world.
The Mighty box costs around $400 outright, channel packs are $6 each and Optus Sport is ordinarily $15 a month so having all this included for $80 could be good value.
Optus Call Rates & Packs
Optus also offers easy call packs that are labeled 'Bolt Ons' and they can be added for an extra monthly cost on top of your internet plan. Plans come with pay-as-you-go – or 'PAYG' – rates as standard, which are as follows:
28c per minute plus 52c flagfall for mobiles and national lines, local calls 30c each, calls to 13/1300 numbers 35c each.
Available bolt-ons may work out to be better value, and start at $5:
$5 for unlimited local & national calls; $5 extra for mobiles, and an international bolt-on is also available for $10.
Though landline phones are becoming arguably less popular over time, it may still work out to be a good deal for those weekly calls to Nanna. Below are some plans with call packs included:
How does Optus NBN compare to other NBN providers?
Optus compares quite well with a slew of smaller providers all jostling for your attention. With unlimited NBN data from only $60 per month, you arguably can't put a foot wrong. However, where Optus can fall behind is the price for its speed boosts.
Optus NBN 12 Plans Compared
At $60 a month, Optus' NBN 12 plans are certainly no slouch, but the $200 set-up fee for a no-contract plan could be a deal-breaker for some.
You could stick with a big provider, or take a punt with one of these smaller guys – it could work in your favour.
Optus NBN 25 Plans Compared
Based on the $80 figure alone, Optus is not that price competitive, but when you think of the included Fetch bundles – as well as Optus sport – the value of Optus might be realised. Again, it's hard to beat Mate, Barefoot and Amaysim, and some other providers also come into the game:
Watch out for Flip TV, which may also offer a similar entertainment proposition, while Hello Broadband provides cheap no-contract plans. Dodo is another contender that may be worth a look into.
Most providers hover around the $60-$70 mark, and Optus includes about $20ish extra value with the Fetch TV and Optus Sport bundles.
Optus NBN 50 Plans Compared
Unlimited data for $95 a month
Since the NBN Co lowered the wholesale price of its NBN 50 speed, many providers have offered this speed at cheaper prices. In fact, many providers offer Tier 3 plans at no extra cost to its Tier 2 plans.
At this tier, set-up fees can make or break a plan and Optus' $200 set-up fee for a no lock-in plan can be prohibitive, but its entertainment packages may make up for it.
Optus NBN 100 Plans Compared
At $100 a month, Optus sits in the middle of the pack when it comes to price competitiveness. While certainly no slouch, it's not a standout either and some smaller providers offer much cheaper plans.
MyRepublic, Barefoot, and Mate workout to be some of the cheapest at under $90 a month.
All come on a no-contract deal as standard, but all charge set-up fees to do so. While Optus is more expensive, some consideration must be given to its included Fetch TV and Optus Sport packages, which is likely a huge bonus to a lot of enthusiasts.
Is an Optus NBN plan worth the money?
As one of the largest providers in Australia, Optus has cemented itself as one of the strongest NBN providers. With plans starting at just $60, it is well-positioned to take on the bigger providers and compete with the smaller ones alike.
While base prices can be considered 'cheap', set-up fees may be prohibitive as well as speed boosts.
Optus benefits from its entertainment packages, but this may not be enough to sway some consumers.
As you move into faster NBN speed tiers, Optus may fall behind a bevy of small providers offering cut-price rates and lots of 'bang for buck'. Optus is certainly not falling much behind, but if on a budget, the extra $10 here and there can make or break a plan.
The next time you're shopping around, Optus is well worth a look into – especially if looking for internet and entertainment – but if you're after the cheapest price, there may be other providers worth keeping an eye out for.