If the NBN has rolled out to your suburb, or is going to be, it may be time to hunt for a new NBN plan. Optus is one of the largest telcos in Australia, and with a simple offering of basic plans with options to add on home phone plans, speed boosts and entertainment options.
With prices beginning at $75 per month, Optus isn't the cheapest provider out there, but it does offer plenty of flexibility and perks. So, how much is Optus NBN? Here's a run-down of everything you can expect from Optus NBN prices and what you can expect when it comes to inclusions and NBN speeds.
What does Optus offer?
Optus is a full-service provider, meaning it offers more than just broadband and NBN plans. Here's what you can expect with Optus NBN: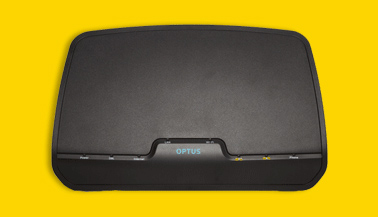 Unlimited Data: All NBN plans feature unlimited monthly gigabytes.
NBN Speeds: Standard Plus Evening Speed NBN 50 (typical evening speed: 45Mbps), Premium Evening Speed NBN 100/20 (typical evening speed: 90Mbps) and Premium Evening Speed NBN 100/40 (typical evening speed: 90Mbps) NBN plans are available.
Technology Types: Optus offers NBN across Fibre to the Premises, Fibre to the Node, Fibre to the Building, Fibre to the Curb, HFC, and fixed wireless connections.
Entertainment: Get Optus Sport and Fetch TV on Bundle plans. Optus Sport is the only legal way to watch all Premier League matches live, and is ordinarily worth an extra $15 a month.
Modems: Get a premium WiFi modem on all Optus NBN plans, capable of gigabit speeds.
Call Packs: Phone line service is optional on NBN plans, with calls PAYG unless you add on a $10 call pack with unlimited standard national calls to Australian mobiles and landlines.
No contracts: All Optus NBN plans are contract-free and available on a month-to-month basis, but setup fees apply. You may also be required to pay up to $252 for an included modem if you cancel your plan within 36 months.
Optus NBN speeds: at a glance
Below are the typical evening speeds Optus lists for the four NBN speed tiers on fixed line networks (FttP, FttN, FttB, FttC, and HFC).
| Speed Tier | Max Download Speed | Optus' Typical Evening Speed |
| --- | --- | --- |
| Internet Everyday (NBN 50) | 50Mbps | 45Mbps |
| Internet Everyday and Premium Internet Speed (NBN 100) | 100Mbps | 90Mbps |
Speeds correct as of September 2020
Optus NBN Plans
When it comes to NBN plans, Optus keeps its NBN offering quite simple with a set of three plans and your choice between speed tier. Starting at $75 for NBN 50 speeds, there's an 'Internet Everyday' plan, which is a basic NBN package with Optus Sport included, and optional Game Path and home phone add ons. If you want a little bit more than the basics, the 'Internet Entertainer Lite' plan is $79 per month, and includes Optus Sport and the optional extras as the basic plan, but with the addition of Fetch Mini. Then there's the 'Internet Entertainer' for $90 per month, which is the bigger bundled option with included Optus Sport, included Fetch Mighty and a premium channel pack, and the optional home phone and Game Path add on. All of these plans are available on NBN 50, or on NBN 100 from an additional $20 per month.
The following table features a selection of Optus NBN 50 plans from Canstar Blue's database, listed in order of cost from lowest to highest. Use our comparison tool to see plans from a wider range of providers.
What do you get with Optus NBN plans?
Each plan features Standard Plus Evening Speed (also known as NBN 50), with typical evening speeds of around 45Mbps. You'll also get Optus Sport included on all plans, giving you free and unlimited access to thousands of football matches both in Australia and around the world.
Phone line service is optional and unless you PAYG calls, this will cost an extra $10 per month to add on. If you want added entertainment, prices start at $79 for the NBN 50 plan with Fetch Mini, and go up to $110+ for NBN 100/20 with Fetch Mighty.
Both the standard internet only and the two entertainment bundle packs include the option of adding a speed boost, which will bump your speeds up to Premium NBN 100/20. Optus' speed upgrades will add an extra $20 per month to your plan, but do give you a typical evening speed of 90Mbps.
The following table features a selection of Optus NBN 100 plans from Canstar Blue's database, listed in order of cost from lowest to highest and then by data allowance. Use our comparison tool to see plans from a wider range of providers.
Optus TV by Fetch
If you're after a broadband plan with more than just data on offer, a Fetch TV plan may be up your alley. Optus includes a Fetch TV package on its Internet Entertainer plans: from $79 per month on Lite plans with the Fetch Mini, and from $99 for plans with the larger Fetch Mighty and one premium channel pack.
Fetch Mini and Mighty plans include a set top box, which allows you to watch free-to-air television and streaming services (including Netflix and Stan), plus record and rewind live TV and buy or rent movies and shows.
Fetch Mighty plans come with one included channel pack, which ordinarily costs an extra $6 a month. You'll get a choice of 'Kids', 'Knowledge', 'Vibe' or 'Variety' channel packs.
Optus Call Rates & Packs
Optus also offers either pay-as-you-go calls on its basic Internet and Internet Entertainer plans, or you'll need to add on a $10 call pack for unlimited standard national calls to mobiles and landlines. Pay-as-you-go rates are as follows:
28c per minute plus 52c flagfall for mobiles and national lines, local calls 30c each, calls to 13/1300 numbers 35c each.
How does Optus NBN compare to other NBN providers?
Optus compares quite well with a slew of smaller providers all jostling for your attention. However, where Optus can fall behind is the price for its speed boost, as well as its overall base NBN pricing. If you're looking for a cheaper broadband option, other providers worth keeping an eye out for include:
Arguably its biggest competitor is Telstra, which also has its own suite of broadband and entertainment plans. All in all, Optus stays fairly competitive, but may be outdone by one or more of these providers based on the price at the time.
Is an Optus NBN plan worth the money?
As one of the largest providers in Australia, Optus has cemented itself as one of the strongest NBN providers around. With high-speed plans starting at $75 per month, it is well-positioned to take on the bigger providers and compete with the smaller ones alike.
Keep in mind that in addition to monthly plan costs, set-up fees may be prohibitive, as well as the price of speed boosts. Although Optus benefits from its entertainment packages, this may not be enough to sway some consumers.
As you move into faster NBN speed tiers, Optus may fall behind some of the smaller providers offering slightly cheaper prices. However, it's not typically a massive monthly price gap, but for Aussies on a budget, the extra $10 here and there can make or break a plan, especially considering NBN 100 plans start at the $95 per month price mark.
Optus is also a good performer, speed-wise, as it has topped the ACCC NBN speed report multiple times throughout late 2019 and 2020. This means that compared to several other popular NBN providers, Optus was more likely to achieve its average peak speed. While it doesn't mean Optus is the fastest NBN provider around, it does indicate a generally good performance on average.
The next time you're shopping around, Optus is well worth a look into – especially if looking for internet and entertainment – but if you're after the cheapest price, there may be other providers worth keeping an eye out for.