While it has plenty of competition when it comes to binge-worthy TV shows, Foxtel still has lots to offer for when you're looking to spend some quality time relaxing on the couch. Whether you're big on your sports or looking to stay up to date with new movie releases, Foxtel provides a number of packages – or 'bundles' as they're now referred to – to choose from, each with a combination of channels so that you get your fix of drama, entertainment, movies, sport, or a mix of all four.
So, what packages does Foxtel have on offer, and how much do they cost? Read on to find out what's available, and what you can expect with each bundle.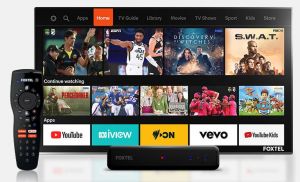 Foxtel Packages
In addition to services such as Foxtel Now and Foxtel Go, Foxtel offers a number of channel bundles to choose from, which includes similar content packaged together. Think of it as using the 'Recommended for you' section of YouTube or Spotify, because chances are, if you're a fan of one sport, then you'll be interested in keeping up with the results of another, or keeping up with similar movies or TV programs to that series you just binged over the weekend. Hence the Foxtel package.
With most of Foxtel's packages, you'll be given the option to either sign up to a no lock-in contract option, or a 12-month plan. Some of the 12-month plans waive the installation fee of the Foxtel set-top box as an incentive for you to sign up for the year, as well as offer cheaper month-to-month costs, while the no lock-in contract option means you can always back out if you've watched everything that you needed to. However, it's always best to read the full T&Cs before you sign up to any deal, or plan to avoid any nasty surprises when the bill comes around.
Here's what you can sign up to with Foxtel:
And if you're looking to get the most out of your streaming, you can also opt to sign up for a Netflix account, with the Premium, Sports, Movies and Foxtel Plus bundles offering the add-on.
Test your NBN speed
Got a show or movie lined up but aren't sure if your internet can handle it? Test your NBN Speed below!
Foxtel Package Costs
How much will each Foxtel package set you back and is there a difference between a no lock-in contract and 12-month plan? The table below lists the price of Foxtel packages under 12-month contract, and no contract:
| Bundle | 12-month plan (per month) | No lock-in contract (per month) |
| --- | --- | --- |
| Platinum Plus Bundle | $111.20 | $139 |
| Premium Bundle | $79.20 | $99 |
| Sports HD Bundle | $59.20 | $74 |
| Movies HD Bundle | $55.20 | $69 |
| Foxtel Plus Bundle | $49 | $49 |
Source: Prices collected from Foxtel website, January 2022. 
While the 12-month plan would save you a bit of money on a monthly basis, you're locked in for the full year, meaning if you run out of TV shows to watch, you may be left paying for something that you don't use, so a no lock-in contract may be wiser if you're only looking to catch up on the latest season of your favourite show.
Foxtel Platinum Plus Bundle
The most expensive package from Foxtel, the Platinum Plus Bundle is also the BIGGEST available, which might be a suitable option for large households, or those who always seem to fight for the remote. The Platinum HD package includes 95 channels, including HD channels for those who only want the best of viewing. Costing $139 a month on a no lock-in contract, the Platinum HD pack isn't for the faint of heart, or those on a budget, but may be worth it for those looking for the most bang for their buck, or who just like having plenty to choose from for those nights in.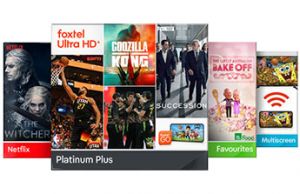 Channels included in the Platinum Plus Bundle:
Fox Sports
Fox League
Fox Cricket
Fox Showcase
Discovery Channel
National Geographic
E!
Cartoon Network
Premiere Movies
Netflix
Foxtel Premium Bundle
Costing $99 per month on a no lock-in contract, the Foxtel Premium Bundle includes a variety of channels to keep all the family entertained, whether you're looking for a movie, TV show or sports event to keep everyone happy. With over 50 different sports available via 13 HD channels – along with multiple movie channels to find that one film you've been meaning to watch – the Premium Bundle may take the stress out of family time in front of the TV.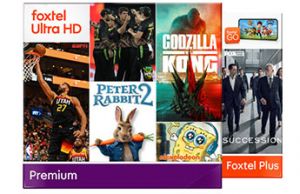 Channels included in the Premium Bundle:
BBC First
Fox Classics
Lifestyle
Discovery Channel
Premiere Movies
Family Movies
Fox Cricket
Fox League
ESPN
Nickelodeon
Discovery Kids
Cartoon Network
Foxtel Sports HD Bundle
Including 13 live HD sports channels with a dedicated Fox Sports Ultra HD channel for when you want to catch the best bits in high definition, the Sports HD Bundle may be worthwhile for those who enjoy any and all sports. Costing $74 a month on a no lock-in contract, the Sports HD Bundle includes a number of entertainment channels for when your team has a bye week.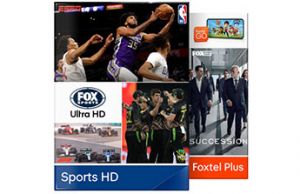 Channels included in the Sports HD Bundle:
Fox Cricket
Fox League
Fox Footy
Fox Sports
ESPN
Eurosport
Fox Sports News
BBC Earth
Fox Showcase
Stream Live Sports with Kayo
Love streaming? Love sports? Kayo is a streaming platform that provides access to a wealth of sports, from basketball to cricket, motorsports and soccer. Click 'go to site' for more details.
Foxtel Movies HD Bundle
The Movies HD Bundle might be an option for those who are keen to keep up to date with new movie and TV shows. Costing $69 a month on a no lock-in contract, the Movies HD Bundle includes over 1,000 movies on demand for those days on the couch, with HD quality available to give you the full experience.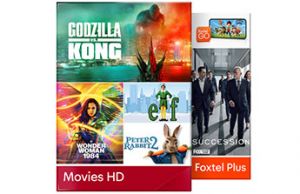 Channels included in the Movies HD Bundle:
Premiere Movies
Action Movies
Comedy Movies
Masterpiece Movies
Movie Greats
Boomerang
Lifestyle
Foxtel Music
TLC
Fox8
BBC Earth
Foxtel Plus Bundle
With more than 50 channels from Foxtel's entertainment and drama packages, the Foxtel Plus Bundle is the cheapest option available, setting you back $49 a month, which if you're big on your documentaries, music or news, may be well worth the price tag.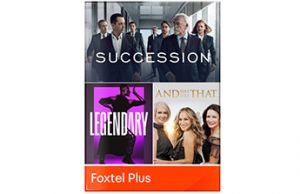 Channels included in the Foxtel Plus Bundle:
Fox Showcase
BBC First
Arena
E!
Fox8
UKTV
National Geographic
MTV Music
Fox Sports News
CMC
What else do the Foxtel Bundles include?
In addition to the channels that come with each bundle, you'll also have access to the Foxtel Go app, which allows you to watch TV live and on-demand on the go, as well as the MyFoxtel App, which allows you to manage your account and access support.
Sign up to BINGE! 
Are you looking for something binge-worthy? Why not check out BINGE? With multiple subscription plans available, you can choose a plan that suits you (or your family) and settle in for a night on the couch with a wide range of movies and shows!
Can I build my own Foxtel bundle?
If none of the above bundles catch your eye, Foxtel gives you the option to build your own, meaning you can get exactly what you're after. You can choose between a 12-month plan or no lock-in contract, with two base options available to start with – the Foxtel Plus bundle, or the Foxtel Plus with Netflix bundle.
Once you've chosen your base option, you can add the Sports HD package ($25/month), Movies HD package ($20/month), Kids ($5/month) or the Favourites package ($20/month) to help keep you and your household entertained with the shows and movies they want.
You can also add on Multiroom Casting ($15/month) to watch multiple streams in multiple rooms of the home, including the Multiroom iQ 4 ($25/month), as well as the HD option ($10/month) for those who want the very best quality. You can even add the Foxtel magazine ($3.95/month) to your order to make sure you don't miss a program.
Foxtel also offers specialty channels to be added to your order, including Antenna Pacific ($23/month) for your Greek TV needs, in addition to RAI International ($23/month) for Italian content.
While you won't be able to remove channels from each package or bundle, you'll still be able to personalise your bundle to suit your entertainment needs.
Are Foxtel bundles cheaper with Telstra?
Telstra and Foxtel have had a partnership for a number of years now, with the main advantage being able to combine your phone, internet and entertainment onto the one bill. However, Telstra does offer some discounts for new customers on Foxtel bundles, although the discounts only last for the first 12 months before going back to the traditional Foxtel price. However, if you're already a Telstra customer and looking for some cheaper streaming, it may be worth investigating.
Is Foxtel worth it?
With plenty of competition in the streaming market, it can be tough to decide what to chuck up on the big screen for your night in. While other content streaming options such as Netflix or Stan are certainly cheaper alternatives to Foxtel, the 'original' big name in home entertainment in Australia still has plenty of value on offer, but it all comes down to finding the right package for your needs and budget. Give thought to which channel packs you'll actually use – they might all sound great on paper (or online) but remember that there are only so many hours in the evening, and you're unlikely to get to watch everything. Focus on what you REALLY want – you could always add in extra channels later on.
Sign up to Disney+ Australia
There are two plan options to choose from – a monthly subscription, or prepay for a year. Both plans include the same features, with unlimited downloads and the ability to stream on up to four screens at the same time. This table includes links to a referral partner.
Photo credit: r.classen/shutterstock.com, Foxtel