Queensland is the gas ratings state of Origin
Queenslanders aren't as reliant on natural gas as households in the southern states of our great brown land, but that doesn't mean you should accept inferior service from your provider. There are only two gas suppliers to choose from in Queensland, but that still gives you another option if you're not satisfied with the service you're currently receiving, or the price that you're paying. In this review, Canstar Blue will talk you through your gas options, whether you live in Brisbane, the Gold Coast, Sunshine Coast, or a regional area further north, to help you better-understand the market and possibly find a better deal.
As you can see from our ratings table above, Origin and AGL are the two gas suppliers most households in Queensland can choose from. Each year, Canstar Blue surveys gas customers of both retailers to find out how they are rated on important factors including customer service, billing clarity and the value for money they offer. While there is minimal competition, you'll surely want to be getting the best deal you can. Since Canstar Blue began rating gas suppliers in Queensland, the results have remained consistent, with Origin outperforming AGL for overall gas satisfaction. That's the case again this year, with Origin making it four years at the top:
Origin received five stars for overall customer satisfaction, as well as customer service and bill & cost clarity. It earned four stars for its focus on environmental sustainability, but three stars for value for money and tool & advice.
AGL earned four stars for overall customer satisfaction, plus the same score for customer service and bill & cost clarity. It rated three stars for environmental sustainability, but just two stars on value for money and tools & advice.
Now we know how these gas companies stack up in the eyes of their customers, let's learn more about the plans they have to offer and the Queensland gas market as a whole. You may also want to compare their electricity offers, which you can do via our comparison tool below.
Compare Electricity Plans
QLD Gas Suppliers
Origin
Origin has three different gas offers for Queenslanders to pick from, depending on personal preference and circumstances. The biggest conditional discount comes for those who are happy to commit to direct debit payments and receiving bills via email, while a smaller discount is on offer for those who just want to pay bills on time. In both cases, discounts come off gas usage charges and there are 12 month benefit periods. Origin also has a standard contract with no conditional discount. There are no exit fees with any Origin gas plan, but prices are variable. Origin also tends to offer a modest first bill credit when you sign up online, though this is not always available. Customers may also want to consider Origin's Predictable Plan, whereby you pay the same amount every month for a year regardless of gas usage. Unique quotes are offered based on previous usage history. Origin was rated five stars for overall satisfaction, customer service and bill & cost clarity in 2018, with four stars for environmental sustainability but just three stars for tools & advice and value for money.
AGL
AGL gives Queenslanders three different gas plans to select from, with conditional discounts the point of difference. Customers happy to pay by direct debit can achieve the biggest discount off gas usage costs, while a smaller discount is offered to those who prefer not to pay by direct debit, but still pay on time. If you're not confident with paying on time or by direct debit, AGL offers a third option with a guaranteed – but slightly smaller – whole bill discount. All three gas plans have variable rates and 12 month benefit periods. It's also common for AGL to offer a 'double up' discount for households that choose to buy both their gas and electricity from the retailer, though this may not always be available. Customers can also collect flybuys points through AGL, with one point awarded for every $1 spent on energy. AGL rated four stars for overall satisfaction in 2018 and the same score for customer service and bill & cost clarity. AGL was deemed worthy of three stars in respect of its focus on environmental sustainability, but only two stars on tools & advice and value for money.
About the Queensland Gas Market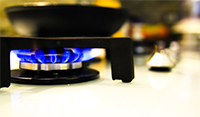 The majority of Queenslanders have been able to choose their natural gas supplier since 2007 when 'Full Retail Competition' was introduced. However, AGL and Origin remain the only two energy companies to offer retail gas services in the state. This is in stark contrast to NSW, Victoria and South Australia where other major energy companies compete for customers in far more competitive markets. Origin and AGL supply 97% of gas-connected households in Queensland, according to the Australian Energy Regulator's latest industry report. The only exceptions are those covered by Western Downs and Maranoa regional councils, including Roma and Dalby. In these areas, the local councils have licenses to retail natural gas to customers.
Who sets gas prices in Queensland?
Natural gas prices for most of Queensland have been deregulated since 2007, meaning that Origin and AGL determine their own products, prices and conditions. Prices are generally reviewed once a year, but if the retailers increase prices at any time, they must inform customers at least 10 business days before the changes take effect. Prices are regulated in regional areas.
Queensland Gas Contracts
In areas of Queensland where gas prices have been deregulated, households will be on one of two types of contracts:
Standing offer: All energy providers are required to offer standard contracts in addition to their market retail offers. These are the contracts that customers are likely to be on if they have not switched gas providers in several years. These contracts will be ongoing and have basic terms and conditions set out by law (such as no exit fees) but will usually work out more expensive than market offers.
Market offer: These contracts are set out almost entirely by the retailers and provide customers with the opportunity to save through conditional discounts and other incentives. Market offers could come with varying contract lengths and conditions. They may include exit fees.
Figures from the AER show that 29% of Queensland households remain on a standard gas contract. This means big savings could be on the cards for customers who switch to market offers, even with the same retailer.
How to find the best deal on gas in QLD
The amount you pay for gas is determined by two main costs – usage and supply charges. Usage charges are what you pay for the gas you actually use, while supply charges are fixed daily costs you need to pay regardless of your usage.
In Brisbane, you can expect to pay around $1 per day in gas supply charges. These are charges just for being connected to the gas network.
Usage charges are typically around 5-6 cents per megajoule (the unit of measurement for gas). A gas oven will likely use around 12 megajoules an hour.
As is normal for gas companies, Origin and AGL charge different usage rates for gas depending on how much you actually use. For example, the first 'block' of gas you use a day will usually be charged at the highest rate. This is usually around 8 megajoules. The following block will be charged at a cheaper rate and so on. There will then be a lower cost for any remaining usage.
Be aware that gas prices from Origin and AGL are subject to change, meaning the only way to find the cheapest plan for you is to compare rates on a regular basis. With only two gas retailers to choose from, it would be easy to 'set and forget' under the assumption that they are more or less the same. But that can be a costly mistake. Also consider that you don't necessarily need to get gas and electricity from the same provider. While you'll need to buy gas from either Origin or AGL, there are 17 different electricity providers operating in SE Queensland that would happily welcome you on board.
For many people, price will be the first and last thing they consider when comparing gas companies, but it's also worth keeping our customer ratings in mind – because 'cheapest' doesn't always mean 'best'. It would be smart to keep your options open and regularly compare.