VR technology may still seem like it's a pipedream to some, or something that stays solely in the realm of Hollywood, but the truth is, it's a lot closer to becoming a day-to-day experience than we realise. While you may find the majority of VR technology in gaming, brands and companies are looking to explore more general and commercial uses of the technology, from improving workplace functionality to helping us with our day-to-day dealings. One such brand is Microsoft, with the HoloLens 2 becoming available for the general public to purchase. But what exactly is the HoloLens 2, and is it worth looking into? Find out all you need to know in this Canstar Blue guide.
What is the HoloLens 2?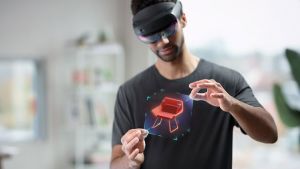 The HoloLens 2 is an Augmented Reality (AR) headset that combines both hand and eye tracking to create and manipulate holograms and virtual objects. Mounted on your head, the HoloLens 2 provides a virtual space around you to help you interact with programs, objects and a wide variety of other settings to help you effectively and efficiently work on projects, all with a sense of the future.
The successor to the original HoloLens – which was released in 2016 and only available to developers and organisations – the HoloLens 2 looks to be more user-friendly to promote general use. The HoloLens 2 shows improvements from the original, with technical, functional and visual upgrades apparent in comparison to the previous model. Below is Julia Schwarz from Microsoft showcasing the capabilities and features of the HoloLens 2.

HoloLens 2 features and specs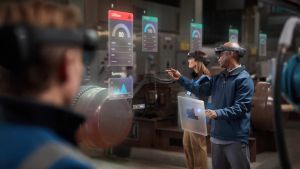 The HoloLens 2 showcases clear progression from the first model, with the field-of-view nearly doubled to make the virtual space much easier to navigate. Other improvements seen in the second edition also include the way you interact with holograms, as the HoloLens 2 now has improved hand-recognition and new gestures to provide more natural movement for users.
Re-size, hold, drag and grab are all new ways to interact with your virtual objects, as a voice command feature has also been added to the HoloLens 2, able to provide a range of assistance with your virtual tasks.
Comfort was also a big focus when developing the HoloLens 2, with new lightweight padding and better weight distribution featured, along with a flexible visor to offer a more enjoyable and seamless experience. Below are some of the specifications of the HoloLens 2:
Resolution: 2K 3:2 light engines
Depth: 1-MP time-of-flight (ToF) depth sensor
Camera: 8-MP stills, 1080p30 video
Speakers: Built-in spatial sound
Voice: Command and control on-device
Security: Windows Hello w/ iris recognition
Spatial Mapping: Real-time environment mesh
HPU: Second-generation custom-built holographic processing unit
Memory: 4-GB LPDDR4x system DRAM
Storage: 65-GB UFS 2.1
USB: USB Type-C compatible
Weight: 566 grams
Battery: 2-3 hours of active use
How much does the HoloLens 2 cost?
With VR and AR technology still very much in the growth stage, the HoloLens 2 is not cheap for the average user, retailing for $5,599 on the Microsoft store. Considering there isn't much technology like this currently out there for the general public to purchase, it may be worth the price to get ahead. If you have the spare change…
Where can you buy the HoloLens 2 in Australia?
The HoloLens 2 is exclusively available for Australians online via the Microsoft store, with free delivery available nation-wide.

Is the HoloLens 2 worth buying?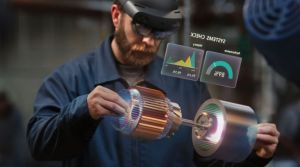 With the HoloLens series built with a focus on helping enterprises and industry professional find solutions to both complex and everyday scenarios, the transition to a general public may be a tough one to gauge. While certainly an exciting prospect, and giving you new opportunities to explore whether you're looking to solve a workplace problem or trial new areas, the price tag and the fact that the technology is still developing may cause some to second-guess a potential purchase.
However, if you're a tech-enthusiast, the HoloLens 2 may be absolutely worth buying, but for the more casual tech user, you can probably just admire from afar while still enjoying the exciting potential the industry looks set to produce in the next few years.

Photo Credit: microsoft.com