Volta Vacuum Cleaners Review
Volta has been creating vacuum cleaners and other home appliances since 1915. It may not be as big or famous as some of the other vacuum brands you've probably heard of, but Volta still has some solid vacuums on offer that could be just what you're looking for. Decide for yourself with the help of Canstar Blue's review.
Volta has a fairly concise range of vacuum cleaners for sale in Australia, with prices around average for the types of features on offer. Let's get an overview of each vacuum to help you decide which might be worth your time and money, starting with the cheapest of the bunch.
Volta Compact Plus barrel vacuum
The Compact Plus from Volta has a 1600 watt electric motor which, combined with its lightweight 4kg frame, enables you to easily clean your surfaces without having to drag a heavy vacuum around. It's said to be a great little vacuum for getting rid of dirt and dust, and at such a cheap price has been reviewed highly by customers. Its product page on The Goody Guys has an average score of 8.4/10 after 30 reviews.
Soft ride wheels enable smooth transitions from room to room without damaging your floors and the multi-directional front wheel enable you to turn it with ease. It also comes with a variable floor nozzle, which allows you to properly clean multiple different household surfaces.
At between $72 and $90, the Compact Plus is very cheap, and if it works as well as buyers have said it does, it looks like a real bargain.

Volta Lite barrel vacuum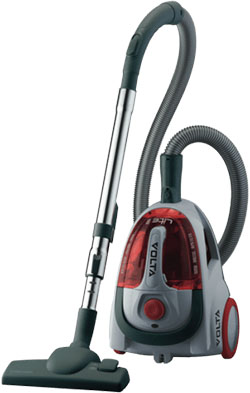 Like the Compact Plus model, the Volta Lite also has 1600 watts of power. It has a small 1.2 litre bag capacity, so you can only clean so much debris before having to empty it, but is has an effective HEPA filter that allows you to remove most of the pollens and allergens from the air.
This vacuum cleaner is said to be good for giving the house a quick clean, as it weighs even less than the first model at 3.4kg. So it's lightweight and compact yet fairly powerful, and the numerous different nozzles allow you clean multiple surfaces in your home.
This model is extremely similar to the Compact Plus, and given that it costs roughly the same, it seems to represent good value for money.
Volta Equipt barrel vacuum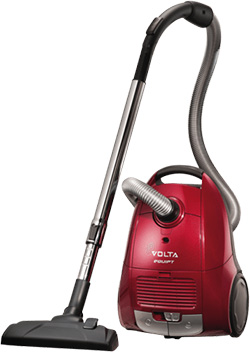 The Volta Equipt barrel is heavier than the others, weighing in at 7.6kg, but it makes up for this by having a higher suction power. Its 2000 watt motor allows you to tackle difficult cleaning tasks quickly.
Everything else about it is fairly basic, but it does have some additional features. It has a combination floor nozzle for different surfaces and a turbo nozzle for sucking up that annoying pet hair. It also comes with large ergonomic wheels for easy transportation and a hygienic filter to remove pollutants from the air.
At $149 it is reasonably cheap for a 2000W vacuum, but it's perhaps easier to see value in the two cheaper models listed beforehand.
Volta Aeroperformer Cyclonic barrel vacuum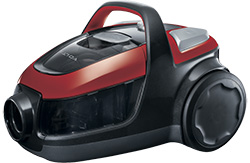 The final vacuum cleaner Volta has on offer is also its most expensive, called the Aeroperformer. This 1900W models weighs in at 4.5kg, so you sacrifice only a bit pf power for increased manoeuvrability. To add to the convenience, this vacuum has a bagless design, meaning you can empty it with the press of a button.
The Aeroperformer has a cyclonic suction system, allowing you to vacuum for even longer without losing power. It also comes with an advanced HEPA filter to eliminate pollens and allergens from the air in your home. Finally, accessories that come with a purchase include a combination floor nozzle and a turbo nozzle, which let you clean pet hair and multiple different surfaces without having to buy another vacuum.
At $175, we're starting to enter more expensive territory for basic vacuum models such as these, but given that this is a bagless model with high suction power and a light frame, it's easy to see good value in the Aeroperformer vacuum.
For more information on vacuum cleaner providers in Australia, make sure you keep up with our Canstar Blue star ratings.
About the author of this page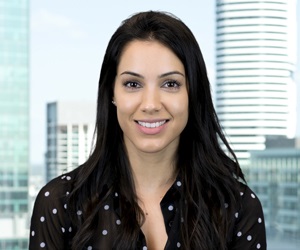 This report was written by Canstar Blue's Home & Lifestyle Content Lead, Megan Birot. She's an expert on household appliances, health & beauty products, as well as all things grocery and shopping. When she's not writing up our research-based ratings reports, Megan spends her time helping consumers make better purchase decisions, whether it's at the supermarket, other retailers, or online, highlighting the best deals and flagging anything you need to be aware of.
What do customers think about Volta Vacuum Cleaners?
In 2017, Australian customers gave Volta 3 out of 5 stars for Overall Customer Satisfaction for Vacuum Cleaners.
Volta Vacuum Cleaners
Canstar Blue
Award:
Overall Satisfaction