Fact Checked
Ceiling fans are a great way to keep you cool on a hot summer's day and if used alongside a heater, can help beat the chill in winter. You may be thinking that an air conditioner is the only way to go, guaranteeing a cool summer and a warm winter, but the humble ceiling fan can be more energy efficient and cost effective. So, if you're looking to make a saving, Canstar Blue breaks down the specifics of installation and costs so you don't have to.
Ceiling fan installation costs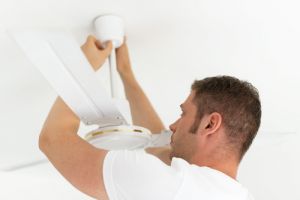 In general, getting a ceiling fan installed will cost between $150 and $600. Cases of simple replacement are at the cheaper end of the scale, while new installations or complex jobs in hard to access areas will be more expensive. Remember that on top of this installation fee you'll have to purchase a ceiling fan, which may set you back anywhere from $100 to over $1,500.
The full cost of installing a ceiling fan includes both materials and labour. Here are some fees that you're likely to encounter:
Ceiling fan(s) price: this will be variable depending on how many fans you aim to mount, and the type of ceiling fan you want.
Installation price: electrician service, location and length of time can all affect costs here.
Other unexpected fees: you may need to install additional wiring or upgrade power circuits.
Before jumping into any purchase, you should get a few quotes from ceiling fan installers near you, whether that be via a retailer or private electrician. Make sure you ask about all the costs involved, including any additional wiring or power circuit upgrades that may be needed.
How much does a ceiling fan cost?
Before you can install a new ceiling fan, you'll first need to purchase one. They can be acquired at most lighting, hardware or electrical retailers, and can cost anywhere between $100 and $1,500 depending on the model. More expensive fans will come with handy features such as in-built lighting, additional blades and remote controls.
Who can install a ceiling fan?
In Australia, there are two different routes to installing a ceiling fan. Major retailers such as The Good Guys and Bunnings offer this service for an additional fee, or alternatively, you can hire an external electrician to get the job done. For both of these options the cost will be dependent on whether you're having a brand-new fan installed or having an old one replaced. Whichever way you decide to go, you must ensure that the installation is carried out by a qualified electrician.
Retailer ceiling fan installation
Many ceiling fan retailers offer installation services at an additional cost. Typically, they help organise a tradesperson to provide you with a quote, with many of these installations starting from a base rate of between $150 and $300. Keep in mind that these are starting rates and they may increase depending on the complexity of the job.
Electrician ceiling fan installation
Your electricians may charge either an hourly rate or flat fee to install your ceiling fan, so it's important to get a few quotes beforehand. For a single ceiling fan installation, you should expect to pay anywhere from $150 to $600. As always, it's important to remember that the price will vary depending on the difficulty of the work.
How long does it take to install a ceiling fan?
The specific requirements of each installation vary from job to job, but your installer should advise you how long it will take. Generally, the process should take about one or two hours, but be sure to set aside a good chunk of your day just in case.
Is it worth getting a ceiling fan?
Ceiling fans are a mainstay within many Aussie households, but when it comes to installing a new one, are they worth investing in? Ultimately, ceiling fans are a useful appliance to have in Australia, whether you use them alongside your air conditioner or let them run by themselves, but will ultimately depend on your needs, your house and your budget. To find the best model for your home, check out Canstar Blue's ceiling fan buying guide.
Picture credits: antoniodiaz/shutterstock.com, Dmitri Ma/shutterstock.com, JR-stock/shutterstock.com
Original Author: Veronika Hleborodova