Installing a ceiling fan is relatively cheap compared with other appliances such as air conditioners. Plus, it consumes far less energy, so there isn't much of a downside to it. To give you a helping hand in this endeavor, we'll look into the specifics and offer estimated prices that might be involved in the process of installing a new ceiling fan in your home. Thank us later.
What costs are involved in installing a ceiling fan?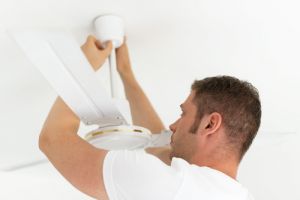 The full cost of installing a ceiling fan includes both the materials and labour. Here are some of the costs involved:
Cost of the fan itself
Number of ceiling fans you wish to install
Controls: whether it's remote-controlled or needs a wall switch to be installed
Ceiling height: affects the difficulty of accessing the area
Other circumstances: additional wiring and potentially upgrading existing power circuits
Once you've selected the type of ceiling fan you want, and how many fans you need, your location will additionally affect the total cost of the installation.
How long does it take to install a ceiling fan?
The specific requirements for each installation vary from job to job, but your installer should advise you how long it will take. However, it generally takes about one to two hours to install a ceiling fan for the first time.
How much does it cost to install a ceiling fan?
In Australia, electricians charge by the hour, and according to online service directory Hipages, you can expect the following prices:
an average rate of $70-$95 per hour for ceiling fan installation, depending on how complicated the installation is, with the hourly rate calculated in 15-minute increments.
as it usually takes a couple of hours to get the job done, expect to pay between $130 and $300 per fan for installation, or a little less if there's more than one ceiling fan being installed at one time. Expect to may more if new wiring and lighting is required.
sparkies will often charge a flat service fee, which can range between $70 to $130 depending on location.
Over at Bunnings, its replacement ceiling fan installation service costs $165, which includes standard like-for-like replacement of one fan. A new ceiling fan installation service costs $300, which includes standard installation where there is no prior ceiling fan in position. Any non-standard installations will incur an additional cost.
The Good Guys offers the following price guide on its website for a full installation, although these costs are dependent on location, so may vary from state to state.
| Type | Price |
| --- | --- |
| Ceiling Fan Change Over Install | From $129 |
| Ceiling Fan with Light Change over Install | From $159 |
| Ceiling Fan New Install Wired to an Existing Circuit | From $169 |
| Ceiling Fan with Light New Install Wired to an Existing Circuit | From $199 |
Source: The Good Guys, January 2020
Can my retailer install a ceiling fan for me?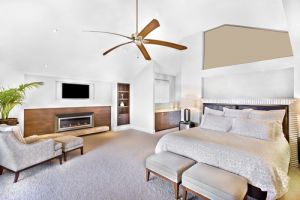 Yes, major retailers such as The Good Guys and Bunnings offer the service at an additional cost. They generally help organise a tradesperson to provide you with a quote. If you don't go through a retailer, you must ensure the installation is carried out by a qualified electrician to proper Australian standards. A licensed tradie will assure that your ceiling fan is installed properly.
How much does a ceiling fan cost?
According to a number of appliance retailers, ceiling fans can cost about $100 – $500, depending on the type and the material it's made from.
Fans with powder-coated metal blades are generally the cheapest. These are for general purpose, but may eventually corrode, particularly if you live close to the coast.
Fans with timber blades are more expensive but are said to be quieter when the fan is on.
Fans with stainless steel blades are more expensive again but may be worth the investment for coastal properties.
While most people usually buy fans to cool and circulate air on hot days, there are also reversible fans that are designed to re-distribute the hot air that rises to the ceiling from heaters in winter, giving you the best of both worlds all year round.

The bottom line on ceiling fans costs
Before jumping into any purchase, it would be wise to get a few quotes from fan installers near you. Make sure you ask about all the costs involved, including any additional wiring you might need, as you won't want to end up with bill shock at the end of the day. Ceiling fans are useful in Australia, whether you use them alongside an air conditioner or on their own, so we hope you've found this guide helpful to get a general idea of the costs involved!
Air Conditioner Reviews & Ratings
Picture credits: antoniodiaz/shutterstock.com, Dmitri Ma/shutterstock.com, JR-stock/shutterstock.com