Give your home an extra boost of air during the warmer months with a tower fan. Whether you're looking for something budget friendly, or willing to spend a little more for a high-end model, we bring you this guide on what tower fans you can get, plus any features to consider.
How much do tower fans cost?
Tower fans vary in price, starting out from around $50, and going up to more than $500 for high-tech models. Depending on what you're looking for, a cheap fan might suffice to circulate the air in a room, but if it's the works you're after, you might need to consider a more expensive unit. These are the prices of the brands we mention in this guide:
| | |
| --- | --- |
| Model | Price |
| Kmart 74cm Tower Fan | $49 |
| Midea FZ10-8HC Electric Tower Fan | $77 |
| Omega Altise OT600E Tower Fan | $109 |
| Kogan ClearCool Tower Fan | $119 |
| Sunbeam FA7550 Tower Fan | $149 |
| Dyson 301216-01 AM07 Tower Fan | $649 |
Source: Respective retailers, December 2018

Tower Fan vs Pedestal Fan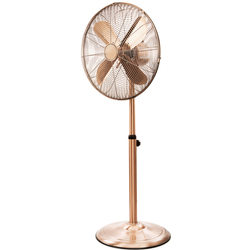 If you're tossing up between a regular pedestal fan and a tower design, there are a number of factors that separate the two types including:
Space: Tower fans are ideal when space is limited such as for apartments or small rooms. This is because their slender design allows them to fit almost anywhere. Pedestal fans, however, have large blades and in turn, aren't as compact. But if space isn't an issue, a pedestal fan might well suffice.
Design: If you're not fussed about how the fan fits in with your décor, then perhaps a pedestal fan can do the job. Tower fans, on the other hand, come in a variety of sleek looks and can really help shape your home aesthetic.
Functionality: Another aspect to consider between the two fans is functionality. While both circulate air, tower fans typically have additional built-in features such as air purifiers, ionizers and other functions to help increase the air quality and reduce allergy symptoms.
Where can I buy a tower fan?

Kmart 74cm Tower Fan
This 74cm tower fan from Kmart features three speed settings aimed to relieve you from sweat during those sticky summer nights, plus its oscillating function might help keep the entire room ventilated. It also comes with the convenience of a 7.5-hour timer and a remote control.
It's tested to applicable Australian electrical safety standards and comes with a 12-month warranty.

Midea FZ10-8HC Electric Tower Fan
Midea's 45W tower fan features an oscillation function and three speed settings. Its noise range is stated to be from 53 to 60 decibels, which is as loud as background music. The downfall is no remote control, so you'll have to get off the couch to change settings on this one. But there's a two-hour timer, so you can try to plan your day around that.
Expect dimensions of 822 x 187 x 169mm (H x W x D) and a total weight of 2.8kg, making it fairly lightweight. This fan comes with a two-year manufacturer replacement warranty.

Omega Altise OT600E Tower Fan
Omega Altise offers a smart-looking 45W tower fan. It features a remote control, 12-hour timer and 80° oscillation. It also comes equipped with two additional modes – wind and sleep. It weighs 4.3kg, which is almost double the weight of the Midea fan above, and has dimensions of 840 x 310 x 310mm (H x W x D). There's also a two-year warranty on this model.

Kogan ClearCool Tower Fan
Kogan has several tower fans in its line up, including this 65W ClearCool model. Its timer offers up to eight hours of coolness and inside the fan is a temperature sensor that automatically adjusts the wind speed as per the room temperature, according to Kogan. You have the option to flick between three wind speeds – low, medium and high – as well as four wind modes – normal, natural, sleeping and air condition mate. You can also use the 80° horizontal oscillation for additional area coverage. It boasts noise levels of less than 55 decibels.
It's designed with an infrared remote control for convenience and a dismountable wind wheel for easy cleaning and assembly. There's also a touch control panel with an LED display that allows you to change between settings. It comes with a one-year manufacturer warranty.

Sunbeam FA7550 Tower Fan
Sunbeam is known as a small appliance specialist and it features this 40W tower fan in its line-up. Enjoy the option of three speeds and one breeze setting, ideal for night time use, plus 70° oscillation. After eight hours its timer will automatically shut off the unit. If you want to use the fan during the night but don't want to be distracted by any lights, this fan features a 'Black Out' mode that turns off all the bright panel lights with only a dim light remaining.
It also has a remote control with an in-built holder, so if the remote is within reach, you won't have to get off the couch to turn it on. Its dimensions are 1230 x 179 x 161mm (H x W x D) and it has a total weight of 4.6kg. This unit comes with a two-year warranty.

Dyson 301216-01 AM07 Tower Fan
If your budget allows, perhaps this tower fan from Dyson is the one for you. The hidden blade design of the Dyson tower fan allows you to place it near children and pets without risk of injury, according to the brand, plus you can wipe away the dust with ease. All moving components are tucked away inside the body, stating to offer clean powerful airflow at the touch of a button.
The remote control allows you to operate this fan through 10 airflow settings. Its newer models also feature Wi-Fi capability, so you won't even need to search for a remote, just connect to the fan via a phone. It also features a sleep timer where you select a desired time and once the time reaches zero, it will go into standby mode and hopefully you're fast asleep by then. Dimensions are 1010 x 190 x 230mm (H x W x D).
Fan features to look out for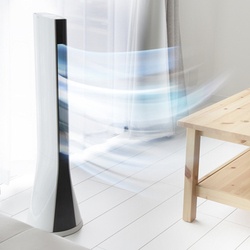 Weight: if you're using one fan for the whole house, it will need some lugging around, so it's a plus if the unit is lightweight
Noise: some fans boast extra quite noise levels, in particular if they have a night mode
Fan modes and speed settings: additional settings help you choose the right wind speed for different situations
remote control: is a handy feature so that you don't have to get out of bed or off the couch to turn the fan on
Wi-Fi enabled: going one step further than a remote control, Wi-Fi capability allows you to control your fan via a device you typically already have on you – a smartphone
Timer: some models come equipped with a timer to switch off the unit after a set time
Display: electronic display panels help you see exactly what setting the fan is on
Should I buy a tower fan?
Tower fans can be a handy addition to your bedroom or living space, whether you're considering it over an air conditioning unit or simply looking for an extra boost to circulate the cool air from your AC.
While tower fans will produce relatively modest running costs, it would still be wise to consider your budget as you might find other types of fans, such as pedestal fans or desk fans, for cheaper. On the other hand, a tower fan has a sleek and stylish look and can fit it into almost any tight corner. Happy shopping!