Fact Checked
Tower fans are a slimline and simple way to cool any home. Whether you're looking for something budget friendly, or willing to spend a little more for a high-end model, we bring you this guide on which tower fans you can get, plus any features to consider. 
Tower fan vs pedestal fan
If you're tossing up between a pedestal fan and a tower design, there are a number of factors that separate the two types, including:
Space:

Tower fans are ideal when space is limited such as for apartments or small rooms. This is because their slender design allows them to fit almost anywhere. Pedestal fans, however, have large blades and in turn, aren't as compact. But if space isn't an issue, a pedestal fan might well suffice.

Design:

If you're not fussed about how the fan fits in with your décor, then perhaps a pedestal fan can do the job. Tower fans, on the other hand, come in a variety of sleek looks and can really help shape your home aesthetic.

Functionality:

Another aspect to consider between the two fans is functionality. While both circulate air, tower fans typically have additional built-in features such as air purifiers, ionisers and other functions to help increase the air quality and reduce allergy symptoms.
Do tower fans use a lot of electricity?
Tower fans are a relatively efficient appliance that doesn't use excessive amounts of electricity. Tower fans use a series of vertically aligned fans to create a column of airflow with a more focused cooling capability. There are a number of factors that will affect how much electricity a fan uses like how long you run it for, how often and also the model of the fan itself, which you can learn more about in our guide.  
How much do tower fans cost?
Tower fans cost from $50 to around $650. Cheaper models will generally be smaller and have fewer settings whereas more expensive models will have more advanced capabilities and settings that are more effective at cooling. 
Who sells tower fans?
There are a number of brands that sell tower fans such as Dyson, Kambrook, Goldair and Kmart. You can buy models directly from the brand or from retailers like Appliances Online and The Good Guys. 
Dyson Tower Fan

Dyson tower fans cost from $400 to $1,200, and come in silver and nickel or gold colourways. The hidden blade design of the Dyson tower fan allows you to place it near children and pets without risk of injury, according to the brand, plus you can wipe away the dust with ease. All moving components are tucked away inside the body, stating to offer clean powerful airflow at the touch of a button.
The remote control allows you to operate this fan through 10 airflow settings. Its newer models also feature Wi-Fi capability, so you won't even need to search for a remote, just connect to the fan via a phone. It also features a sleep timer where you select a desired time and once the time reaches zero, it will go into standby mode. 
Kambrook Tower Fan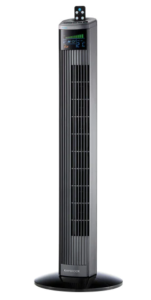 Kambrook has a number of tower fans ranging from $100 to around $150. Features include three fan settings and a remote for control from anywhere in the room. Some models include a touch display and a seven hour auto off timer so you can keep your home cool for as long as you need. With easy cleaning, models have a detachable air filter and convenient carry handle to move the fan from room to room.  
Goldair Tower Fan

Goldair has possibly one of the widest ranges of tower fans, ranging in price from $50 up to $300. With features for some models including bladeless design, wide angle oscillation for wider cooling and a 15 hour auto-off timer, you can also expect a slimline, portable design that's easy to move from room to room and the capability to produce a quiet, strong breeze to cool any room.    
Kmart Tower Fan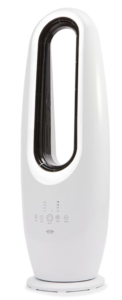 Kmart has a couple of tower fans available retailing from $70 to $100. It offers both bladeless designs and standard blade tower fans. You can expect features such as three speed settings aimed to relieve you from sweat during those sticky summer nights, plus its oscillating function might help keep the entire room ventilated. It also comes with the convenience of a 7.5-hour timer and a remote control. 
Factors to consider when buying a tower fan
When looking to purchase a tower fan, there are a few factors to consider before diving into a purchase, including:

Weight:

if you're using one fan for the whole house, it will need some lugging around, so it's a plus if the unit is lightweight

Noise:

some fans boast extra quiet noise levels, in particular if they have a night mode

Fan modes and speed settings:

additional settings help you choose the right wind speed for different situations

Remote control:

is a handy feature so that you don't have to get out of bed or off the couch to turn the fan on

Wi-Fi enabled:

going one step further than a remote control, Wi-Fi capability allows you to control your fan via a device you typically already have on you – a smartphone

Timer:

some models come equipped with a timer to switch off the unit after a set time

Display:

electronic display panels help you see exactly what setting the fan is on
Purchasing a tower fan
A tower fan can be a great option to cool any room that may not have air conditioning, or if you're looking for some added cooling. There are plenty of price points to choose from so price won't be a major contributor to decision making, however the specific features of a fan may be a major deciding factor. If you're uncertain about which fan or air conditioning to buy, compare brands below. 
Air Conditioner Reviews & Ratings
Original Author: Veronika Hleborodova