Fact Checked
When preparing a dinner that has a lot of elements, timing it to all come together at the exact right moment can prove tough, especially if you're in a busy household. As a result, your food may go cold before you get a chance to sit down and eat. While many simply reheat meals in the microwave, there's now another way to prevent dinner from getting cold – the warming drawer. Learn all you need to know about warming drawers in this Canstar Blue guide.
What is a warming drawer?
Warming drawers, also known as baking drawers or proofing drawers, are heated sections of cabinetry that work to keep your food warm and ready to serve. They can either be installed as stand-alone appliances or built-in to your cabinetry. Warming drawers maintain a steady temperature that can generally be adjusted between 30°C and 120°C, and are most often used to keep meals warm, help dough rise, slow cook, or defrost food.
Warming drawer, oven or microwave – what's better?
Warming drawers, ovens and microwaves can all produce similar outcomes, however, a warming drawer is the best possible appliance to have if you're looking to keep food warm without making it either too dry or too soggy. These drawers are specifically designed to maintain low temperatures for long periods of time and are often more efficient due to their small size. While an oven or microwave may do the job just fine, the warming drawer is a great appliance to have if you care about maintaining the consistency and quality of your food.
Warming drawer brands
While not a common household appliance, there are a number of brands that offer warming drawers, including Bosch, V-Zug, Fisher & Paykel, Miele and Smeg.
Bosch warming drawers

Bosch offers  multiple warming drawer models, costing between $1,000 and $1,500. Each drawer has a width of 60cm and a height of 14cm, permitting a maximum capacity of 12 plates. With four temperature controls, and a temperature range between 40°C and 80°C, Bosch's warming drawers are suitable for pre-warming plates, keeping food and drinks warm as well as helping to defrost or slow cook food. The drawers host a heating plate made of toughened glass and can hold a maximum weight of 25kg.
V-Zug warming drawers
Swiss manufacturer V-Zug offer the V4000 Warming Drawer, which is available in platinum mirror glass and black mirror glass. This drawer is 60cm wide and can be purchased at a range of heights, with the maximum being 31cm. It features a heating range between 30°C and 80°C across seven temperature settings, and can be controlled via an electronic temperature control. This warming drawer can be used for heating food, proofing dough, melting butter, drying fruit or defrosting frozen foods. This model can hold a maximum of 25kg and will generally cost you around $2,800.
Fisher & Paykel warming drawers

Fisher & Paykel offer a 60cm wide warming drawer that is available in heights of either 14cm or 29cm. Other features include a soft closing mechanism for easy use, automatic shut-off capability, an easy clean base and stylish black reflective glass design. This warming drawer hosts six temperature levels that operate between 35°C and 85°C, and six pre-set programmes this drawer can be set to dehydrate, proof, warm or slow cook. Depending on height, this model may cost you between $2,200 and $2,600.
Miele warming drawers
Miele offer a variety of warming drawers that range in size, design and function. Most Mielie warming drawers feature timed programmes, sensor touch controls and a push-to-open function. Many drawers have four operating modes, including cup warming, plate warming, food warming and low temperature cooking, allowing households plenty of options when it comes to dinner time.
The Miele ESW 7020 is 60cm wide and 29cm high, accommodating up to 12 place settings. This model operates between a temperature of 40°C and 85°C, perfect for preheating crockery, keeping food warm and low temperature cooking. It features a timer function, automatic shut-off capability, anti-slip matting and can be connected to the Miele@home network. This model generally retails around $2,900.
Smeg warming drawers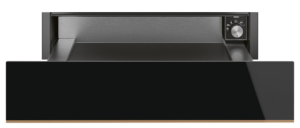 Smeg offer a range of warming drawers that are commonly 60cm in width and vary between 15cm and 29cm in height. Most models are capable of warming, defrosting, proofing and reheating, and typically feature silicone anti-slip matting, fingerprint proof finishing and variable temperature control that will heat to a maximum of 80°C.
The Smeg Dolce Stil Novo warming drawer is 60cm wide and 15cm high, with a capacity of 21L. This draw features a silicone anti-slip mat, a control knob for ease of use, copper finishing and a push-pull opening mechanism. The Dolce Stil Novo will likely set you back around $2,000.
How much does a warming drawer cost?
The cost of a warming drawer depends heavily on size, brand, design and any additional features. Some of the cheapest models may be purchased for around $500, while more expensive warming drawers will cost you over $3,000.
Is it worth buying a warming drawer?
While they may not be the most common kitchen appliance, purchasing a warming drawer could be a life-changing move. If you cook regularly, enjoy baking bread, often entertain guests or just love a pre-warmed plate, a warming drawer might be the appliance for you. With plenty of brands available, narrowing down the options to find the ideal fit for your household can send many consumers into a head spin, so it's best to do your research before you put a payment down. If you're not yet ready to splurge on a new warming drawer, a regular oven can get the job done. Check out Canstar Blue's latest oven ratings to decide which appliance is the best fit for your home.