OptiSlim Weight Loss Shakes Review & Guide
OptiSlim believes "losing weight should be easy". That's why the health and beauty brand has chosen to create products suitable for the Low Calorie Diet (LCD) and Very Low Calorie Diet (VLCD) – two clinically proven methods that help people lose weight fast, according to the brand. The meal replacement shakes and other weight loss snacks and soups are part of the Optislim Weight Loss program that's designed to restrict calorie or kilojoule intake whilst maintaining healthy nutrition.

What is the OptiSlim weight loss program?
OptiSlim serves up a four-week weight loss program which requires participants to take up the LCD or VLCD approach for 28 days. During this time, you'll need to replace three meals with a mix of various shakes, soups and snacks from the relevant Optislim range.
Range of OptiSlim products
Whether it's weight loss shakes, snacks or soups, Optislim offers a variety of flavours. These products can range from $5.96 for the LCD-friendly OptiSlimHealthy Option Meal and can cost up to $262.50 for the Optislim 4 Week Weight Loss Platinum Plus Pack. The brand offers a variety of weight loss ranges, including:
Optislim Low Calorie Diet (LCD)
Optislim Very Low Calorie Diet (VLCD)
Detox
100 calorie snacks
Healthy option meals
Optislim tablets
Optislim clinical capsules
Weight loss shakes are only available through OptiSlim's LCD and VLCD ranges.
OptiSlim Low Calorie Diet (LCD)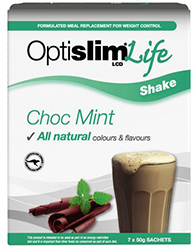 OptiSlim keeps its Low Calorie Diet (LCD) selection short and sweet. The OptiSlim Life weight loss shake range is the only LCD-friendly range from the brand, and features a variety of flavours for a much more affordable price tag compared to its other products. But each box comes with only seven sachets, which is almost half of what you'll usually get in the VLCD versions.
OptiSlim's 'Life' weight loss shakes are claimed to be made with all natural colours and flavours, and apparently contain 25 essential vitamins and minerals. Flavours include royal chocolate, banana, cafe latte, caramel, choc mint, French vanilla and honeycomb. If you'd prefer to mix things up and avoid drinking the same flavour every day, the OptiSlim Life 10 Day Variety Pack gives you 20 sachets for $49.95.
RRP: from $20.95 (7x50g sachets)
OptiSlim Very Low Calorie Diet (VLCD)
For those on the Very Low Calorie Diet (VLCD), OptiSlim offers a few options to choose from. The various ranges include the OptiSlim VLCD Meal Replacement Shakes, OptiSlim VLCD Platinum Meal Replacement Shakes and OptiSlim VLCD Platinum Plus Meal Replacement Shakes. Prices can vary between $39.95 and $59.95 for individual boxes, while larger set packs can start from $119.85 and cost up to $144.85.
Other weight loss products designed for the VLCD diet include the OptiSlim VLCD Bars, OptiSlim VLCD Soups, OptiSlim 100 Calorie Snacks and OptiSlim Clinical Capsules.
OptiSlim VLCD Meal Replacement Shake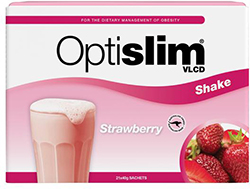 If consumed three times per day, OptiSlim VLCD Meal Replacement Shakes can apparently provide the fully daily recommended nutritional levels of 25 vitamins and minerals. Each box contains 21 sachets, with a different flavour per pack. These include chocolate, vanilla, strawberry, banana and coffee. If you're looking for more variety, the OptiSlim VLCD Meal Replacement Pack comes with three different flavours for $119.85.
RRP: $39.95 (21x40g sachets)
OptiSlim VLCD Platinum Meal Replacement Shake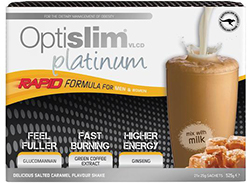 OptiSlim's 'Platinum' VLCD shakes are claimed to help participants lose weight by reducing their hunger, increasing fat burning, providing higher energy levels and accelerating weight loss results. This range is made with skim milk for a 'creamy milkshake taste', and is said to give you all the recommended levels of 25 vitamins and minerals when you drink three shakes per day. Flavours include chocolate, coffee, salted caramel, vanilla, banana and strawberry.
OptiSlim VLCD Platinum Plus Meal Replacement Shake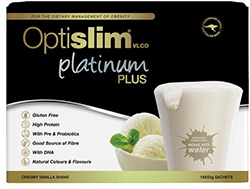 For anyone looking for a gluten-free friendly weight loss shake, the OptiSlim VLCD Platinum Plus Meal Replacement Shake is one of the few suitable options from the brand. It's stated to use natural colours and flavours, as well as provide a mix of prebiotics and probiotics. Each pack contains 18 sachets and is available in vanilla and chocolate. This range is the most expensive within the VLCD weight loss shake line from OptiSlim, although there are packs for those who want a mixture of shakes, soups and snacks.
Is OptiSlim worth the money?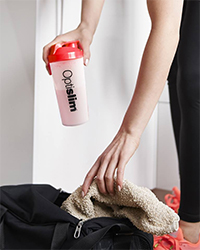 Everyone's weight loss journey is different, which is why OptiSlim may be worth considering if you've chosen to take up the VLCD or LCD approach to losing weight. The ability to choose from a number of snacks, shakes and soups in a variety of flavours might make planning and shopping a little bit easier, especially if you pick one of the larger set packs.
Aside from diet type, price seems to be one of the biggest factors separating the VLCD and LCD ranges. The VLCD-friendly range tends to be slightly more expensive than the LCD version, with soup being the cheapest item at just $18.90 for a pack of seven sachets. This is followed by Optislim VLCD Bars and the various Optislim meal replacement shakes. If you prefer to have pretty much everything you need to eat for the 28-day period, Optislim has a number of four-week weight loss packs retailing between $202.50 and $262.50. The VLCD also has three types of shakes, as opposed to the single OptiSlim Life available for those using the LCD method.
But like with many weight loss programs, it is strongly recommended to speak with your doctor before trying the OptiSlim diet program. Also, don't forget to compare our ratings and reviews on a bunch of brands to make sure you're picking the best weight loss shakes for you.
About the author of this page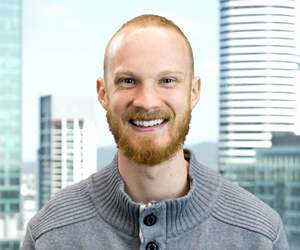 This report was written by Canstar Blue's Site Editor, Dean Heckscher. He's our resident expert on all things automotive, health & fitness, streaming and more. Dean is also one of Canstar Blue's customer research report producers, helping to turn complicated subjects into easily-digestible information for our readers. He's passionate about helping consumers make better-informed purchase decisions on all manner of consumer goods and services.