Eva Comfort Classic Mattress Review & Guide
Good sleep starts with a good mattress, and perhaps one you can get delivered to your door in a box? If you're looking to pick up a mattress online, Eva may be a sound and fuss-free solution to hit snoozeville. The Aussie-owned brand spins a concise and rather affordable bedding range including a memory foam pillow, hemp linen, timber bed base and hybrid mattress.
If you're conscious of your budget and sleep hygiene, the Eva Comfort Classic mattress may be a worthy bedfellow. It's boasted for its unique combination of cooling memory foam and a pocket spring system, designed to 'have your back' when you sleep. But, does it really stack up? Here's the lowdown.
The Eva Comfort Classic Mattress Prices & Sizes
The Eva Comfort Classic mattress is comparatively cheaper than most other mattress-in-a-box brands in the market, with the entire size range priced under $1,500 – not too shabby!
Here's a price and size guide for the Eva Comfort Classic mattress:
Single (188cm x 92cm x 32cm) − $900 RRP*
King Single (203cm x 107cm x 32cm) − $1,000 RRP*
Double (188cm x 138cm x 32cm) − $1,100 RRP*
Queen (203cm x 153cm x 32cm) − $1,200 RRP*
King (203cm x 183cm x 32cm) − $1,300 RRP*
The Eva Comfort Classic Mattress Design
Comfort layers are the key determinant of the feel of any mattress, and Eva Comfort Classic's mattress is composed of six. According to the brand, these were designed to provide optimum comfort by maintaining your ideal body temperature throughout the night, while also supporting your body along the curves and natural lines, to keep your spine aligned and relieve pressure on your back.

1.      Top cover
The top cover of the Eva Comfort Classic mattress is made of soft, stretchy polyester with extra top-level quilting. It's OEKO-TEX certified, which means the fabric has been tested and certified to be free from harmful chemicals.
2.      Gel memory foam
The second layer is made with a thin open-cell structure gel memory foam, infused with millions of gel beads. This material is boasted for promoting ventilation through the mattress (instead of trapping airflow) and to help regulate your temperature by diffusing heat away from the body, to cooler extremities of the mattress and avoid you waking up in sweats. This layer also provides some pressure relief to help alleviate back pain and improve circulation, according to the brand.
3.      Premium latex foam
The natural choice for healthy sleeping, the third layer features an eco-friendly latex, which is naturally dust-mite resistant and antimicrobial and therefore ideal for allergy and asthma sufferers. The latex layer also features an open-cell and pinhole structure, making it ultra-flexible and breathable. Latex is also more durable than most natural materials.
4.      Density foam
The fourth density foam layer plays a support role to the top layers of the mattress by absorbing the additional weight and redistributing pressure evenly. Foam density determines the firmness of the mattress and the Eva Comfort Classic mattress definitely has a medium-firm feel of seven or eight out of 10 (one being very soft and 10 being very hard). This is the preferred option if you're a stomach sleeper and to keep your spine aligned (instead of slouched in a soft mattress). This may not be as comfortable for side sleepers though.
5.      Five-zone pocket spring
The Eva Comfort Classic mattress also has pocket springs, designed to minimise partner disturbance by isolating motion transfer aka the effects of your partner's tossing and turning on the top layers (where you sleep). The five-zone pocket spring also provides pressure relief and increases comfort, with each pocket spring individually wrapped in fabric to help airflow and minimise sleeping disturbances.
6.      Edge support
This section helps the mattress maintain its integrity and structure. It features robust springs along its side pockets, with firm edges to support the mattress, so you won't fall off the bed in the night if you're sleeping on the edge or sink down if you're in the middle. Winning!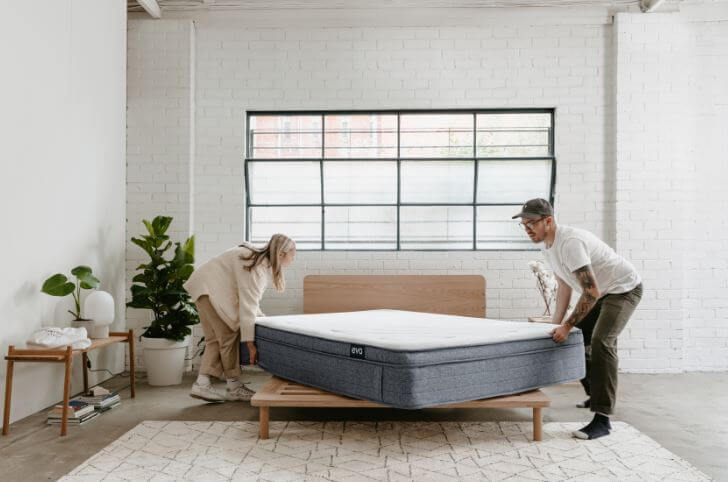 The Eva Comfort Classic Mattress Pros & Cons
| | |
| --- | --- |
| Pros | Cons |
| Firm feel & perfect for stomach sleepers | Only one model available |
| 10-year warranty | Not Australian made |
| Free next-day metro delivery | Not suitable to use on flexi slat, sprung slat or adjustable bed bases |
| 100-day trial | Doesn't dispose of your old mattress |
General guide only
Should you get the Eva Comfort Classic mattress?
The Eva Comfort Classic hybrid mattress has a firmer feel than most common foam mattresses, thanks to a layer grouping of cooling memory foam and pocket springs that provide both adequate body temperate control (very important for the Aussie summer), as well as spine and body alignment in all sleeping positions, but particularly for stomach sleepers.
It also has a whopping weight capacity of 400kg, which is great if the kids, the dog and the cat want to join in on the Sunday morning breakfast in bed! The Eva mattress comes with a lengthy 10-year warranty, which is an added bonus, on top of being one of the more affordable mattress-in-a-box solutions out there. This is possibly due to Eva (the brand) still being a newcomer to the market, but it's all the more reasons to give it a go!
Where can you try the Eva Comfort Classic mattress?
Eva offers a free 100-day trial for customers to test the mattress at home. After that, if you decide it's not the right fit, the company will collect the mattress free of charge and you would have paid nothing. Win-win.
What's the best-rated mattress?
Check out the best-rated mattress brands in Australia, as rated by consumers in Canstar Blue's latest review.