Meeting that fine line between smartwatch and fitness tracker, the Huawei GT 3 hits the right balance between a watch for day-to-day wear and for tracking your health goals. Despite fierce competition at this price point, you'll find a stylish-looking watch capable of keeping up with your day.
The smartwatch space may be a market dominated by the likes of Apple and Samsung — much like the smartphone market — but there is still a space for competitors to put out some solid tech that can become serious competition. Enter the Huawei GT 3 smartwatch.
Offering a good balance between smartwatch and health tracker, the GT 3 integrates nicely with its partner app, to form a real 'health companion' to anyone looking for a new smartwatch. After spending several weeks with the Huawei GT 3, we've put this watch to the test to find out if it can keep up with your tracking and day-to-day needs. Read on for our hands-on review of the Huawei GT 3 watch.
How we tested the Huawei GT 3 smartwatch
I used the Huawei GT 3 (42mm White version) over several weeks for both full-day wear and specifically for tracking workouts. I monitored the watch for battery, performance tracking and monitoring of health and vitals, all integrated and tracked with the Huawei Health app on my smartphone.
Huawei GT 3 features and specs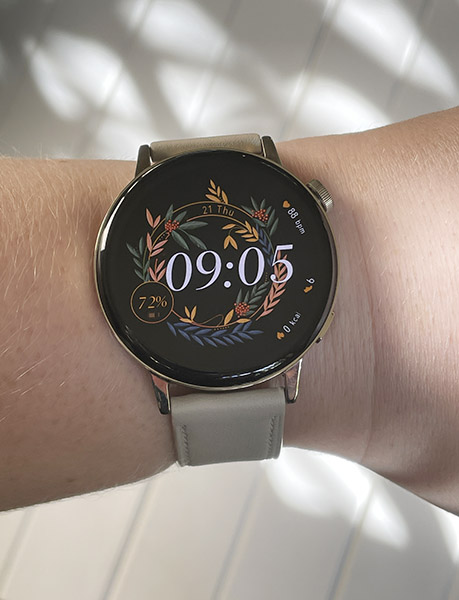 $399-$499 AUD RRP
42mm Black, 42mm Gold and 42mm White + 46mm Black and 46mm Brown versions available
Stainless steel front case, plastic rear case
42mm version weighs 35g, 46mm version weighs 42.6g
7-days battery life with typical usage (42mm version)/14-days battery life with typical usage (46mm version)
Heart rate, SpO2, sleep, step, calorie burning and skin temperature monitoring
Works with the Huawei Health app (Android and iOS)
Tracking and monitoring via GPS, Beidou, GLONASS, Galileo and QZSS satellite systems
Over 100 exercise modes with 18 professional modes
5 ATM water-resistant (up to 50m, best for shallow water activities such as swimming)
Goal measuring via AI running coach and Healthy Living Shamrock
USB charger included (no power point plug)
Huawei GT3 Pros
Huawei GT 3 Cons

Simple yet stylish design
Tracks vitals and health metrics accurately
Seamless connectivity with smartphones

No media compatibility with iPhone/iOS currently
More of a standalone device than phone companion
Relies heavily on the Huawei Health app to provide detailed information on vitals and health.
Buy the Huawei GT 3 42mm white smartwatch
On this page:
Design, appearance and wearability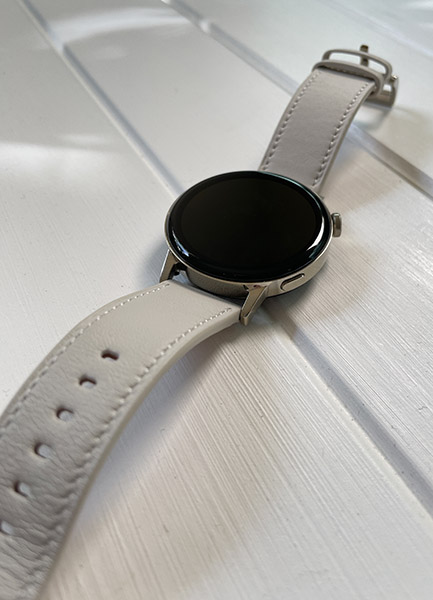 Beautiful design and rather comfortable to wear all day
Light-coloured leather strap could get dirty with time
Huawei offers two versions of the GT 3 watch — 42mm and 46mm — which both come in different styles. I was given the 42mm version in white, which includes a white leather strap and a gold-coloured metal finish around the watch face.
My first impression after taking it out of the box was just how pretty the watch was. The size is perfect for anyone with smaller wrists, and I imagine the 46mm version would be better suited to anyone with a larger wrist who prefers a wider watch face. The white leather strap isn't exactly a bright white, it's more of a creamy white, which really suits the gold finish.
The default watch face for this version is a floral design with black background, which I loved — looking at the other watch faces available, I couldn't find one that matched up to how pretty the 'Late Autumn' theme is. If you prefer another watch face though, it's easy to change via the Huawei Health app or through the watch's settings.
When it comes to wearing the GT 3 — both for full day use and when exercising — I found it really comfortable and a good size for me. It's a rather thin watch too, so it didn't get in the way of exercise, which is especially good when you're doing yoga, as a chunky watch can get in the way of your hand's flexibility. The leather strap is also rather comfortable and soft, however I would expect it could get quite dirty with use over time, especially if you do a lot of outdoor activities and exercise. However, there are other versions of the GT 3 to choose from with different strap options — and you can also get the watch strap changed as you would a regular watch.
Huawei has done an excellent job at creating a smartwatch that looks and feels like a high-quality watch that you'd be happy to wear every day. It looks gorgeous — and will certainly not look out of place in more formal settings — and it feels really comfortable to wear.
Performance, battery and functionality
Easy to use and navigate
Fantastic battery life, which doesn't require daily charging
It might not be the most expensive smartwatch on the market, but at around $400, you'd certainly expect a good performance — and Huawei delivers with the GT 3.
There is a lot to like about using the GT 3. There's a dial button on the top right and shortcut button on the bottom right of the watch face. The dial button opens the main menu when pressed, and you can use the dial to zoom in and out of the menu options. The functionality of the dial is a nice addition, removing the need to use the touch screen to scroll through the watch's functions and features — this is especially useful when navigating the long list of exercise modes. The other button is a shortcut to the exercise modes by default, which is handy if you want to avoid going through the main menu to start an exercise quickly. However, you can change that button to be a shortcut to another function, such as heart rate monitoring, weather, notifications and more.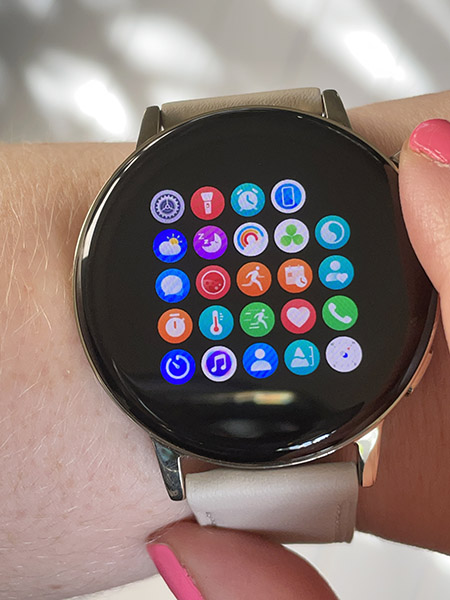 Navigating through the watch is really easy, with quick access to some functions such as heart rate monitoring and basic settings when swiping up, down, left and right. Whether you choose to navigate with touch, or use the dial to scroll through features, I found it to be quick and responsive and an overall easy watch to use.
The ability to zoom out of the main menu and see all the apps in a similar style to how you see phone apps — rather than having to scroll through and move through menus — is a big plus for the functionality of the watch. It makes it easier to find what you're looking for, not to mention it helps you remember all the features and functions the watch is capable of. One issue when smartwatches and sports watches bury the features in menus and sub-menus — relying on clicking and swiping through to find what you're after — is that it's easy to forget which functions and features are available. However, if you prefer a list-style menu, you can change it in the settings.
The performance of the Huawei GT 3 is really impressive. It does a fine job of tracking and monitoring what you need, and works seamlessly with the Huawei Health app. Syncing between the watch and the app is fairly quick, and I didn't encounter any issues with connectivity or syncing.
I particularly liked the responsiveness of the screen, when moving my wrist to look at the time. It would very intuitively light up the screen, and the instances where I needed to move my arm more to get it to respond, were very rare.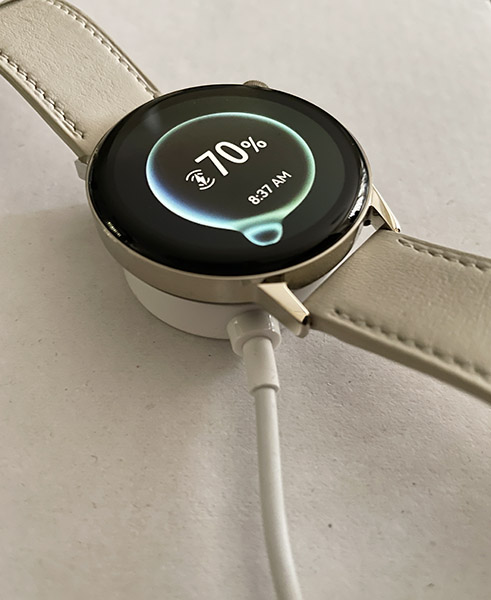 Battery is also a stand out, with it easily handling a full day of usage without much battery drain. I found it only drained around 16% of the battery between 9am and 6pm (around nine hours in total), with a full day of wear and around 50 minutes of exercise tracking (although exercise tracking with GPS can drain more). I found the battery performance to be really reliable, so if you forget to charge the watch and only have around 20% of battery left, you should be able to get through the day with no dramas if you're using it mainly as a watch (you'll also get a low battery warning at 10%). It's also rather quick to charge, with a full charge taking around 70 minutes.
The Huawei GT 3 does meet your expectations of performance, with a good battery that can easily last you a few days of standard usage without charging. I found it to be a watch that easily integrated in my day-to-day life, and was quick and simple to use and navigate.
Features, health and exercise tracking
Works seamlessly with the Huawei Health app
Media control not currently integrated with iPhone/iOS
Huawei positions the GT 3 as a smartwatch but with a focus on fitness and health. Because of that, you'll find a range of features and functions for measuring and monitoring your vitals and overall health.
Useful features
One feature I really liked was 'find my phone', where it makes your phone ring and vibrate — which will no doubt be useful if you're prone to misplacing your device. Another useful feature is the 'water drain' function which emits a noise to encourage any trapped water to drain out of the watch. I tested this by running water over the watch several times and found the water drained from the watch really easily.
While the GT 3 is capable of storing and playing music through the built-in speaker, a big let down is that this function, along with media controls, is not currently compatible with iOS and iPhone. Unless Huawei changes this in the future, not being able to see or control your music while in the middle of a workout could deter iPhone users from picking up the GT 3.
Heath and vitals tracking
As for the health tracking, Huawei has really packed quite a lot of health monitoring functions in the watch and its supporting app. The Huawei GT 3 measures heart rate, steps, calories, sleep, stress, skin temperature and blood oxygen saturation, and can also measure the air pressure and altitude.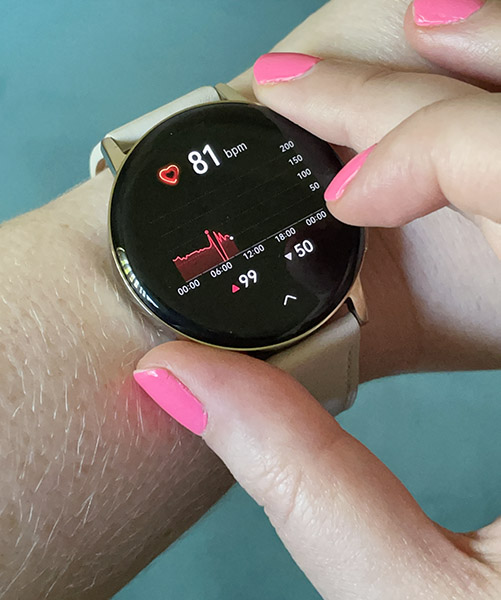 Many of these features and measurements go hand in hand with the Huawei Health app, and you can record measurements, such as a stress test, via the app. This is where the quick and seamless connectivity between the watch and the app is showcased at its best — and for the price point, you'd certainly expect fuss-free connectivity.
The GT 3 seems rather accurate when it comes to tracking and monitoring. I was impressed with how accurate the step count was, although it skewed towards a higher number (however, you do need to leave a margin of error when tracking steps on a watch or phone).
I was really impressed by the sleep monitoring, which seemed to reflect how I felt I had slept. Showing poorer sleep quality on nights where I didn't feel I had slept well, compared to nights where I feel I had, the GT 3 also picked up on times when I had woken up in the middle of the night. You'll see very basic details of your sleep monitoring on the watch, but it's the information in the Huawei Health app that gives you more detail on your sleep patterns. If you're someone who likes to or needs to monitor sleep patterns and quality, you'll be happy with the detail and accuracy that you get from the GT 3 and app.
Other monitoring, such as heart rate and stress, also seemed really accurate. Days or moments where I felt I was a little more stressed or on edge compared to a typical day, were reflected in those recordings.
Exercise and health monitoring
Huawei has put a lot of focus on physical activity, with a huge selection of exercise modes to choose from. Performance monitoring includes general progress such as calories burned, heart rate and duration, but you'll get more detail for certain exercises. Tracking an outdoor walk will give you additional details, such as mapping your route and recording speed, cadence, altitude and more.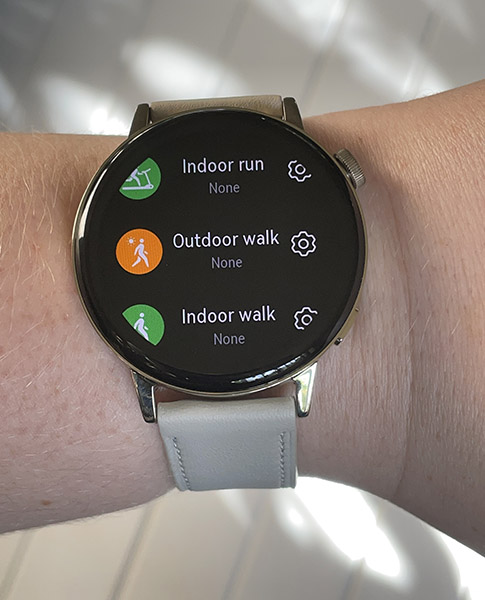 One feature that could be useful or irritating is the spoken notifications you get during exercise. The speaker volume for this was enabled by default, and while it's handy to be told details such as how long you have been exercising (so you don't need to look at the watch), it could also be annoying for some.
You can disable this, but in one particular instance, I thought I had muted 'workout broadcasts' via the settings. However when out for a walk, I found the watch blaring my 10 minute details. I then had to reduce the volume by pausing the exercise and finding the volume control. I'm not sure why changing this in the settings didn't work, unless it hadn't muted properly; so if you don't want your exercise details broadcast out in public, I recommend changing this setting before you start your workout.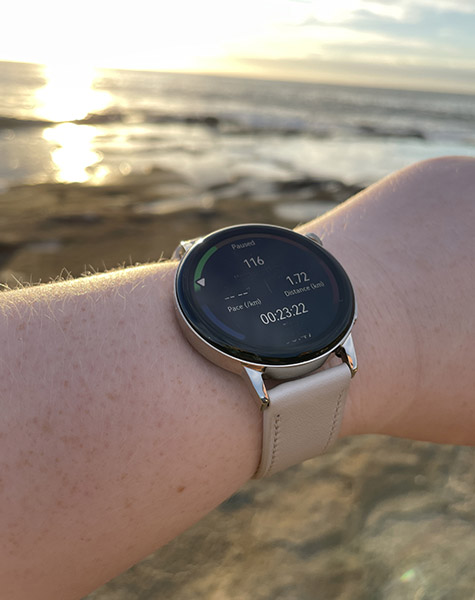 Another feature I liked was the 'health plan' you can set up in the app. This allows you to set up a program focused on a goal you wish to achieve. I opted for the relaxation plan, which includes goals such as drinking water, a 'daily smile' exercise and breathing exercises. This progress is tracked in the app and via the 'health shamrock' watch app. If you're looking for a simple program to help motivate or achieve certain health goals, this is a feature you might find useful. I also liked that it approaches health as more than just steps, exercise duration and calories, providing a more holistic approach to your health plan.
Overall, I was really impressed with how the Huawei GT 3 features and monitoring worked. I found it to be rather accurate overall with its monitoring of heart rate, steps and sleep. As an exercise tracker, it certainly does the job and having such a wide range of workout modes to choose from is a big plus.
---
Related: Suunto 9 Peak sports watch review: premium look and premium feel
---
Should I buy the Huawei GT 3 watch?
The smartwatch space is a fairly competitive one, with personal tech and smartphone brands competing against watch brands, so it can be hard for one product to stand out from the crowd.
I found the Huawei GT 3 more than met the requirements of what makes a good smartwatch. It achieves that balance between smartwatch and fitness/health tracker. If you lean more towards wanting a smartwatch for health and fitness tracking, this does a good job at achieving that without blowing the budget on a high-performance sports watch (such as the watches from Suunto).
However, the lack of media control when you pair the GT 3 with an iPhone was a let down, and hopefully this is something Huawei can change in the future. If you have an iPhone and like to be able to control music via your watch, this could be a deal breaker.
The GT 3 does an excellent job matching performance with style. It can easily take you from morning to night with both its battery performance and the way it looks. It's also comfortable enough that whether you're wearing it all day or during exercise, you won't find it gets in the way.
Overall, if you're looking for a smartwatch within this price range that does the basics of fitness and health monitoring well — and you're not dedicated to one brand in particular — the Huawei GT 3 is worth keeping in your considerations.
| Consider the Huawei GT 3 if | Don't consider the Huawei GT 3 if |
| --- | --- |
| You're after a smartwatch with a focus on health and exercise monitoring. | You prefer a smartwatch that's more of an extension of your smartphone, or you're an iPhone user who wants media controls. |
---
About the author

As Canstar Blue's Telco Specialist, Emma Bradstock covers all things mobile phone and internet, which she's focused on for the past three years. Emma has a decade of professional writing experience across print and digital media outlets and for digital agencies, and has turned her hand to multimedia content and social media management.  She has a Bachelor of Arts in Communications and Media from Macquarie University. You can follow Emma on LinkedIn.
---

Product used for review/testing was a free sample provided by Huawei.