Aston Martin Vehicles Review
The British are known to be quite fancy, and looking at their luxury vehicles, it seems the reputation is well-earned. Arguably one of the most luxury car brands the world over, Aston Martin was first founded back in 1913 before becoming a household name thanks to Bond, James Bond, in the 1960s. Today, the company operates under its own name, with a racing subsidiary added to its ranks in 2004 to continue a long history of British racing names. If you've been a fan of Aston Martin since Bond first stepped out of one, or you're looking to step out of one yourself, find out what's currently on offer from Aston Martin in Australia with this Canstar Blue guide.
Aston Martin Vehicles
In Australia, Aston Martin primarily offers a variety of sports cars for motorists to try, with an SUV and track-only vehicle also available. Aston Martin models include:
DBX
Vantage
DB11
DBS Superleggera
Valkyrie
Aston Martin DBX
Aston Martin's SUV offering, the DBX was introduced in 2020 to compete with other luxury brands. Powered by a 4.0L V8 twin turbo engine – capable of putting out 405kW of power – the DBX also contains a 9speed automatic gearbox, adaptive drive modes for both on-road and off-road adventures, adaptive triple chamber air suspension, 22inch alloy wheels, a bonded aluminum bodyshell, rear aero wing, panoramic glass sunroof as well as a range of optional features if you're keen to make your car stand out.
Aston Martin Vantage

Arguably one of the sportiest models in the Aston Martin lineup (which in itself is saying something), the Vantage is available in a Coupe or Roadster model. The Coupe features a 4.0L twin turbo V8 engine, dual variable camshaft timing, 8speed automatic transmission, electronic differential, 20inch wheels, titanium front grill, sports seats and keyless start, while the Roadster comes equipped with many of the same features, apart from the roof, which can fold down to let you feel the breeze run through your hair.
Aston Martin DB11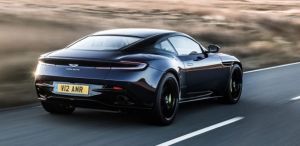 Likely what many think of when they hear Aston Martin, the DB11 is the successor to the DB9, with production starting in 2016. Today available in the base V8, Volante and AMR models, the DB11 will no doubt catch many eyes.
The base DB11 features a sequential electronic direct fuel injection line, three powertrain calibrations to suit driver preferences, rear mid-mounted 8speed automatic gearbox, adaptive damping system as well as an 9inch LCD screen for in-car entertainment. The Volante model is the convertible model, and features many similar specs to the base V8 model, while the AMR is more performance-heavy than the other DB11 models, including firmer suspension, lighter alloy wheels and a Sport+ mode for those keen to put the foot down.
Aston Martin DBS Superleggera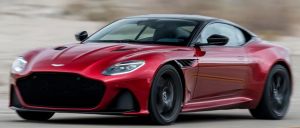 Known as a 'grand tourer' model, the Superleggera is available as a Coupe or Volante model, each of which contain 715BHP, giving you plenty of grunt under the bonnet. The Coupe features a 5.2L bi-turbo V12 engine, rear wheel drive, electronically controlled exhaust, an 8speed automatic transmission, 21inch wheels, full leather interior and a carbon fibre steering wheel. The Volante features similar inclusions, as well as multiple driving modes, including GT, Sport and Sport+, in addition to an 8inch LCD screen, 360-degree camera and quad exhaust system.
Aston Martin Valkyrie

While technically available for sale, only 150 units of the Valkyrie were produced, with another 25 Pro units manufactured, and with its specs, it may not be the Sunday drive you're after. A hybrid sports car built by both Aston Martin and Red Bull racing, the Valkyrie is powered by a 6.5L V12 engine, and models its mid-mounted powertrain on F1 racing cars. Made from carbon fibre, it has a 1:1 power-to-weight ratio, with an aggressive aerodynamic design balancing the power of the car. Aston Martin says that all models have currently sold, but you may be able to snag one second-hand, or if limited-edition models are released further down the road.
Is Aston Martin worth buying?
Living out your James Bond fantasy can be a hard thing to put a price tag on, but Aston Martin cars don't come cheap either, meaning you'll have to really like James Bond (or luxury vehicles) to pick one up. But on the other hand, Aston Martin is often considered one of the most luxurious brands available on the market, with a high-level of quality generally balancing out the price tag. However, you'll still have to do your research before heading to the dealership, as while the badge on the front may be all you need to convince yourself it's the car for you, looking at what your needs (and budget) are for your next car may save you some money (and heartbreak) down the line.
About the author of this page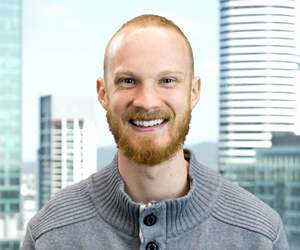 This report was written by Canstar Blue's Site Editor, Dean Heckscher. He's our resident expert on all things automotive, health & fitness, streaming and more. Dean is also one of Canstar Blue's customer research report producers, helping to turn complicated subjects into easily-digestible information for our readers. He's passionate about helping consumers make better-informed purchase decisions on all manner of consumer goods and services.
Picture credit: Aston Martin